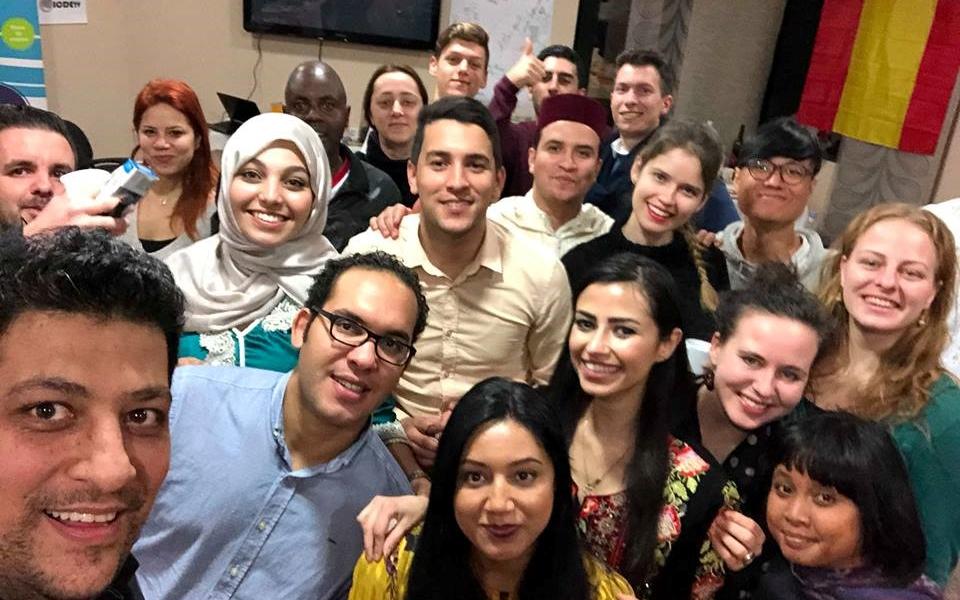 Quested Peace Cooperation Circle participated in "Learn to Say NO!", a training course hosted by Adefis Juventud Internacional in Las Rozas de Madrid, Spain from 11 to 16 December 2017, under the Erasmus+ program.
The training course aimed at promoting Women's Rights, particularly female children who are vulnerable to major human rights violations, and therefore require additional attention and protections. Although "gender equality" has made it into the language of mainstream development and women's rights are protected by constitutions and other laws and policies in most countries, inequalities between women and men are still prevalent in most parts of the world. The training emphasized the importance of empowering women as an effective strategy to elevate the status of women and achieve gender equality. It is about what women can do, rather than what others can do for women. The training focused on raising awareness of women's rights in general, and highlighting major violations of these rights, particularly Female Genital Mutilation (FGM).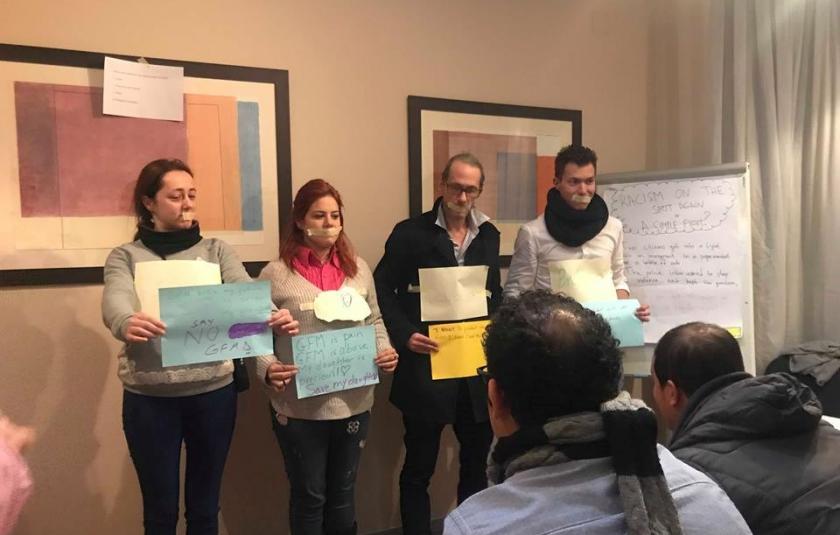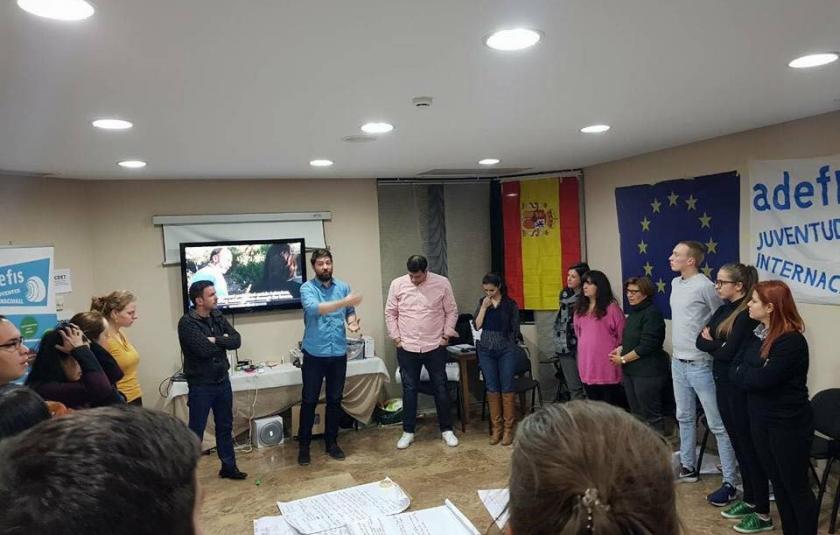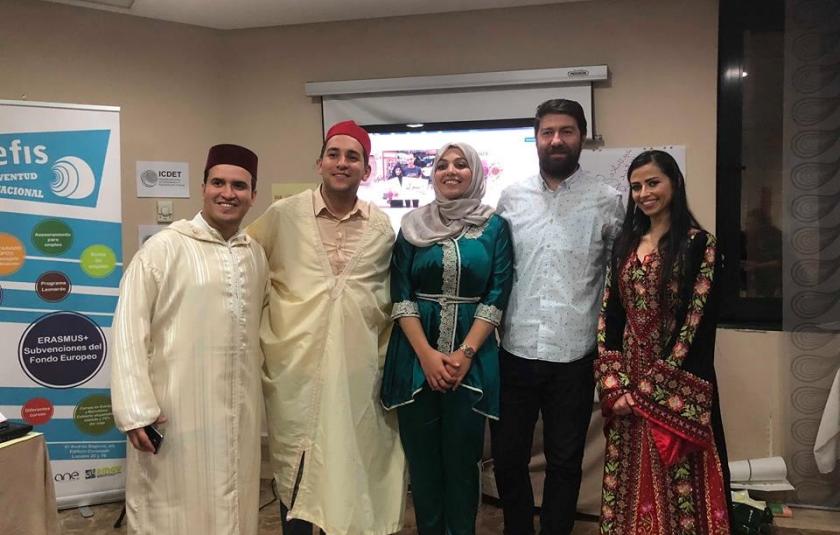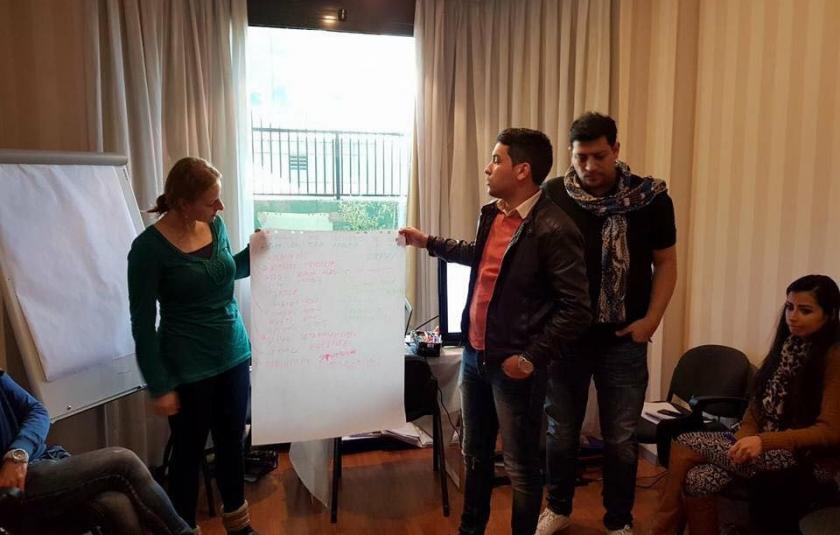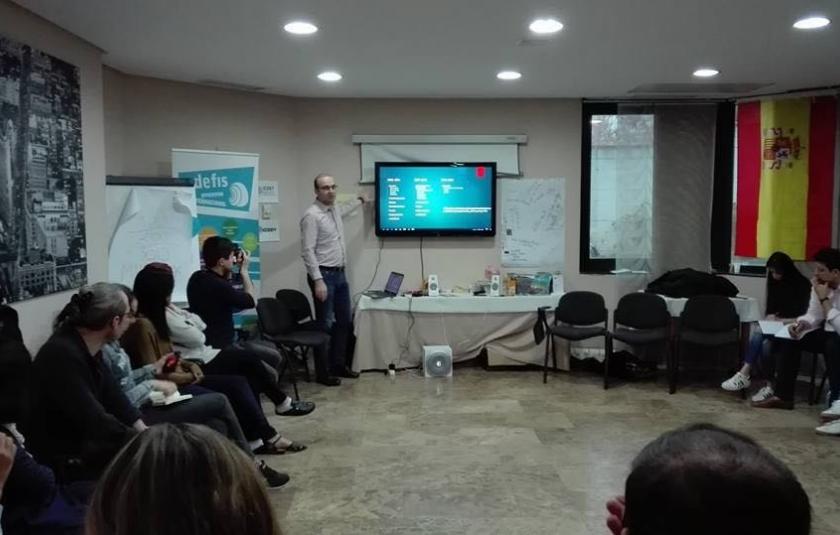 Participants:
The training hosted 19 youth and social workers representing 16 organizations from 15 countries; Algeria, Lebanon, Croatia, Portugal, Bulgaria, Slovakia, Egypt, France, Jordan, United Kingdom, Morocco, Tunisia, Italy, Turkey, and the Basque region.
Training methodologies:
The training adopted informal education methodologies to nurture the learning process, which was supported by subject-matter experts. The course included practical and theoretical workshops, evaluations, debates, video presentations, interviews, informative talks, brainstorming, visits, graphic mapping, etc. It was always guided and monitored by professional trainers.
One example is when participants visited the Spanish Ministry of Social Policies and Family. They met with the Deputy Director of the General Directorate of Social Services and Social Integration, Ms. Inmiculada Sánchez, who highlighted many women's rights issues in Spain.
Project Background:
The training is meant to contribute to the Gender Equality goals of the Sustainable Development Goals (SDGs), a collection of 17 global goals set by the United Nations (also known as "Transforming our World: the 2030 Agenda for Sustainable Development" or Agenda 2030).
The international community is committed to achieving gender equality and empowering all women and girls by eliminating all harmful practices such as child marriage, early or forced marriage, and FGM. Therefore, the course was developed to support the efforts of international and non-governmental organizations, and governments, as well as religious and civil society groups, to end female genital mutilation (FGM).
Such efforts have intensified in recent decades because of the rising awareness that such a practice is an act of extreme violence against women and girls. The World Health Assembly passed a resolution (WHA61.16) in 2008 on the elimination of FGM, emphasizing the need for action in health, education, finance, justice, and women's affairs. In March 2009 and June 2012, the European Parliament adopted resolutions on combatting/ending FGM. In December 2012, the 194 UN Member States approved a General Assembly resolution, 'Intensifying Global Efforts for the Elimination of Female Genital Mutilations', calling on all countries to enact legislation banning FGM, as well as raising awareness and allocating sufficient resources to protect and support women and girls.
The main challenge that the training tried to handle is not only protecting girls who are currently at risk, but also ensuring that those to be born in the future will be free from the dangers of the practice. This is especially important considering that FGM-concentrated countries are generally experiencing high population growth and have large youth populations.
Training outcomes:
Participants became aware of women's rights and how to protect them. Participant learned the importance of women's empowerment as a path to gender equality.
Participants learned about FGM; its challenges, types, negative impacts, and major physical and psychological risks.
FGM, also known as female genital cutting and female circumcision, refers to all procedures involving partial or total removal of the external female genitalia or other injury to the female genital organs for cultural or other non-medical reasons.
More than 200 million women and girls alive today have been victims of FGM, living today in 30 countries—27 African countries, Indonesia, Iraqi Kurdistan and Yemen, out of which 44 million are girls (14 and younger).
FGM practice reached Europe and North America through immigrants. Health complications include severe pain, haemorrhage, infection, urine retention, wound infection, urinary infection, fever, and septicemia. Haemorrhage and infection can be severe enough to cause death.
Long-term consequences include complications during childbirth, anemia, the formation of cysts and abscesses, keloid scar formation, damage to the urethra resulting in urinary incontinence, dyspareunia (painful sexual intercourse), sexual dysfunction, hypersensitivity of the genital area and increased risk of HIV transmission.
The psychological stress of the procedure may trigger behavioral disturbances in children, closely linked to loss of trust and confidence in caregivers. In the longer term, women may suffer feelings of anxiety and depression. Sexual dysfunction may also contribute to marital conflicts or divorce.
The training addressed the root causes of FGM and how to address them. The origins of the practice are unclear. It predates the rise of Christianity and Islam. Although FGM is not endorsed by any religion, religions are often used to justify this practice. The reasons for practicing FGM are grouped under four categories:
Psychosexual reasons: to control women's sexuality. It is thought to ensure virginity before marriage and fidelity after marriage.
Sociological and cultural reasons: FGM is seen as part of a girl's initiation into womanhood and as an intrinsic part of a community's cultural heritage.
Hygiene and aesthetic reasons.
Socio-economic factors: In some communities, FGM is a prerequisite for marriage or inheritance. Where women are largely dependent on men, economic necessity can be a major driver of the procedure. It may also be a major income source for practitioners.
The participants learned many ideas and strategies to change public perceptions about women rights and their violations. How to promote the solidarity of all the women to protect their rights. They shared their experiences in promoting women's rights.
The training provided networking opportunities where many new partnerships were built.
Participants learned about different cultures.
One Participant's Experience:
Ms. Reham Makhlouf, who represented Quested Peace Cooperation Circle in this project, shared with us her experience:
I enjoyed my experience in this training. I would like to seize this opportunity to thank all members of the hosting organization for their great work. They were so professional, well-organized, very friendly and very helpful throughout the whole course.
FGM is still socially accepted in many countries, especially among the most disadvantaged ones, where cultural traditions are deeply rooted. The same social and family group puts pressure on them, in fact, if they do not agree to practice it, they will be excluded from the society.
The implementation and design of this project is supporting and reinforcing other initiatives carried out in this field by international organizations such as the work of CONEMUND in Egypt in defense of the rights of women and girls.
The project will have a continuous development for 10 months, with special incidence in the cooperation, awareness, formation and sensitization. The communication between the partners will be constant and continuous over time through the media, even after the end of the project.
The activity is based on theoretical-practical contributions of experimental learning. The purpose is to report on the real situation faced by thousands of women and girls who are victims of FGM.
The Intercultural Night:
It was a great opportunity for Jordan to take part in this project. The project was very happy to have Jordan as a participant, and some of them promised to visit Jordan very soon. I believe that we will cooperate with the participating organizations in further projects. There were many different cultures joining, as usual.
NGOs Gathering:
I learned a lot from the organizations around. It was pretty effective, and I think there were many opportunities for URI Middle East and North Africa to collaborate.
I will be looking forward to more projects with this organization due to their professional arrangements, hard work, good choices and good communications.
Thank you to Quested Peace Cooperation Circle and URI for this great opportunity. I'm always looking for new ones and proud to represent Jordan and URI all the time.
- Reham Makhlouf