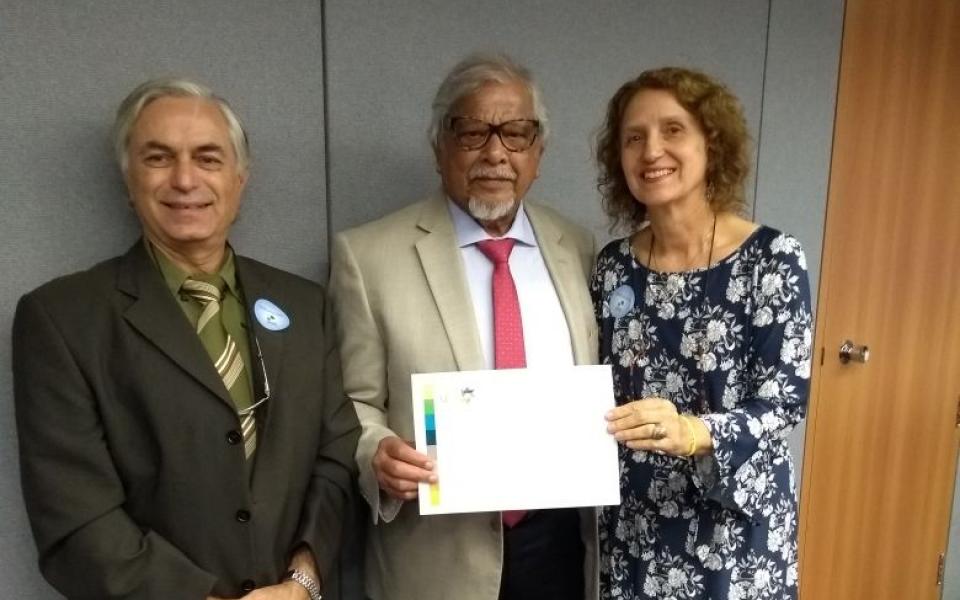 The Coordinator of URI Campinas CC, Mostafa Bartar, and the URI Global Council Trustee, Salette Aquino, took office respectively as board member and substitute of the Campinas City Council of Culture of Peace at the Council launch event held in the office of the mayor of Campinas, Jonas Donizetti, on February 22, 2018, with the presence of Arun Gandhi, grandson of Mahatma Gandhi.
Mahatma was a pacifist leader and main character of the independence of India, who until 1947 was a colony of England. Mahatma drew attention with long fasts, marches and affronts to the rulers, and in addition to the political militancy he became known for the thoughts of peace and the philosophy of nonviolence, of which his grandson Arun is a follower and broadcaster.
The Council will promote debates and actions on the Culture of Peace to involve the community. According to Mayor Doznizetti, this council will have the power to influence the city's public policies. Representatives from various religions and sectors of society participated in the event. An outstanding figure at the occasion, Arun Gandhi is the 5th grandson of Mahatma Gandhi and lived with the Indian pacifist during his childhood. This year he released a book about the lessons of peace and nonviolence that he learned from his grandfather.
According to Arun, the use of weapons and the police is not the solution to build peace. Mostafa emphasized that one of the great benefits of this Council will be to enable actions aimed at building peace to gain visibility. Arun emphasized that even when we discriminate or ignore people, or "put them down," we are engaging in acts of violence and that we should begin the work within ourselves.
The program of the launching of the Campinas City Council of Culture of Peace included a public lecture by Arun Gandhi at the Campinas Culture Station on Saturday, February 24, and ended on Sunday 25 with the II Walk for Eradication of Illiteracy.
---
Read the message sent to Arun Gandhi from the URI community, below.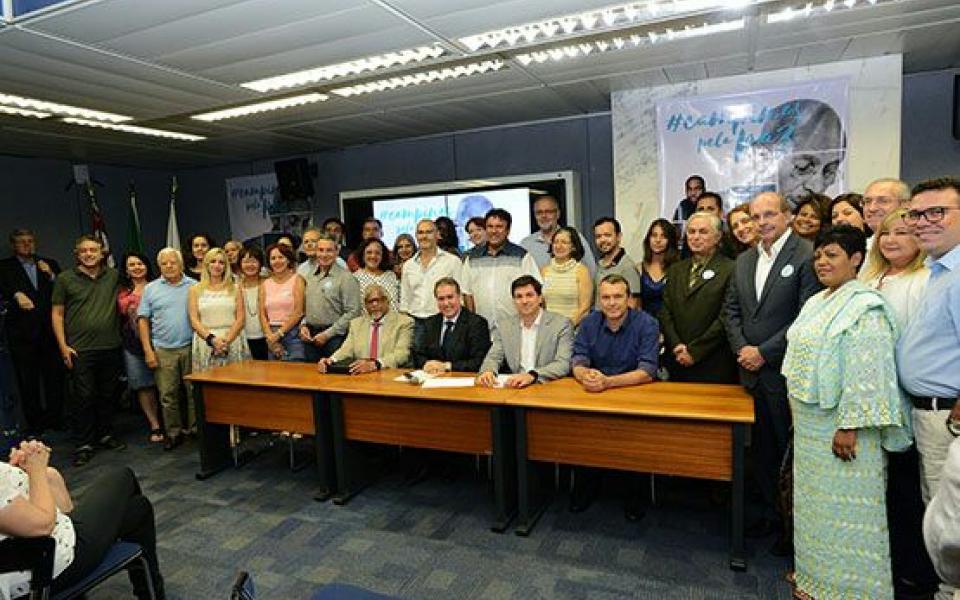 ---
Spanish Translation:
Mostafa y Salette, del CC URI Campinas, asumen cargo en el Consejo de Paz con la participación de Arun Gandhi
EL Coordinador del CC URI Campinas, Mostafa Bartar, y la Consejera Global de URI, Salette Aquino, asumieron el cargo respectivamente como titular y suplente del Consejo Municipal para la Cultura de la Paz de Campinas en un evento de lanzamiento del Consejo celebrado en la oficina del alcalde de Campinas, Jonas Donizetti, el 22 de febrero de 2018, con la presencia de Arun Gandhi, nieto de Mahatma Gandhi. Mahatma fue un líder pacifista y protagonista de la independencia de la India, que hasta 1947 fue colonia de Inglaterra. Mahatma llamó la atención con largos ayunos, marchas y afrentas a los gobernantes, y además de la militancia política se hizo conocido por los pensamientos de paz y la filosofía de la no violencia, de la que su nieto Arun es seguidor y locutor.
El Consejo promoverá debates y acciones sobre la Cultura de la Paz para involucrar a la comunidad. Según el alcalde Donizetti, este consejo tendrá el poder de influir en las políticas públicas de la ciudad. Representantes de varias religiones y sectores de la sociedad participaron en el evento. Figura destacada en la ocasión, Arun Gandhi es el quinto nieto de Mahatma Gandhi y vivió con el pacifista indio durante su infancia. Este año publicó un libro sobre las lecciones de paz y no violencia que aprendió con su abuelo. Según Arun, el uso de armas y la policía no es la solución para construir la paz. Mostafa enfatizó que uno de los grandes beneficios de este Consejo será permitir que las acciones dirigidas a construir la paz puedan ganar visibilidad. Arun enfatizó que incluso cuando discriminamos o ignoramos a las personas, o las menospreciamos, estamos practicando actos de violencia y debemos comenzar el trabajo dentro de nosotros mismos.
El programa de lanzamiento del Consejo Municipal de Cultura de Paz de Campinas incluyó una ponencia pública de Arun Gandhi en la Estación Cultura de Campinas el sábado 24 de febrero y finalizó el domingo 25 con la II Caminata para la Erradicación del Analfabetismo.
---
Portuguese Translation:
Mostafa e Salette, do CC URI Campinas, tomam posse em Conselho de Paz, com a participação de Arun Gandhi
O Coordenador do CC URI Campinas, Mostafa Bartar, e a Conselheira Global da URI, Salette Aquino, tomaram posse respectivamente como titular e suplente do Conselho Municipal da Paz de Campinas em evento de lançamento do Conselho que aconteceu no gabinete do prefeito de Campinas, Jonas Donizetti, em 22 de fevereiro de 2018, com a presença de Arun Gandhi, neto de Mahatma Gandhi. Mahatma foi um líder pacifista e principal personagem da independência da Índia, que até 1947 era colônia da Inglaterra. Mahatma chamava a atenção com longos jejuns, marchas e afrontas aos governantes e, além da luta política, ficou conhecido pelos pensamentos de paz e a filosofia da não violência, da qual seu neto Arun é seguidor e difusor.
O Conselho vai promover debates e ações sobre a Cultura de Paz para envolver a comunidade. Segundo o prefeito Doznizetti, esse Conselho terá o poder de influenciar nas políticas públicas da cidade. Representantes de diversas religiões e setores da sociedade participaram do evento. Figura de destaque na ocasião, Arun Gandhi é o 5º neto de Mahatma Gandhi e conviveu com o pacifista indiano durante a infância. Esse ano ele lançou um livro sobre as lições de paz e não violência que aprendeu com o avô. Segundo Arun, o uso de armas e da polícia não é a solução para se construir a Paz. Mostafa Bartar, enfatiza que um dos grandes benefícios desse Conselho será possibilitar que a ações voltadas para a construção da Paz ganhem visibilidade. Arun enfatizou que até mesmo quando discriminamos ou ignoramos as pessoas, ou as "colocamos para baixo", estamos praticando atos de violência e que devemos começar o trabalho dentro de nós mesmos.
A programação do lançamento do Conselho Municipal da Cultura de Paz de Campinas, incluiu uma palestra de Arun Gandhi, aberta ao público, na Estação Cultura de Campinas no sábado 24 de fevereiro, e finalizou no domingo 25 com a II Caminhada pela Erradicação do Analfabetismo.