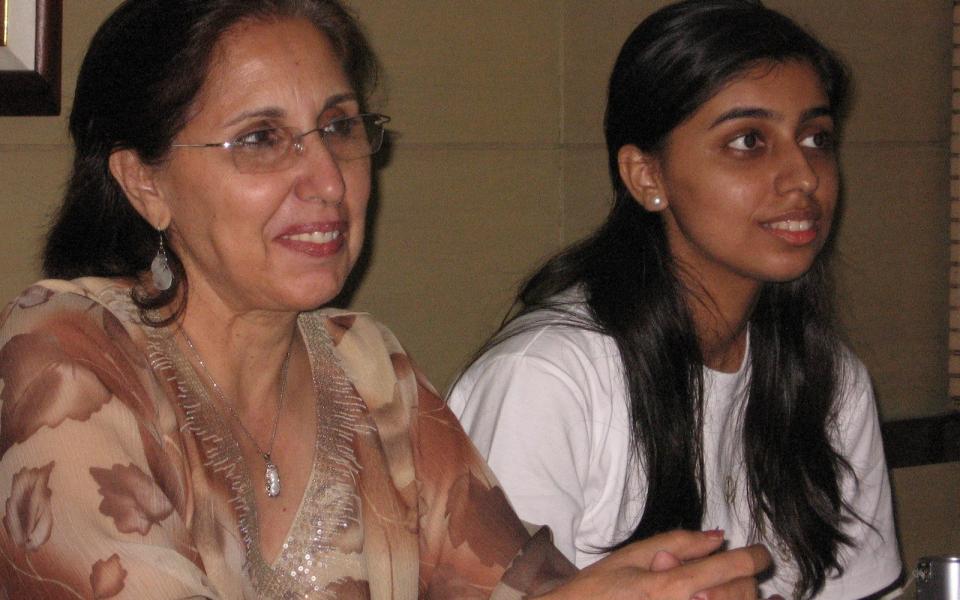 As URI matures, the children of its founding members also mature and bring their voices, wisdom, enthusiasm and convictions to URI. Below, hear from two young adult women who "grew up" within the URI family.
Sharon Vaswani
As a Hindu, the URI youth-led workshops on themes of interfaith education, social and environmental activism struck a chord with Sharon. They all bore out the commonalities of various religions in terms of recognizing the sanctity of life and the desire for peace. It also affirmed to her that "ahimsa" or respect and non-violence is a fundamental responsibility of each individual, despite differing religions, and is akin to being the supreme duty of man. This is one of the reasons why she resonated so much with URI and continues being connected to this organization today. 
In her own words:
Namaste!  My name is Sharon Danisha M. Vaswani. I am a 30-year-old practicing Hindu living in the Philippines. I am an Optometrist by profession and now have my own company, PanOphthalmics Enterprise, an ophthalmic surgical instruments and machines business. I am also a Financial Advisor. I have been active in the URI since 2008 and am currently actively involved in the URI Global Youth Cooperation Circle. 
My mother, Dr. Shakuntala Moorjani, became a part of the URI family through the Peacemakers' Circle Cooperation Circle back in 2001. She served as a URI Global Trustee for the region from the years 2002 to 2005. Later she served as the Regional Coordinator for the South East Asia and Pacific region (SEAPAC) from 2006 to 2011. 
My first interaction and experience of the URI was in 2008, when I was selected for a Young Leaders Program and Global Assembly in Mayapur, India. To me at first, it was an opportunity to visit another place in my motherland India that I had not yet seen and meet youths from all over the world – however, it was much more than that. It was a transformative experience meeting many youths who were passionate about sharing their faith and were fervent in their desire to understand the differences to build bridges of understanding among people of seemingly disparate faiths.
I have continued to answer the call of leadership as I took on the position of Student Council President in my University when I came back to the Philippines. My desire to spread the light of love and peace to the region led me to assist Matthew Youde, the Young Leaders Program Coordinator, and Sarah Talcott (his predecessor) in carrying out similar youth empowerment programs in the Philippines, as well as in other parts of the region. The skills and learnings that I have gained with my exposure in URI are invaluable and I have seen them come into play in the various spheres of my life. Not only do I try to continue to give back to URI by devoting time in peace-building work, by attending workshops, arranging online webinars and sharing these with like-minded youth from around the globe through the use of social media, but I also bring them in my daily interactions with people. I appreciate that URI has given me the additional boost to step up and be a leader in any field I chose to foray in – be it academically, or as I have now ventured, in my chosen profession. 
---
Aisyah Amir
The biggest thing Aisyah learned from being a part of the URI community is understanding and appreciating differences, whether they are religious, cultural, linguistic, or even how we all eat food. This value is important in the medical field, because doctors must show empathy to patients who come from diverse backgrounds, and should not discriminate against patients who are different. Once humans learn to synergize, we can achieve peace, love and healing together.
In her own words:
SALAM and Peace! I am Aisyah Amir, a 24-year-old junior doctor hailing from Kuala Lumpur, Malaysia. Currently, I am training as a House Officer at Hospital Kuala Lumpur, one of the biggest and busiest hospitals in the country. I have been a member of the URI since 2015 as a member of the URI Global Youth Cooperation Circle.
I was introduced to URI through my father, Dr. Amir Farid Isahak, who is the chairman of one of the Cooperation Circles based here, INSaF. He has been part of URI since 2006, and also served as a Global Trustee from 2006 to 2012. The whole family used to tag along for the SEAPAC regional meetings, and that was how we got the opportunity to travel to many countries and also to know the other members and trustees. My siblings and I practically grew up in the URI family!
Being exposed to the URI at such a young age, initially I was just interested in getting to know about all the different cultures from all over the world, meeting and hearing the stories of people from different walks of life, and learning about different beliefs and religions. As I grew up, I began to understand that there was more to URI than just learning about our differences. URI was about appreciating these differences and utilizing our diversity to bring peace to communities. My father had always taught us that in Islam, one of the best ways to please our Creator is to bring peace between people, and the concept of peace is so deeply rooted in our religion that even our greeting translates to "Peace be upon you!", and URI was a platform that promoted this value on a global scale.
---
Read more posts in the Every Voice series, which presents thought-provoking quotes showing how people all over the world give voice to URI.