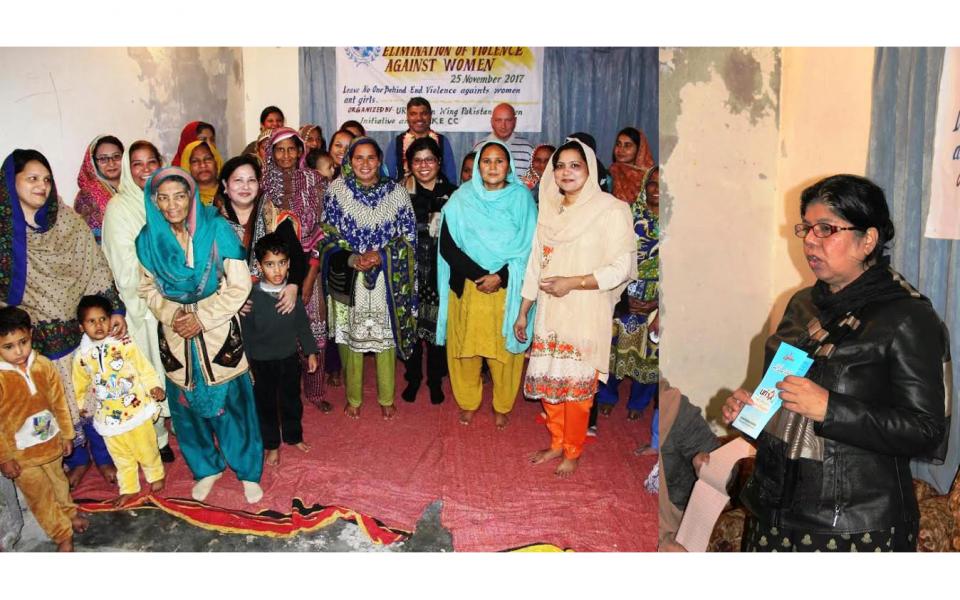 Welfare of Women and Children
Reaching out to uplift women and children is core in URI. One expression of URI's dedication to women and children is the Women Wing of URI Pakistan, established in 2008, headed by Sr. Sabina Rifat. Sr. Sabina works selflessly to provide women and children with counseling, vocational training, peace activities, workshops and education. Sr. Sabina founded the Cooperation Circle, Women and Kids' Education CC (WAKE). She writes:
"If we trained women in professional skills, it will be possible for them to earn their bread with dignity and to give better formation to their children and families thus bringing a positive change in an intolerant society. To give basic education to children means to give them a chance to live with liberty and discernment and bring a change in the economy. This will decrease crime rates and increase better relationships and acceptance of others without prejudice. It will gradually bring a positive change in society and a better future for minorities in Pakistan."
"My aim is always to work with Christians, Muslims and any other human beings. Now, the conflict among people of different religions and sectarianism is mounting high, especially in undeveloped areas. This work gives us a chance to work toward interfaith harmony."
"WAKE CC's purpose is to bring peace and harmony among Christians and Muslim people and give them a chance to work together and accept each other as equal human beings. Starting from slum areas in cities, I would love to expand this work into rural areas, as well as to the brick kilns, where people have been working as slaves for generations."
One activity, organized by The Women's Wing for The International Day of Elimination of Violence against Women, gathered 35 Muslim and Christian women. Sr. Sabina told the women that the theme of the program was, "to stop violence against women and leave no one behind." She explained URI's purpose, goals and actions for the women. She spoke about international women who were helping women in Pakistan by their intellect, faith and resources.
Some women told their stories:
"My husband lives away and I am here in this village with the children. He doesn't send us any money nor fulfil our needs. I clean other people's houses. I am alone. I run home to be sure my five children get to school. I am spending a life on thorns. I don't want to make my children suffer."
"My husband and I work together to give a good formation to our children. In the morning before going to school, I make the whole family pray together and then we have breakfast. I thank God that I am having a good life with my children and husband."
"My husband stays at home but doesn't work. I am a staff nurse and I have to earn the money to keep up the home as well as help the children with their education. It makes me very sad to see my husband sitting idle all the time."
Sr. Sabina said, "It was courageous for the women to share their stories which were often painful. But then we sang together. It became a celebration of women to being together and to know that we care about each other and that there are people in the world thinking about them."
---
Read more posts in the Every Voice series, which presents thought-provoking quotes showing how people all over the world give voice to URI.