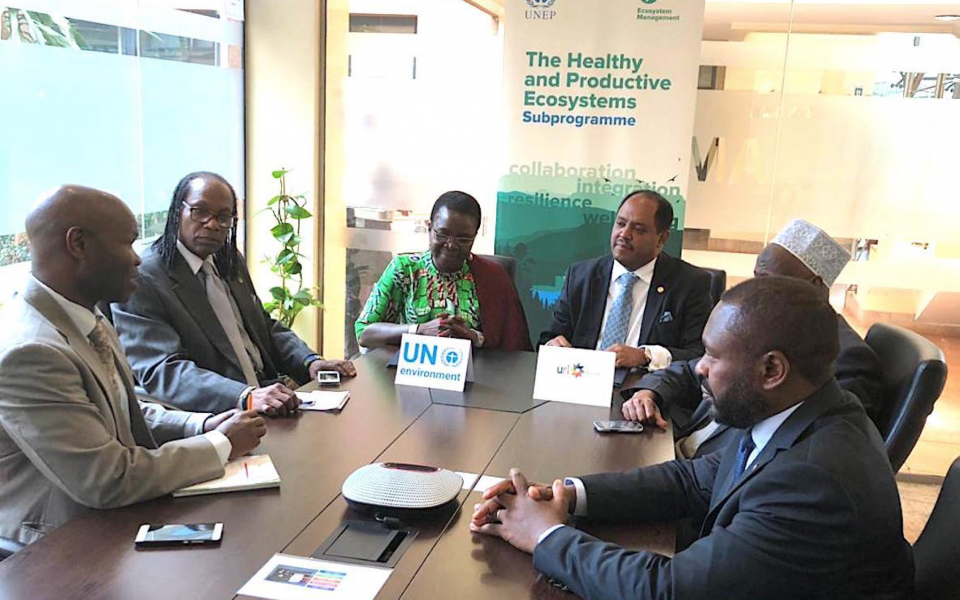 PRESS RELEASE                                 
8 November 2018
URI-Africa and United Nations Environment Programme Sign Memorandum of Understanding to Work in Partnership
The United Nations Environment Programme (UN Environment), the leading global environmental authority that sets the global environmental agenda, has signed a Memorandum of Understanding (MOU) with United Religions Initiative–Africa (URI) to collaborate on leveraging the wisdom, power and influence of faith-based and spiritual communities in mobilizing the citizenry in environmental awareness and action.
The agreement was signed at the UN Environment Headquarters in Nairobi, Kenya by Dr. Juliette Biao-Koudenoukpo, UN Environment Director and Regional Representative Africa and Ambassador Mussie Hailu, URI Regional Director for Africa and Representative to the African Union and UN office in Africa.
The two organizations have agreed to the following preliminary and overarching areas of cooperation:
To collaborate and maintain close and continuing working partnership on the issues of faith and environmental sustainability;
To enhance and facilitate interfaith cooperation and foster a consistent working partnership between UN Environment and religious leaders from different faith traditions on environmental sustainability issues;
To promote the role of religious leaders in the stewardship of Mother Earth; ensuring the health and productivity of ecosystems and conserving biological diversity for human well-being, and creating public awareness through churches, mosques, temples, synagogues and other worship places on the importance of the environmental pillar in the context of the Sustainable Development Goals, and Agenda 2063 "Africa We Want" of the African Union;
To mobilize interfaith and faith-based organizations, religious and spiritual leaders for the implementation of the Interfaith Rainforest Initiative of UN Environment;
To enhance participatory contribution of faith-based organizations to bridging policy and operational gaps aimed at implementing the Paris Agreement, Sustainable Development Goals and Agenda 2063; including technological and financial gaps in scaling up clean energy and Ecosystems-Based Adaptation (EBA)for biophysical and socioeconomic resilience through initiatives, such as the Ecosystems Based Adaptation for Food Security Assembly (EBAFOSA) in Africa;
To actively engage followers of different religions in Africa in environmental campaigns, promoting the Green Rule Initiative and observing the World Environment Day on the 5th of June of each year;
On the occasion of the signing of the MOU, Dr. Juliette Biao-Koudenoukpo said, "Great leaders such as the late President Mwalimu Julius Nyerere of Tanzania have always had a high respect for spiritual guidance. Religious leaders therefore play a key role in guiding not only their members, but also world leaders to take action in safeguarding the environment pillar of sustainable development."
She added, "The signing of this cooperation with URI–Africa is instrumental in taking our work to the grassroots. Immediate examples include engaging local communities to sustainably manage rainforests under the Interfaith Rainforest Initiative in the Congo basin and the Amazon. Our work has just begun."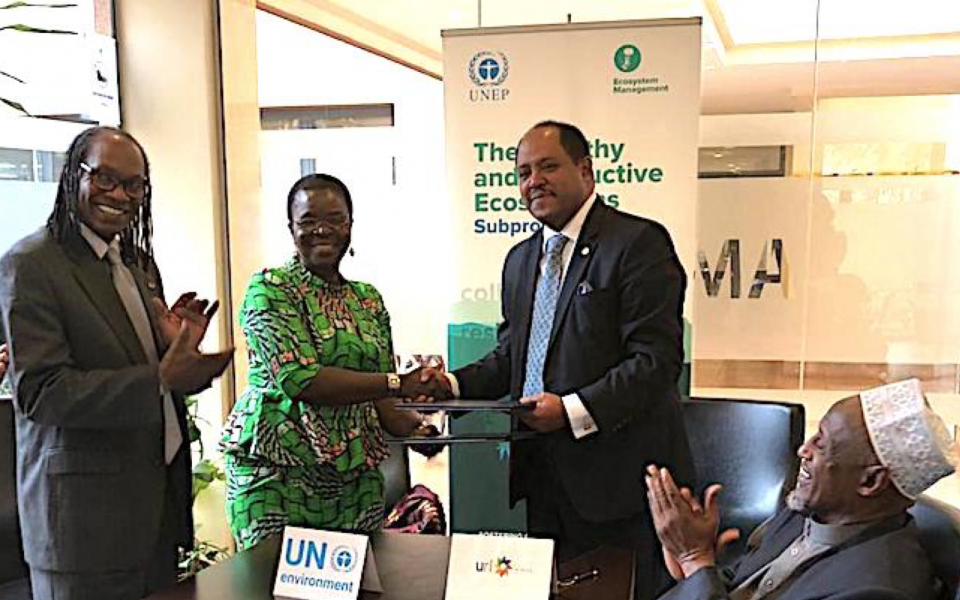 On his part, Ambassador Hailu said, "URI highly appreciates and recognizes the great work of UNEP since its establishment in 1972 for the promotion and protection of the environment, assisting developing countries in implementing environmentally-sound policies and practices, and providing a structure to support systems of environmental governance in the world and to bring sustainable development. It is for this reason URI-Africa presented its Africa Peace Award to UNEP in 2015. I do believe that the signing of this MOU will cement the working partnership established between the UNEP–Africa Office and URI–Africa, and this will pave the way for the two organizations to further enhance their collaboration on a global level.
"UN Environment and URI share common objectives with regard to the conservation, protection, enhancement and support of nature and natural resources, including biological diversity, and this cooperation agreement will help to enhance the collaboration of the two organizations to further these common goals and objectives within their respective mandates and governing rules and regulations," Amb. Hailu added.
May Peace Prevail on Earth
###
URI is an interfaith organization with consultative status at the United Nations Economic and Social Council and it is working to promote enduring, daily interfaith cooperation, to end religiously- motivated violence and to create cultures of peace, justice and healing for the Earth and all living beings. It is to be recalled that URI also has a MOU with the African Union. Through its 214 member organizations in 31 African countries, URI is cultivating peaceful co-existence among different religions and cultures by engaging people to bridge religious and cultural differences and work together for the good of their communities.