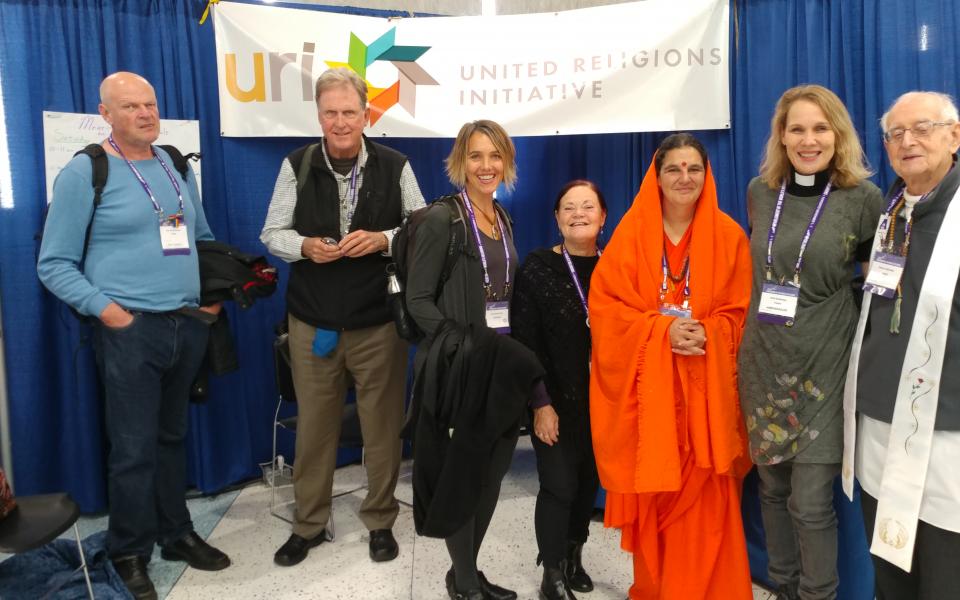 URI featured prominently in programs and workshops at the 2018 Parliament of the World's Religions (PoWR), the largest global interfaith gathering, which took place November 1 – 7, 2018 in Toronto, ON. The 7th PoWR's seven-day convening brought thousands of persons together of different religious, spiritual and ethical backgrounds from around the world to explore its theme: "The Promise of Inclusion, The Power of Love: Pursuing Global Understanding, Reconciliation, and Change." URI's presence showcased real-time grassroots action from locations around the world.
A heavy schedule of events featured 1,600 presenters in 900+ programs, workshops, exhibitions, and dialogues that highlighted expert analysis, spiritual wisdom, advocacy training and cultural flair. URI members were featured in a large number of these (see a listing of URI programs) that spanned expert panels, discussion groups, an information booth, a hospitality space, and even several musical performances - URI Cooperation Circle leader and music legend Pato Banton performed live an unveiling of "All in This Together," an album of intercultural music collected from the URI Global Community.
See a recording of the live video from the reception URI hosted at the Parliament, with messages from URI leadership and video of Pato Banton's musical performance. 
Abraham Karickam, the URI Regional Coordinator for southern India, recorded a journal of observations from his experiences at the Parliament.
URI Leadership at the Parliament
URI Founder and President The Rt. Rev. William E. Swing, URI Executive Director The Rev. Victor H. Kazanjian, Jr., and URI Global Council Chair Kiran Bali, MBE, JP shared keynote addresses, discussion groups, panels, and presentations at the 2018 Parliament.
More videos from URI members at the Parliament:
See a recording of the live video: Victor Kazanjian, URI's Executive Director, shares examples of collaboration between the United Nations and the United Religions Initiative, at the Parliament for the World's Religion panel entitled, "The United Nations, A Catalyst for Interfaith Action."
See a recording of the live video: Interviews with Rebecca Prows from URI Cooperation Circle Interfaith Cafe on Storytelling in Interfaith Engagement and Rev Lauren Van Hamm from URI Cooperation Circle Chaplaincy Institute on Building a Global Environmental Network. 
See a recording of the live video: Pato Banton and his Spiritual Family share a concert at PoWR featuring his songs from their new CD, "All In This Together," which features music from around the international URI community.
See a recording of the live video: Interviews with Valeria Vergani from the Inspiritual Sustainability Council, Girish Shah from URI Cooperation Circle Silicon Valley Interreligious Council, and Greg Davis from URI Cooperation Circle Safe Alliance of Interfaith Leaders.
See a recording of the live video: Interviews with Sarah Oliver from URI Cooperation Circle Cape Town Interfaith Initiative, Aline LaFlamme from the URI Cooperation Circle Interspiritual Sustainability Society, and Emerson Finkle from URI Cooperation Circle Interfaith Chapel at the University of Rochester.
URI's Partnership with the Parliament
URI is proud to partner with the Parliament. Rev. Dr. Larry Greenfield, PoWR Executive Director, applauded the partnership. "We are committed to acknowledging the indelible role grassroots interfaith cooperation has played in the advancement of peace, justice and sustainability on earth. What a privilege it is for the Parliament to be partnered with the world's largest grassroots interfaith network, a showcase of truly needed collaboration at a time our movement is most necessary to intervene in the rising tide of division, greed, and environmental degradation."
"We offer our deepest gratitude to URI for its commitment to partnership and impressive achievements, from URI's efforts at the UN to its growth in hundreds of cities across the world where interfaith groups have the chance to be part of a resource network that connects their local insights and achievements to a fast-growing group of global peacebuilders," said Dr. Robert P. Sellers, Board Chair of the Parliament of the World's Religions.