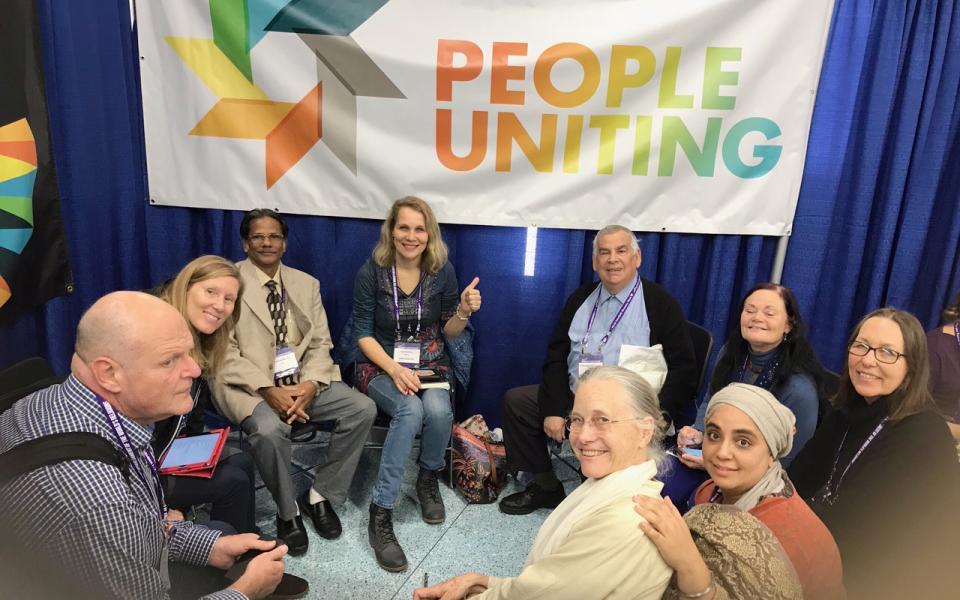 Abraham Karickam, the URI Regional Coordinator for southern India, recently attended the 2018 Parliament of World Religions in Toronto, Canada. The Parliament is the world's largest global interfaith gathering, and it attracts peacebuilders from diverse traditions to come together and share experiences, hopes, and stories. Abraham's observations, which he sent to the URI community throughout his experience, are collected to share with you below.
Learn more about URI's involvement in the 2018 Parliament.
---
When the Parliament of World Religions Meet Again!
Today is 1st November. When Americans celebrate Halloween Day, When Kerala is celebrating Kerala Day, it is my privilege to be in Toronto to participate in the 7th Parliament of World's Religions at the Metro Centre here.
One hundred and twenty-five years ago, Swami Vivekananda started his journey from the Southern tip of India to attend the first Parliament. I, too, started from the Southern tip of India to attend the seventh. He called Kerala mad, as people were fighting in the name of religions, even in those days. The same insanity was ruling Kerala when I started, as a big fight was going on in the name of religious rituals related to Sabarimala, which actually should be our pillar of unity, as the temple and Ayyappa are for all.
Four thousand people attended the first Parliament in Chicago. Ten thousand people are expected to converge here, in spite of climate being bit cold with 9 degrees. 
It is cold outside, but a special warmth fills the hearts of these ten thousand peace lovers who travel from all directions of the globe, to proclaim the unity and integrity of all creations.
---
The seventh Parliament had a beautiful and colourful start yesterday, here at the Metro Convention Centre in Toronto. Delegates from 220 faith traditions are attending from all corners of the world. The Parliament of the World's Religions was created "to cultivate harmony among the world's religions and spiritual communities and foster their engagement in the world and its guiding institutions, in order to achieve a just, peaceful and sustainable world."
The week-long program began with spiritual opening ceremonies by the host First Nations at the Olympic Park. A water ceremony by women walkers and sacred fire by the Indigenous communities attracted all. It culminated in the gorgeous opening in the main hall, where the First Nations brothers and sisters greeted all with amazing traditional drumming, songs and dances.
Leaders from all spiritual traditions will address the assembly in the coming days. Numerous parallel sessions and plenaries will be held in different stages. More interactions will take place outside the meeting spaces, where faith communities encounter their fellow pilgrims from everywhere.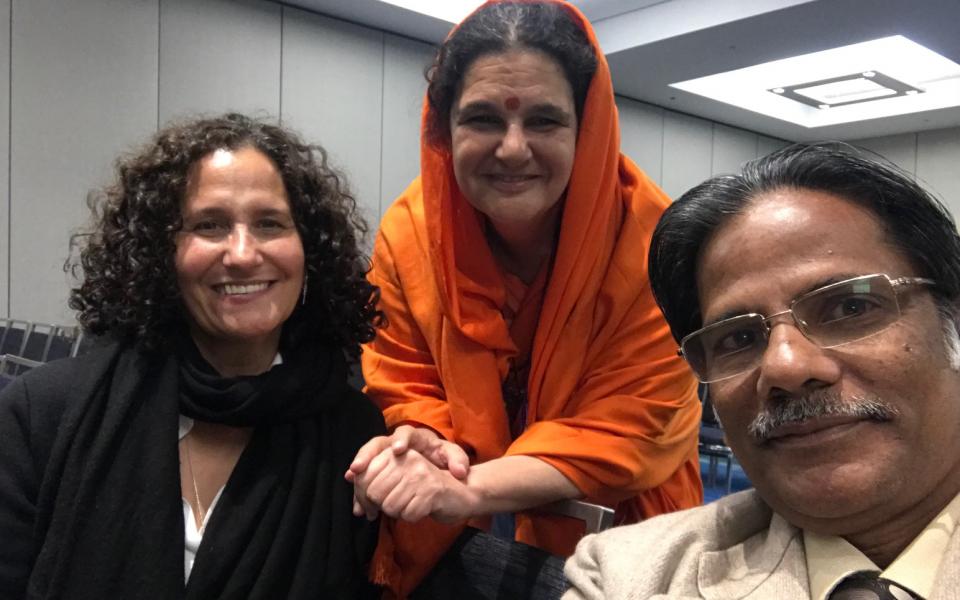 Since the 1893 event of the first Parliament of World's Religions at Chicago, five more sessions were held so far (Chicago – 1993, South Africa – 1999, Barcelona – 2004, Melbourne – 2009 and Salt Lake City – 2015). It was Swami Vivekananda's entry in 1893 at Chicago that made the Parliament glorious. He was instrumental in opening a channel between the philosophers of the East and the West.
The whole Universe 'conspired' in making his journey possible. Swami was a nomadic sage in his thirties, searching for his real mission in life. Though many of his friends advised him to go to the Parliament, he was reluctant, but his deep introspection and meditation at the sea rock in Kanyakumari was a turning point. Here he accepted the divine call to embark upon a journey to the West. He and his friends begged to raise money for the tickets. Passing Colombo, Singapore, Japan and Vancouver, at last he reached Chicago in July. To his surprise, he learned that the Parliament would meet only in September.
Not knowing where to go, without any money in hands, he just wandered. It was Swami himself who later said, "Your good thoughts and actions will be there to protect you with the wings of a thousand angels." This is exactly what happened in the ensuing months. That is a miraculous story. In the end, after meeting several luminaries, he made it to the Parliament and rest is history. When Swamiji said to Professor J. H. Wright of Harvard University that he did not have any credentials to attend the Parliament, Prof. Wright replied like this:
"To ask you, Swamiji, for credentials is like asking the sun to state its right to shine." That was Vivekananda. Today the Parliament of World of Religions is itself a wonder; an event without any comparison.
---
As the 7th Parliament is progressing at Toronto, it would be timely to muse a while on the evolution of this interfaith journey. The global Interfaith community was born in Chicago 125 years ago with the first Parliament, held alongside the World's Columbian Exhibition. It is here that the beauty of other religions like Hinduism, Buddhism, Jainism and Baha'i became visible to the West. 
It took another 100 years for the religions to meet again in the same Chicago. The contribution of this city to world peace is to be declared from mountaintops. If it was 4,000 people who gathered in 1893, in 1993 it became 8,000. His Holiness the Dalai Lama was the chief guest there and the Assembly deliberated on global ethic.
Six years later in 1999, it was Nelson Mandela's South Africa that greeted the World's Religions, but participants were only 7,000. Archbishop Desmond Tutu and President Mandela proclaimed about the transformative role of religion and spirituality. It was in collaboration with UNESCO that the next Parliament was convened in the city of Barcelona in Spain, which discussed "Pathways to Peace." Iranian Nobel Laureate Dr. Shirin Ebadi and Dr. Jane Goodall, author of "Harvest for Hope," were at the centre. Nine thousand peace lovers flocked here. 
Environmental issues were addressed by the Melbourne Parliament in 2009 and President Jimmy Carter and Sri Sri Ravi Sankar were the leaders. It was here that the Australian Government came forward with a national apology to the aboriginal groups. The attendance was 7,000. War and Violence, Climate Change, Women Issues and Income inequality were discussed at length in Salt Lake City in the United States in 2018 when the Parliament met for the 6th time. Attendance was over 10,000. 
When a few of the fanatics are generating a lot of terror and fear around the world, peace lovers are hopeful that the day is not far when the world admits that peace cannot be compromised for any other entity.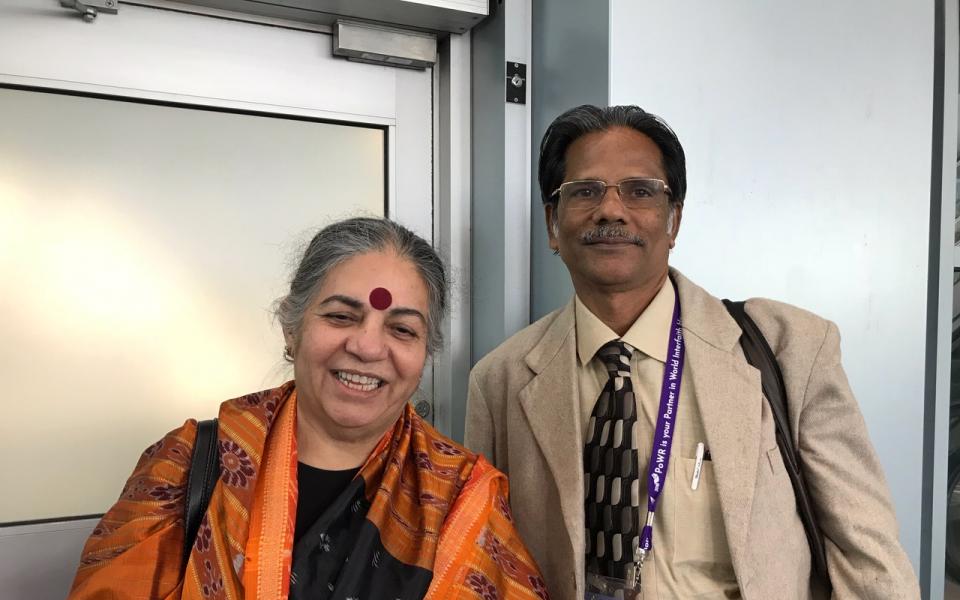 Today on 6th November, the world is celebrating Diwali, the Festival of Lights. I am happy to say that here in Toronto, Canada, we are celebrating the festival of religions. Is there a greater joy than seeing 220 Faith Communities coming together to proclaim to the world that we are one? We have to clearly understand that there are not many Today, anywhere in the world, fighting in the name of religions and Faiths. That time is gone with the chilly winds of old. And, if there are still a few handfuls of our brothers and sisters creating troubles anywhere in the name of Religions, they must know that they are only very few, and will realise enmity will be wiped out from the earth very soon, and that too is the benevolent wish of the Mother Earth. She cannot bear destruction too long.
Diwali reminds us of the homecoming of Sri Rama, after fourteen years of exile in the forest, when people greeted him and his wife Sita and brother Lakshmana and all others, with lights all over the streets in the country. People were celebrating the victory of the good over evil. When a mother became hungry of power, she wanted her son to be on the throne and the real heir to the throne had to be sent far away into the deep forest. This is exactly what happens everywhere. When someone wants to usurp the throne, poor and innocent lot will have to vanish into oblivion. This is also what happened to the First Nation peoples all over the world, in the past. We owe an apology. 
Here in Toronto, the people of all nations and all religions declare that we have to be one in creating a just world, a peaceful world. All the guns have to be silenced. All the nuclear weapons have to be eliminated. Children of the globe are unhappy sleeping with 14,995 nuclear weapons by their sides, not knowing when these would fly. Here we have learned to listen to the cry of children, and let not that be a cry in the wilderness. 
So let us celebrate Diwali with all its warmth and colours. It reminds us of the beginning of a new era, when mistakes are corrected and the real right is established. May the religions of the world live in peace. May the nations of the globe rejoice.
---
There is a saying: As long as there is the Sikh Community, no one will starve. LANGAR is the common word, which means community kitchen. Wherever there is a Gurudwara, they will be serving food always to people irrespective of caste, creed, colour or religion. Everyone has to cover the head and sit on the floor. No discrimination at all.
Right now, the Sikh Community is serving food to all participants of the Parliament of World's Religions. There are ten thousand delegates this year and food is no problem, as there is langar. Every inch of the work is done by volunteers, both men and women. Service is their mission. 
---
In URI, we have a Multiregion Cooperation Circle named "Voices for a World Free of Nuclear Weapons." The chairman is none other than our founder, Bishop Bill Swing. This is the only Multiregion Cooperation Circle in which I am a member. There was a session at the Parliament yesterday, where the Bishop invited like-minded people to join the network to strive for the total eradication of all nuclear weapons.
The session started with the very attractive and meaningful nuclear prayer. We watched a video of prominent figures reading the nuclear prayer, including:
The Honorable William J. Perry, former Secretary of Defense under President Clinton
The Honorable George P. Shultz, former Secretary of State under President Reagan
Dr. Sidney Drell, Professor Emeritus at the Stanford Linear Accelerator
Ambassador James E. Goodby, former Strategic Nuclear Arms Negotiator with the U.S.S.R.
Ambassador Thomas Graham, Jr., former Senior U.S. Diplomat
Jonathan Granoff, President of the Global Security Institute
Monica Willard, United Religions Initiative Representative to the United Nations
The Right Rev. William E. Swing, former Episcopal Bishop of California, and President and Founder of the United Religions Initiative.
I would invite all of you to see the nuclear prayer video. This prayer calls for action. Today we have a stockpile of around 14,000 nuclear warheads. An approximate number will be the following:
Russia - 6850

United States of America - 6550

France - 300

China - 280

UK - 215

Pakistan - 150

India - 130

Israel - 80

North Korea - 20
Our prayer is for the total elimination and deactivation of these weapons, and it is possible. If our younger generation can feel the passion of these elderly people, it will be possible. Please understand that we had a stockpile of around 68,000 active weapons in 1985 and we have come up to this level. If so, that time is not far when our children learn only from history books and war museums, about the good old nuclear weapons. Our thanks to all these great luminaries who are leading the way. 
---
The biggest Festival of Religions has come to a close at Toronto. It will definitely have a positive influence in shaping the future of humanity. The highlights may be the following:
1. Bringing together 10,000 people from all parts of the world, who belong to 220 Faith communities is in itself a miracle. The Seventh Assembly made it possible. Such a Herculean task was made very simple, which shows the organisational skill of the officers and every volunteer who strived for it.
2. Celebrating diversity and pluralism in all its authenticity is the primary objective of all such events and it was at its supreme best here. Hundreds of varieties of flowers make a beautiful garden. Here was God's plenty.
3. Hundreds of sessions went on without any confusion. The planning and homework were meticulous and the superb facilities of the Metro Convention Centre made a big difference in itself.
4. Suppose twenty-five students are in one class. Same teacher, same lesson, but when the students write answers for the same question, we get twenty-five different answers. When 220 Communities of Faith come together, we get 220 versions of God, even if it is a negation of God. Every student can claim his/her answer as the best, no problem, but the reality will be different. Here no one claimed any superiority. Everyone rejoiced in differences. If the world understands this truth, it will go a long way in establishing the Kingdom of God upon this planet.
5. All sessions and plenaries were unique in their respective locale. The passion with which people attend every event is something to be admired. 
6. Youth, women, indigenous communities and differently abled people were all given opportunities at various levels, which is admirable.
7. Attitude to Mother Earth was at the centre of all discussions in different plenaries. If the world doesn't take a U-turn in its attitude, it will be too late to learn when nature revolts.
8. It is here that like-minded people learn that they are not alone in their passionate pursuits. It is a matter of great consolation for all those who sacrifice their lives for greater callings.
9. As I have written earlier, the Sikh Community displays their marvelous hospitality in feeding thousands free. Their discipline and sacrificial attitude are without comparison anywhere else. Scripture is not something to be recited in the comfort zone of solitude. When the Book compels us to action, then it becomes meaningful. 
10. The danger of nuclear weapons was another topic that caught the attention of all. It is mere madness to simply sleep with 15,000 warheads, that threaten the very existence of creation. Man/ Woman has no right to re-draft the cosmic design. Wiping out humanity can never be a sane intervention. If we don't discern the right direction, we don't know how the creator will intervene. 
Infallibility is not human nature. There may be flaws, but why should we worry about flimsy matters, when we have so much to rejoice? So let us go home with hope, to be as active as ever, maybe more active, with renewed energy. 
Let me conclude with a few lines from Tagore's Gitanjali, which I had been teaching my M.A students for many years, which still reverberates in my soul:
"The song that I came to sing remains unsung to this day.

I have spent my days in stringing and in unstringing my instrument.

The time has not come true, the words have not been rightly set; only there is the agony of wishing in my heart. 

The blossom has not opened; only the wind is sighing by..."
Let there be strong winds. Let there be no delay in the blossoming of a new spring, a spring that transforms all hearts and minds.