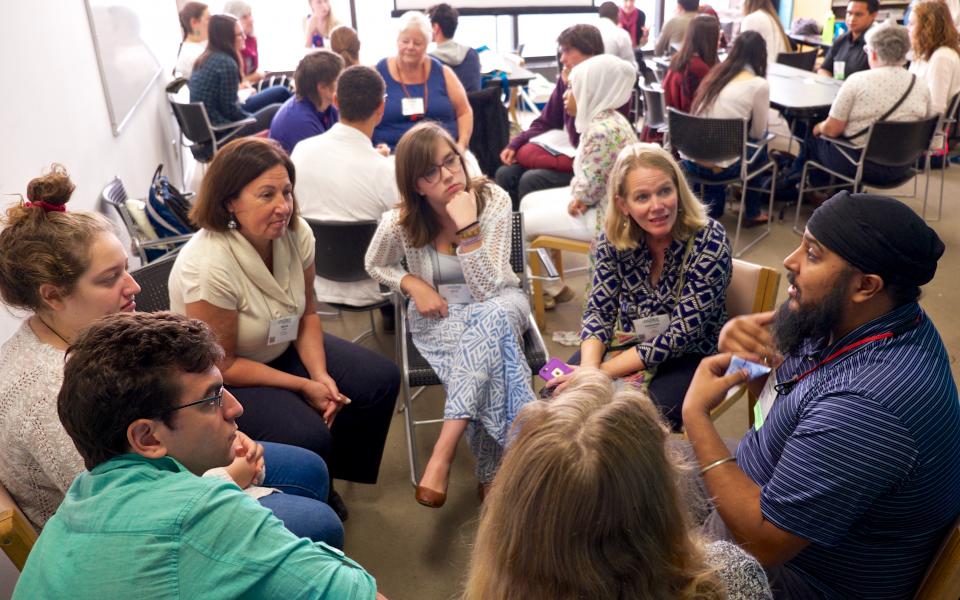 It's in the Bones – Wisdom at the Heart of URI Organizing
By Sally Mahé
United Religions Initiative (URI) enlivens people to create cultures of peace, justice and healing through interfaith cooperation. Boldly, both in vision and in organizational design, URI embraces transformational principles. Over the years as URI put these principles into practice, seven core actions have emerged. These core actions are life-giving and provide the DNA for URI. They call forth the best in people. URI provides the conditions where people find meaning and where humanity evolves. URI draws upon natural human capacities. These ways of being are not new knowledge for people, but wisdom already in our bones. 
This series describes seven actions at the heart of URI's organizing. One action summary will be posted each week that includes inquiry questions. Feel free to share this information and use it to engage your community. The entire series can be found here.
---
Engagement
Engagement is the practice of listening, giving time, attention and expertise to people and their possibilities for success. URI calls Cooperation Circle members sincerely to engage others in the unique circumstances of their own activities and offer help with a generous spirit. Engagement is motivated by wanting others to succeed. Actions initiated by URI members are not coerced but inspired through engagement. URI's network of support depends on reciprocity – a give and take, a desire to "pass it forward," by kindness and hospitality. Training, resource support and inspiration pass from one to another across URI's network. URI prioritizes "walking with" others, understanding their challenges and helping them meet their needs.
Inquiry
When have you been touched by someone giving you unexpected attention, respect and understanding? Share your story.
Try an experiment. Choose a person who is involved in a community action project. Find a time to have a one-on-one conversation. Ask, "Is there a way I can be of service to your project?" Listen to their response. What happened? How did you feel? How did they feel?
What examples of respect and cooperation do you notice in the political life in your area, and in your country?