The following post is written by Patrick Horn, a member of Unity-and-Diversity World Council, which is a Cooperation Circle member of the United Religions Initiative. Patrick participated in a January 2019 trip to the United Nations lead by URI North America. Click here to read reflections from his fellow participants.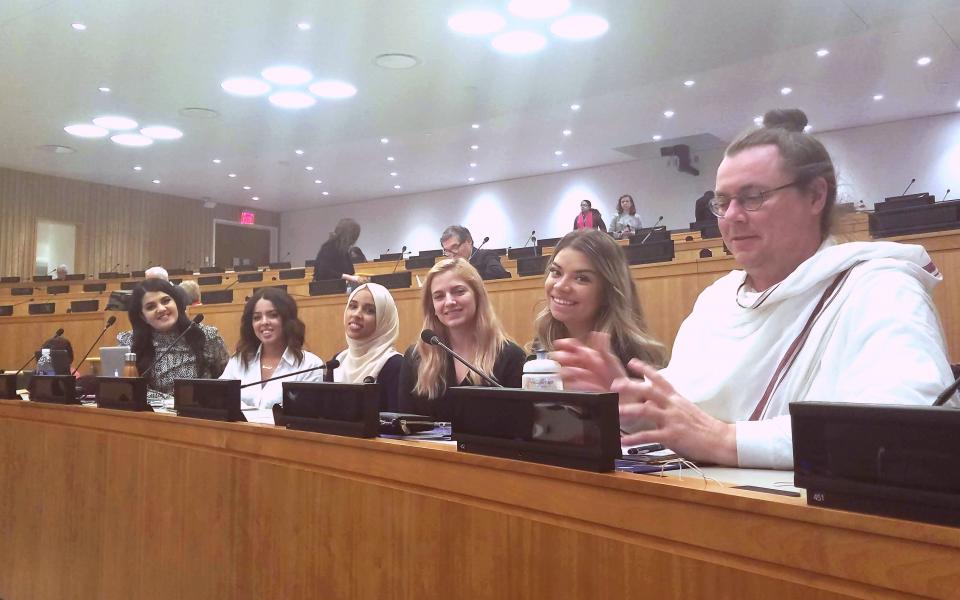 The Second UN Secretary-General Dag Hammarskjöld said, "The UN was not created to take mankind to heaven, but to save humanity from hell." The United Nations was chartered in 1945 in San Francisco and a headquarters established in Manhattan in 1952. The aim was to affirm inherent human dignity and the end of war after hundreds of millions died in global conflict that left the world under threat of nuclear holocaust. The United Nations is a complicated arena consisting of interlocking institutions, member countries, subsidiary agencies, and an alphabet soup of programs. Its physical layout in New York includes a Secretariat Building for international staff of member states, the General Assembly building, the Conference building with three chambers for the Security Council, the Economic and Social Council, and the Trusteeship Council. There is also a library.
The United Religions Initiative is a non-governmental organization with consultative status at the UN. Achieving any goal at the United Nations requires formal agreements and explicitly recommended informal arrangements. Accredited non-governmental organizations can lobby and persuade within the discussions and debates in accord with strict protocol and norms in meetings and drafting resolutions. NGOs are not simply representatives of constituencies and stakeholders who can legitimize activists seeking support for various causes, but also transnational actors with influence and access to decision-makers and power-players. To commemorate World Interfaith Harmony Week, select URI North America Cooperation Circle members gained exclusive access to UN headquarters and staff in New York.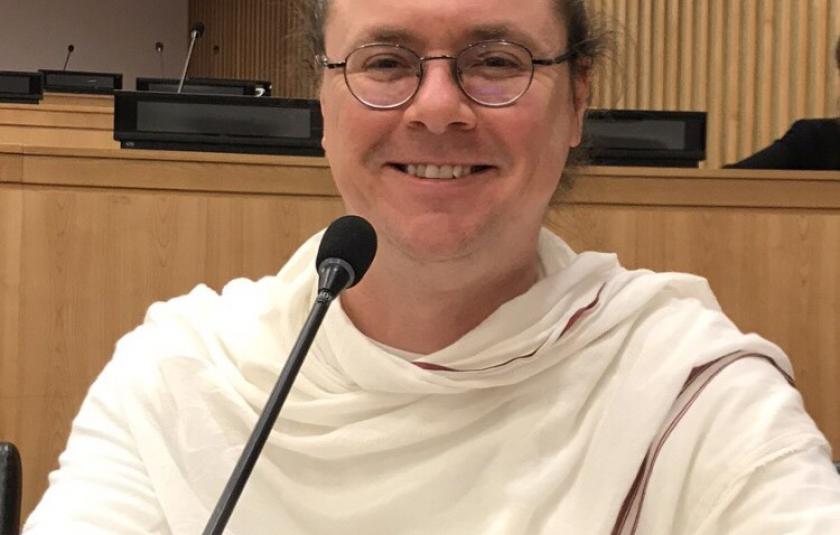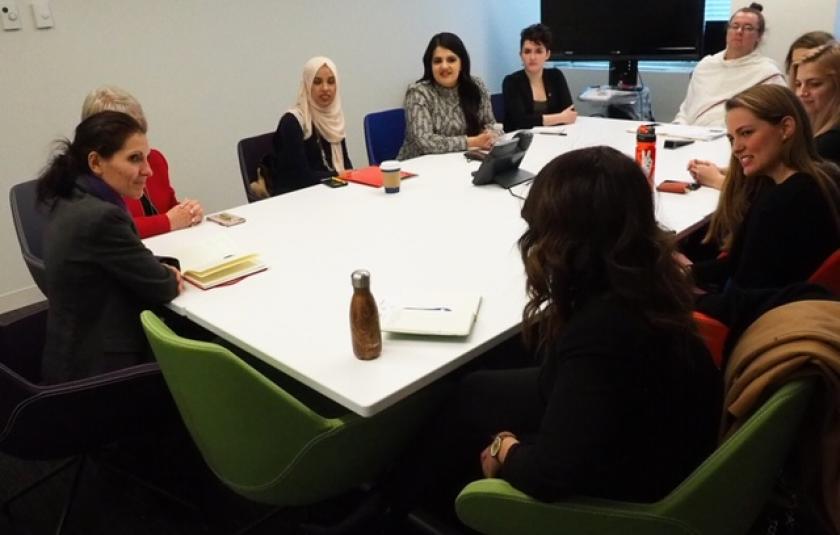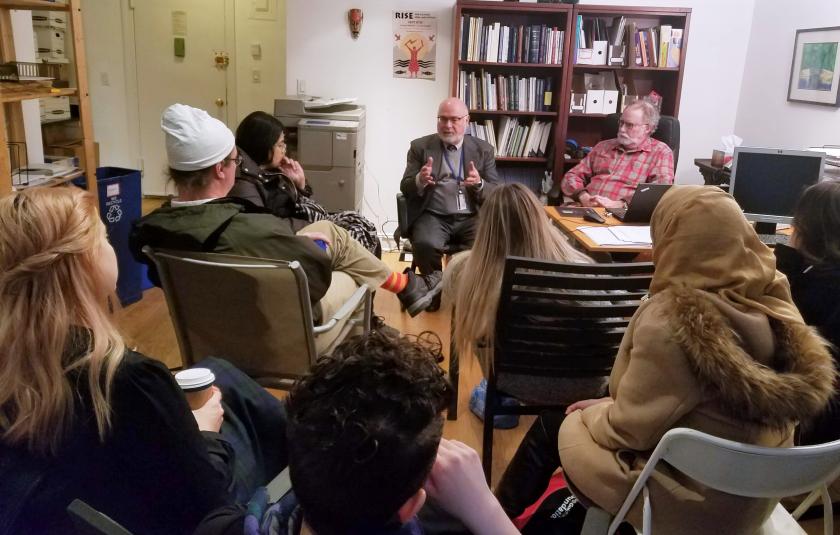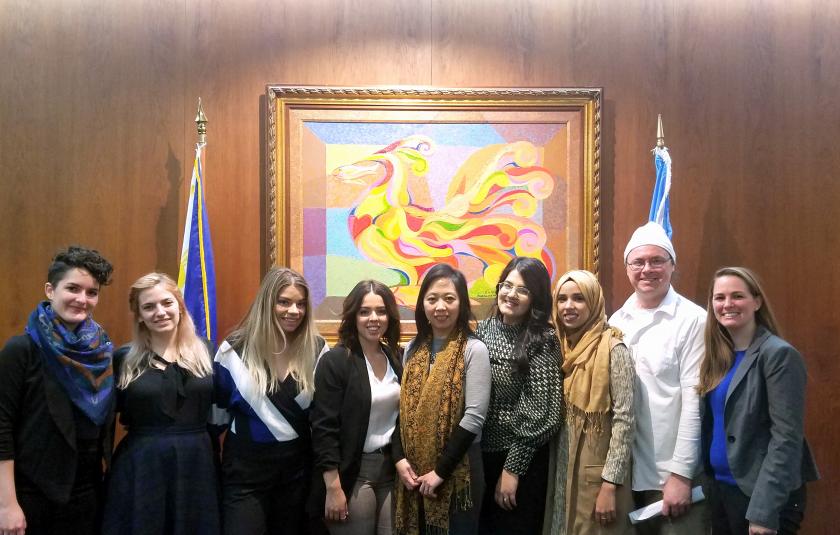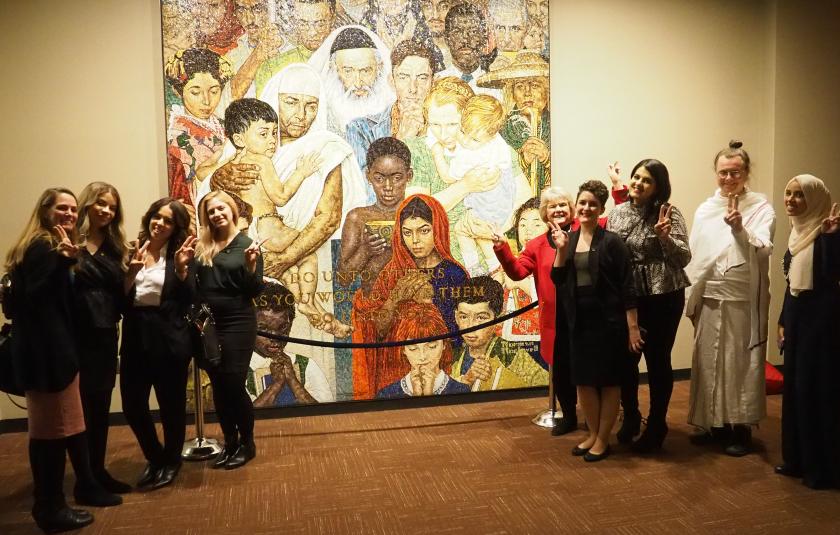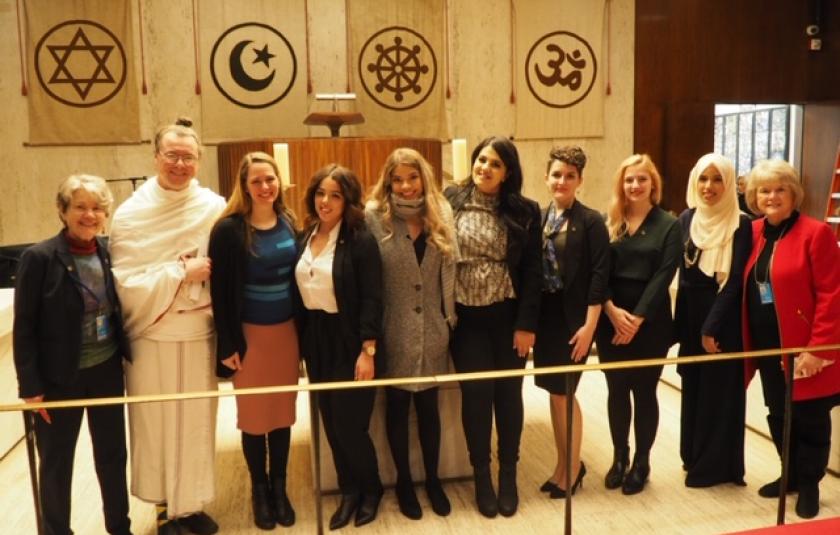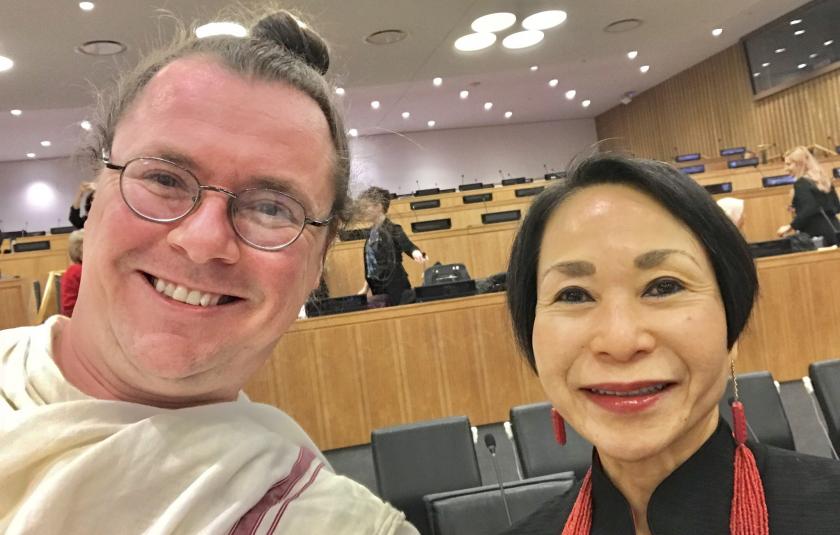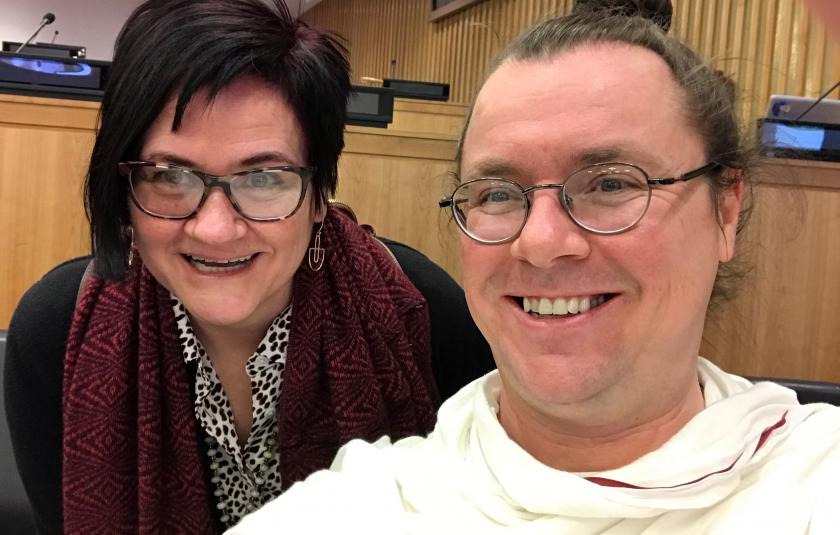 I am appreciative of the URI-NA Leadership Council's recognition of my commitment to interfaith action and honored for the invitation to participate alongside youth representatives. I've been associated with the Unity-and-Diversity World Council and Peace Sunday since my discovery of the interfaith movement in 2009. At that time, through events hosted by SGI-USA, I learned about nuclear disarmament efforts and different modes of diplomacy. Also, my interest in international relations, environmental stewardship, and indigenous rights found expression in a graduate school assignment on the role of religious doctrine in economies and global security. That project was a catalyst to develop personal interfaith mission objectives that became ten years of sacred activism culminating in this seat at the assembly for planetary governance.
Now in 2019, a time of trials and many troubles, I am thankful for the strategic vision, long patience, and perseverance of supportive allies. This is a most unique moment in human history, and the group of URI youth representatives that I joined at the UN give tangible hope for a just, peaceful, and sustainable world. Hearing their life experiences, witnessing their intelligence and compassionate hearts in the forums of global power, sharing meals and laughing – I am in awe of their personal victories and salute their emerging leadership. I am also grateful to Sari Heidenreich for logistics, Robyn Lebron and Andrew Kaen for hospitality during my travels, and Monica Willard and the URI-UN team for arranging meetings with ambassadors, senior advisors, and attorneys.
My most memorable experiences from the trip (photos below) include eating slices of NY-style cheese pizza on Broadway and photographing the art, architecture, and sculptures around Manhattan. Among my favorites are the "Architect" at 30 Rock, the "Star of Faith" and "Aquarian waterbearer" at the United Palace, and the subway posters for "Paintings for the Future." The United Nations Headquarters building itself concretely expresses the human aspiration for peace; the courtyard sculptures express the wish for abolition of nuclear weapons and war; the murals in the meeting rooms and halls are esoteric and otherworldly.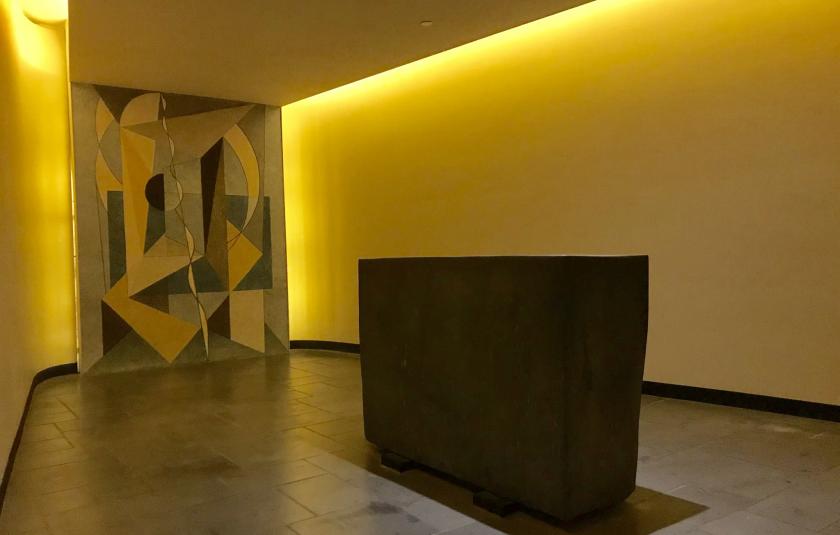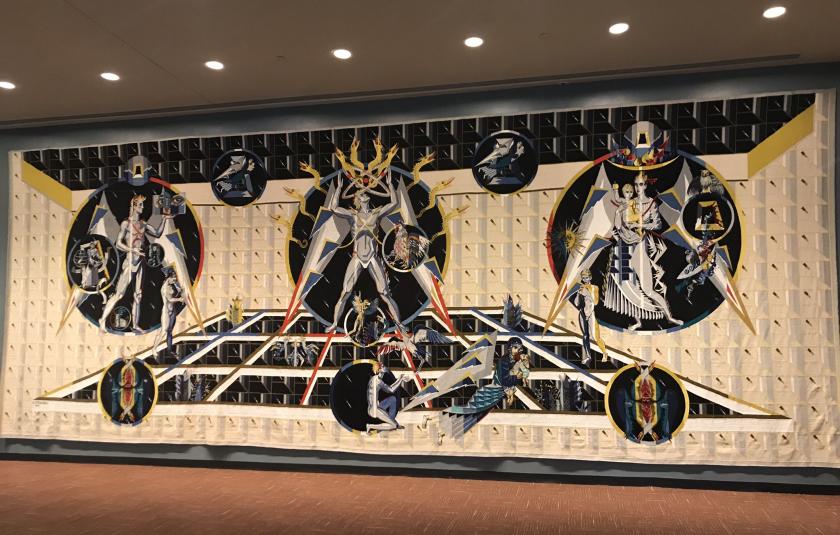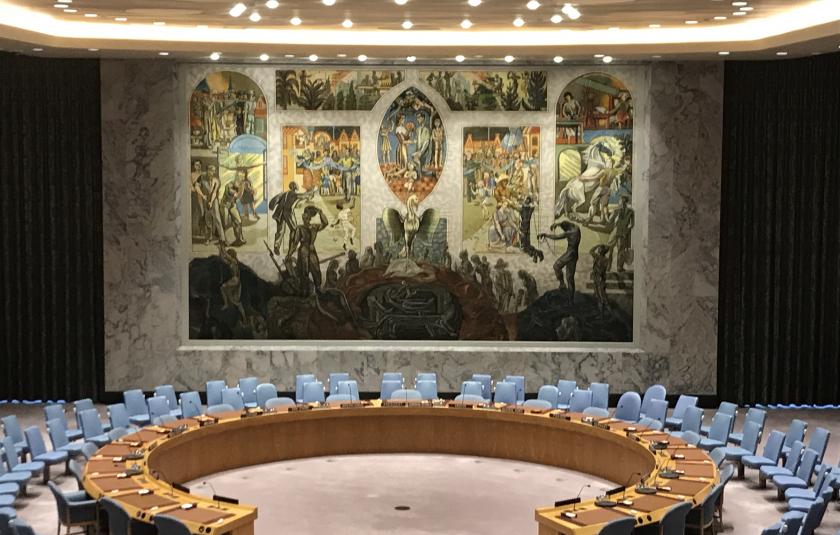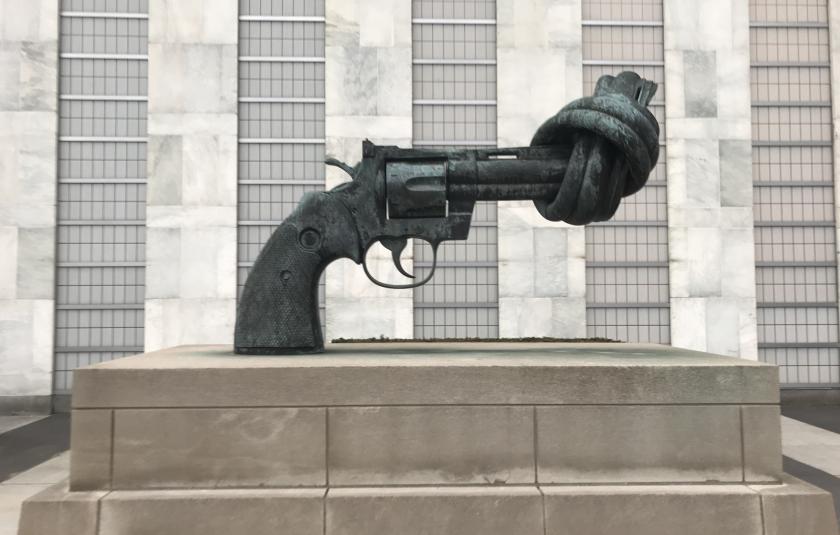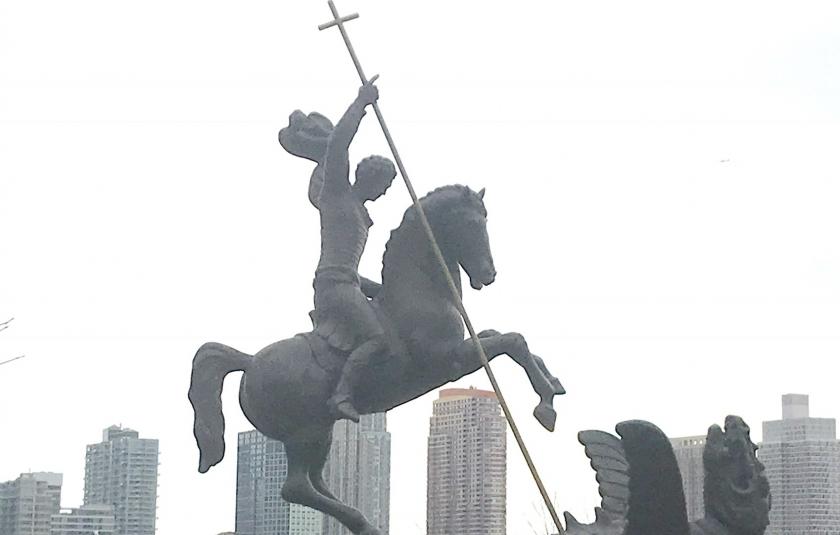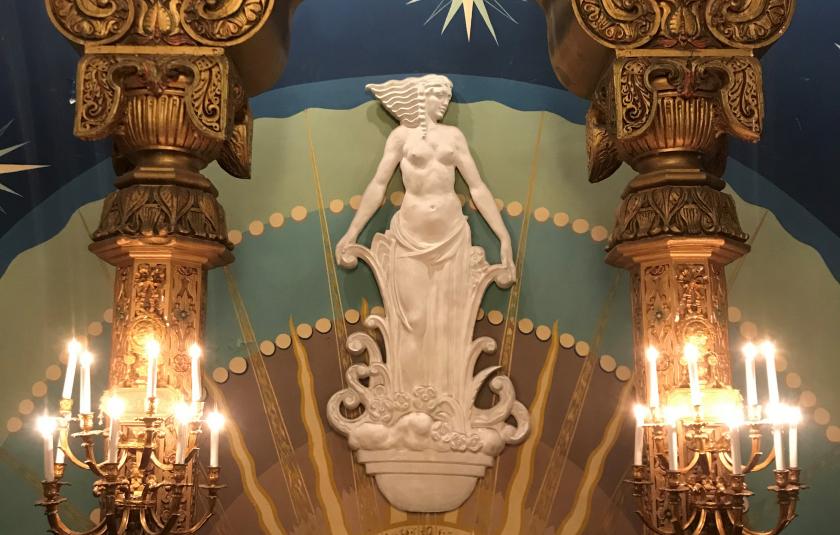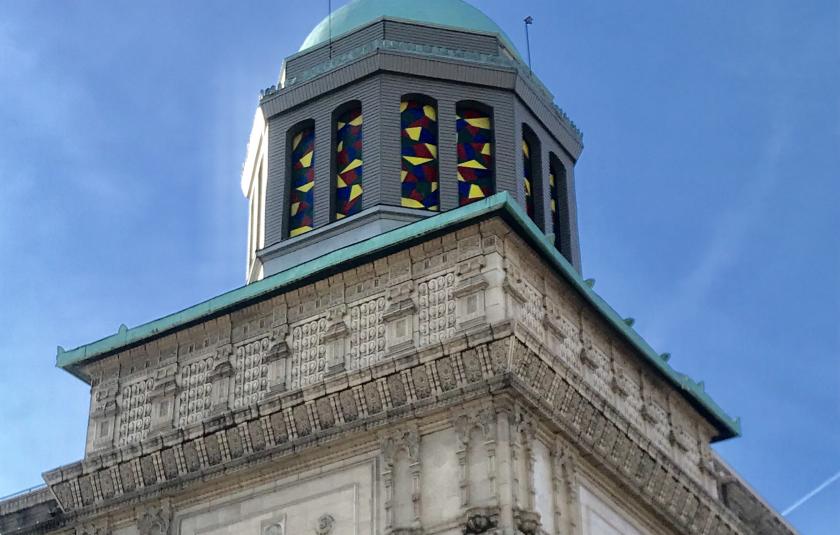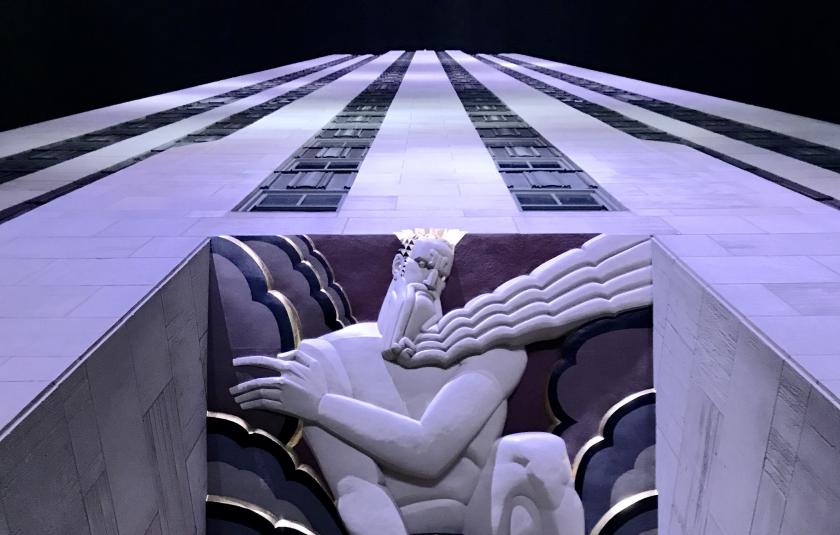 Our URI delegation attended a symposium on the role of faith-based organizations in international affairs, especially financing and economic development. The program featured speakers from the World Council of Churches, the World Bank Group, and FaithInvest. I could not discern any specific action items in the talk but perhaps future direction and next steps are suggested in the UNOAC #interfaith4peace social media event, the announcement of the Interfaith Rainforest Initiative, the Faith for Earth Initiative - UN Environment dialogue next month, and the upcoming Conscious Business Summit convened by Unity Earth.
During various other meetings, we discussed the possibilities and challenges of nuclear disarmament (as the U.S. and Russia disavowed arms treaties), the problem of displaced populations (currently the largest number of refugees in recorded history with a non-binding Global Compact for Migration), human trafficking, the prevention of atrocity crimes (especially in Yemen, where URI is supporting famine relief), and present impacts of climate change that suggest an imminent mass extinction. Yet, we are not defeated! URI youth representatives prove this generation has the moral strength and vision to move humanity from the threshold of hell to a more beautiful, just, and peaceful world. May peace prevail on Earth!