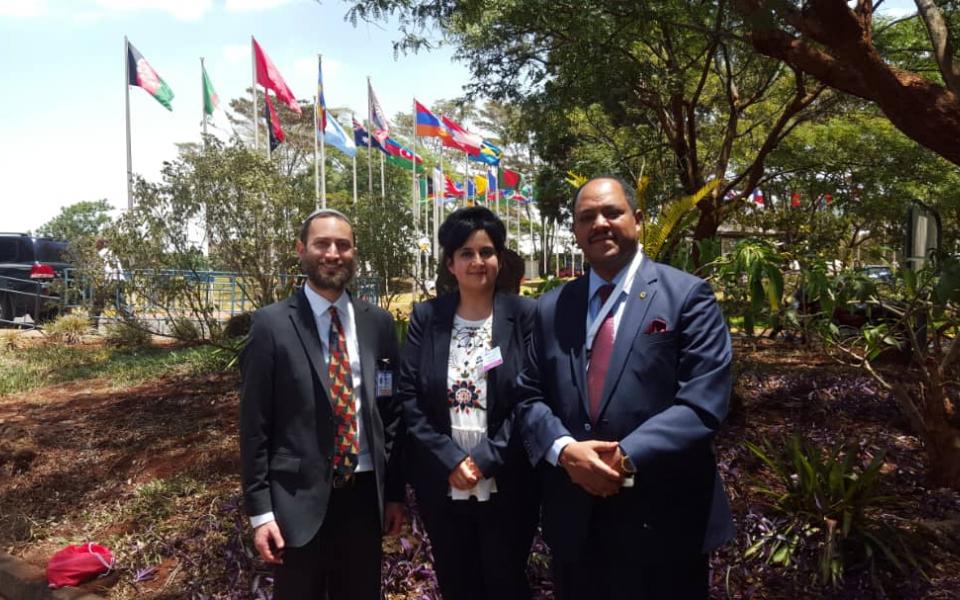 URI had an impactful presence at the Fourth UN Environment Assembly in Nairobi. 
URI had an impactful presence at the Fourth UN Environment Assembly held in Nairobi Kenya from March 11-15, 2019 under the theme of "Innovative solutions for environmental challenges and sustainable consumption and production".
At the first time in a U.N.-sponsored event called "Faith for Earth Dialogue," organized at the Fourth UN Environment Assembly with the aim to address  the religion's role in environmental protection, URI Global Chair, Kiran Bali MBE JP and Director of Global Partnerships and Representative of URI to the African Union and UN office in Africa and Geneva, Ambassador Mussie Hailu, shared the fantastic work of URI Environmental Cooperation Circles around the world. 
The Global Chair of URI said, "Time is swiftly running out for us to bring our ecological bank account from overdraft into credit. To genuinely walk the talk, we must make personal lifestyle changes around our diet and consumption through environmentally conscious alternatives. We share this beautiful planet with so many forms of life. Sadly, many species have already become extinct. We must continue to extend our care to prevent these distressing situations from recurring.
---
Click the yellow arrows to scroll through the photos in the slideshow below.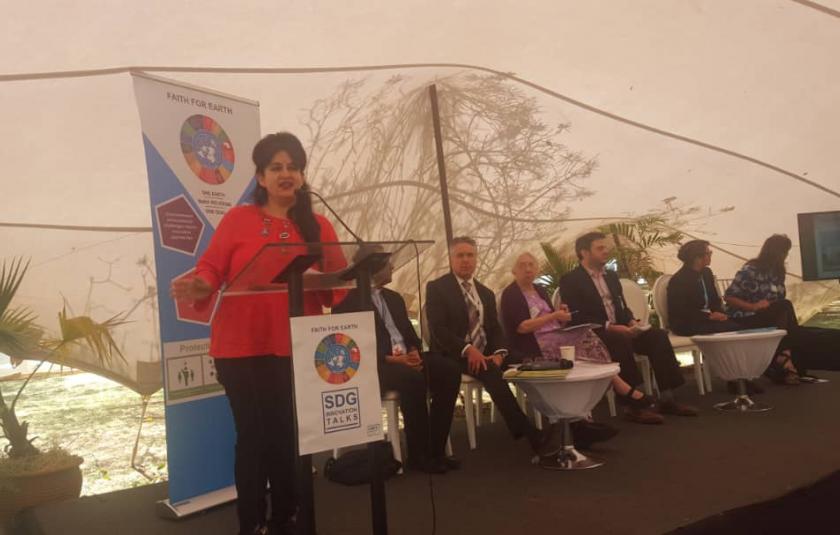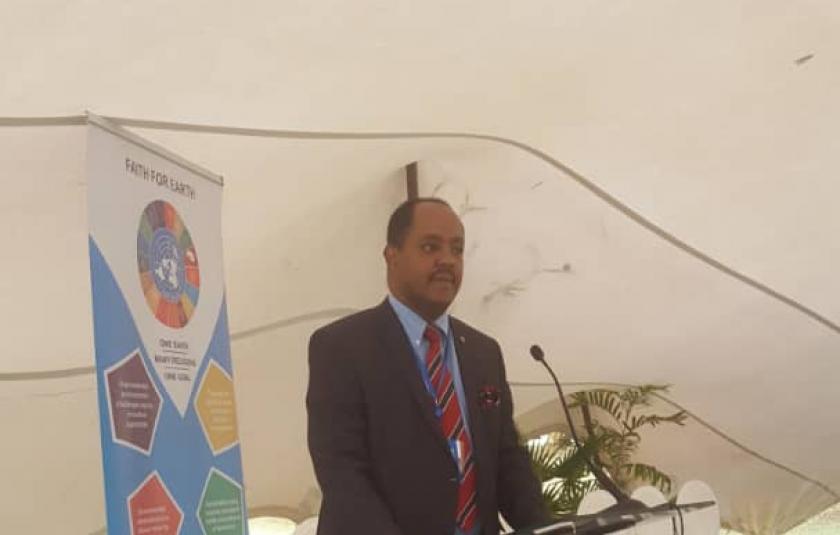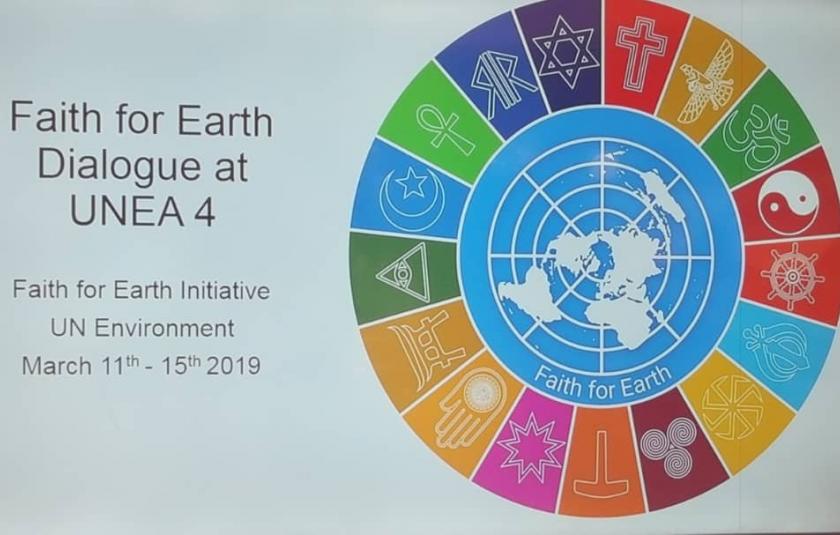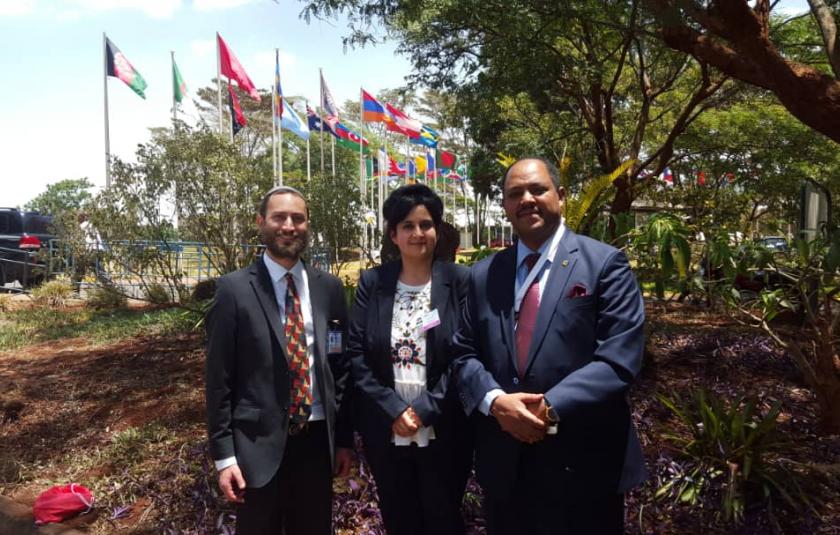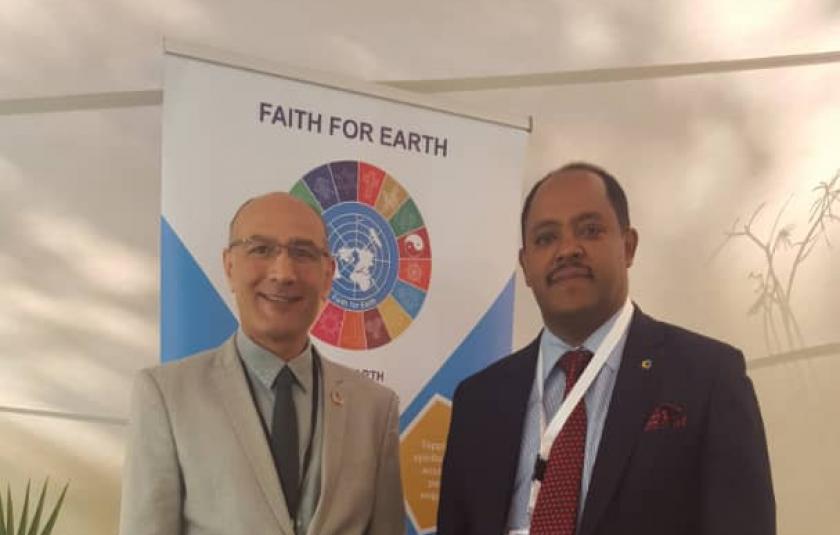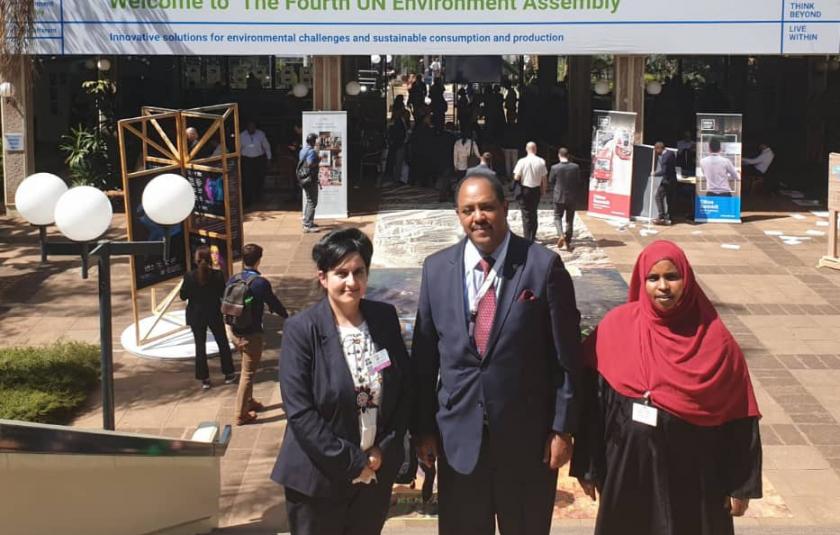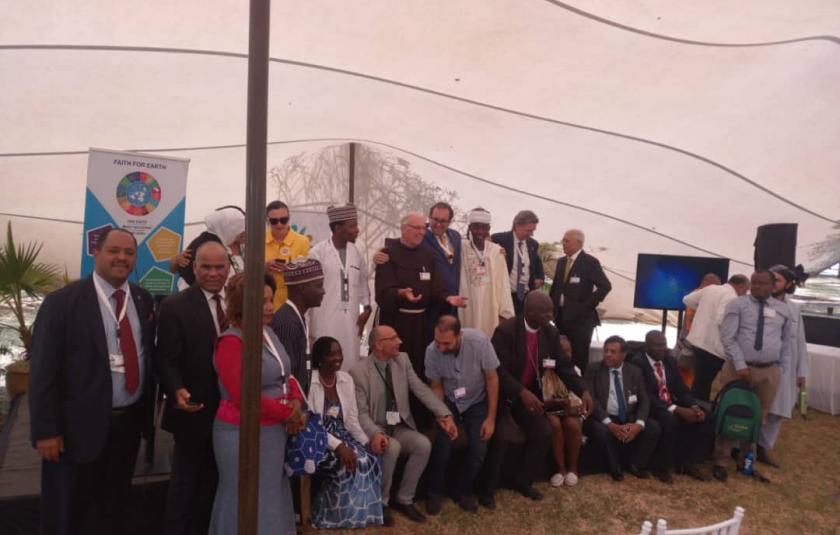 "Our URI Cooperation circles are leading innovative change-makers in the quest to implement environmental policies through grassroots action. URI members are changing our world today to ensure that we have a better tomorrow."
The Director of Global partnership of URI said, "UN Environment and URI share common objectives with regard to the conservation, protection, enhancement and support of nature and natural resources, including biological diversity. URI welcomes with great appreciation the Initiative of UNEP on Faith For Earth and would like to express URI's full support for the initiative. URI strongly believes in working in close partnership with UNEP and all other stakeholders on the issue of environmental protection and climate change in mobilizing believers to be stewardship for environmental protection and practical action in bringing about climate justice as climate change as the greatest threat that humanity has faced.
"Toward this end and to heal damage done to the earth's ecological systems, to act from sound ecological practices, to protect and preserve the Earth for both present and future generations, for religious leaders, faith-based organizations and grassroots interfaith organizations to be the stewardship of Mother Earth, to ensure the health and productivity of ecosystems and to conserving biological diversity for human well-being, and to create public awareness in the churches, mosques, temples, synagogues and other worship places on the importance of environmental pillar in the context of the Sustainable Development Goals, I am happy to inform you that URI signed  partnership agreement with UNEP."
The United Nations Environment Assembly is the world's highest-level decision-making body on the environment. It addresses the critical environmental challenges facing the world today. Understanding these challenges and preserving and rehabilitating our environment is at the heart of the 2030 Agenda for Sustainable Development.
The Environment Assembly meets biennially to set priorities for global environmental policies and develop international environmental law. Through its resolutions and calls to action, the Assembly provides leadership and catalyses intergovernmental action on the environment. Decision-making requires broad participation, which is why the Assembly provides an opportunity for all peoples to help design solutions for our planet's health.
The 2019 assembly, which represented more than 170 United Nations member states, brought about 5,000 environmental scientists, politicians, religious leaders, faith-based, interfaith organizations and civil society. The Assembly delivered a bold blueprint for change that directs a radical shift in the approach to tackling environmental challenges.
The group also agreed on a series of non-binding resolutions, key among them a proposal to protect oceans and fragile ecosystems. Those attending the Faith for Earth Dialogue urged the U.N. to recognize the growing religious wave of concern and called for dramatic steps to address climate change and related environmental challenges.
Representatives from different religions have joined hands to strengthen the momentum for the transformation of society. They shared their insights from their communities on environmental challenges related to poverty and natural resources management, including sustainable food systems, food security and halting biodiversity loss.
Following a series of initiatives and conventions organized in partnership with faith-based organizations, UN Environment launched the Faith for Earth Initiative in November 2017. The goal of Faith for Earth is to strategically engage with faith-based organizations and partner with them to collectively achieve the Sustainable Development Goals (SDGs) and fulfill the objectives of the 2030 Agenda.
Faith for Earth has three main goals: to inspire and empower faith organizations and their leaders to advocate for protecting the environment, to green faith-based organizations' investments and assets to support the implementation of SDGs, and to provide them with knowledge and networks to enable their leaders to effectively communicate with decision-makers and the public.
May Peace Prevail on Earth.
 Amb. Mussie Hailu