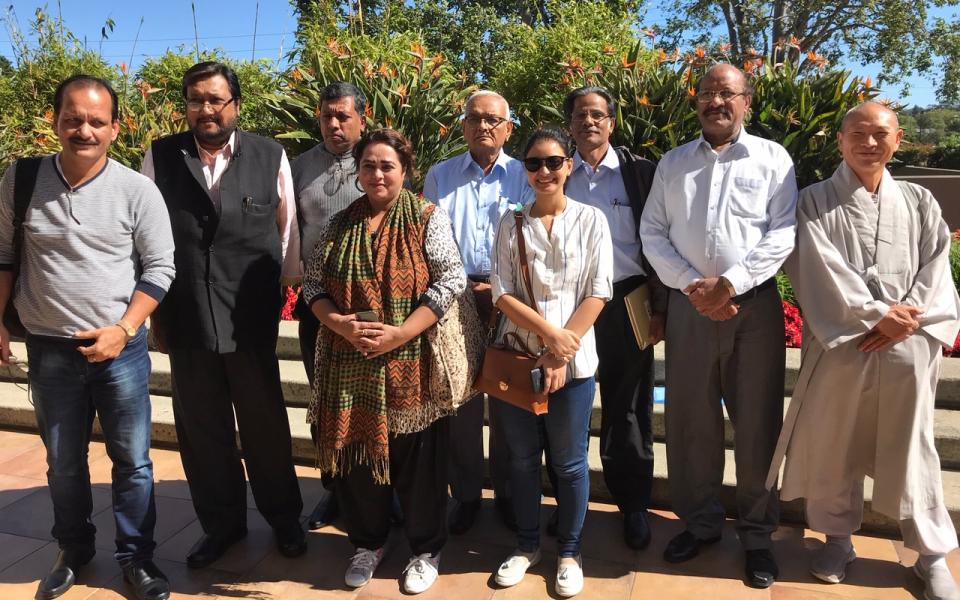 When our URI North India-Afghanistan coordinator Subhi Dhupar posted this picture today, I thought of writing a few words about my experiences with Ven. Dr. Jinwol Lee, who is at the far right in his religious robe. This Buddhist monk from Korea was a professor at Dongkuk University in South Korea, until he retired and then moved to the United States. He was the URI Asia Secretary-General for six years and now is Secretary-General Emeritus. Jinwol conducted several youth camps in Korea with the support of the Ministry of Education and Culture, where several young people from different countries participated. The youth camps were like a cradle for budding peacebuilders. I had the privilege of attending two such camps in Seoul.
What I wanted to write is about a strange experience that happened to us in 2005, during the Global Council meeting in Korea.
This is where I met several renowned leaders of the URI movement's initial years. Rita Semel was leading the Global Council at that time as its chairperson. Of course, Bishop Bill Swing, Charles Gibbs. T. D. Singh and other URI founding giants were also present.
Jinwol invited all of us to visit his Ashram some 500 miles away on a mountain. Grabbing the golden opportunity to travel through the Korean green land, we started in two buses. The journey was interesting, but very tiring. We arrived around 8 PM. Everybody was looking for a comfortable room to change and rest for a while, hoping to have a sumptuous dinner afterwards.
Jinwol, with a smile, pointed us towards a hall and said, "That is where you are going to stay tonight."
Ladies were going to get another hall nearby, and all were supposed to sleep on the floor, without beds or pillows. Nothing but the cold floor. The adventure was only starting.
All had to take a bath, where hundreds of pilgrims were comfortably washing themselves peacefully in a group.
So hungry, we went to the dining hall and found that the dinner was a kind of porridge with kimchee leaves, without which the Korean cannot thrive.
All of us came back to the hall and complained to Ven. Jinwol. "This is too much," everyone said in one voice.
And came the sudden reply from him: "We do all these every day. Can't you do it for one day? I can only offer what we have. You came to experience our life in the monastery." We were silenced. In fact, that was the greatest lesson that I learned in my life. We should not judge anyone by our standards.
We saw many of the residents reading until late at night. And we were told that the big bell would sound at three in the morning to wake up everyone for prayers. I asked Jinwol when these monks would go to bed and he said, "Bed or sleep is not very essential for them." The "gong" drums woke us up at 3am and we joined the monks in prayers.
We went for breakfast later and it was the same kimchee water. This time we had no complaints, as we saw so many in the queue for the same breakfast. There was a library with three thousand rare books of Buddhist teachings. We were told that these were brought from India, through China and Thailand. We were not allowed to touch the books, as the pages were in jeopardy. A digitalization process was going on.
When we came down from the mountains, we were more content and peaceful beings. Thank you, Jinwol, for sharing your life with us. We will never forget that in life.
Precious lessons dawn upon us at the most unexpected moments.