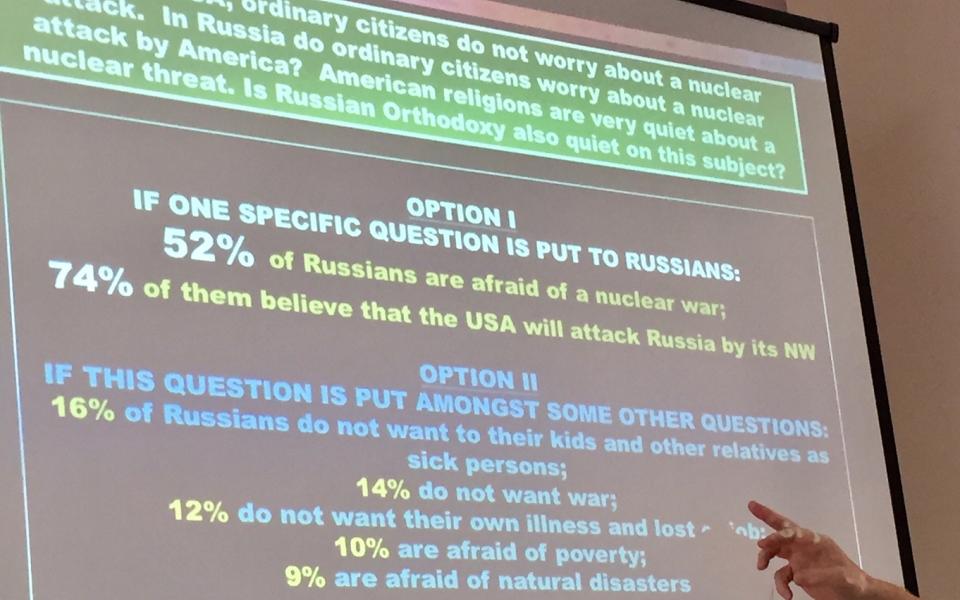 The purpose of my trip is to increase understanding between Americans and Russians. Our group, organized by the Center for Citizen Initiatives, includes about 40 people: attorneys, business persons, peace activists, retired military, and educators. We are together in Moscow for a few days to speak with experts in various sectors; then, we will fan out in small groups to various cities and towns throughout the Russian Federation for homestays and conversations with diverse people. (I will go to Novosibirsk, hopefully to meet with members of the Euro-Asia Cooperation Circle (CC) there, among other adventures.)
This morning, we met with Dr. Vladimir Kozin, Chief Adviser and Head of Group of Advisers to the Director at the Russian Institute for Strategic Studies of the Presidential Administration. He is a member of the Russian Academy of Sciences and Russian Academy of Military Sciences, "highly trained in military science and nuclear weapons."
I was impressed by his sincere, lifelong commitment to look for a reduction of nuclear weapons and a build good relationship with the US. He summarized various breakdowns in former treaties and increase in attempts for illegal power challenges. He gave indicators that "Cold War II," in terms of arms buildup in Russia and US, is underway. Kozin has visited DC many times and is willing to speak with people about what can be done in this time of deepening animosity, hostile intentions, and mistrust that prevails. He said that no political people have to listened to him, only academicians and military personnel. He wants to talk to US lawmakers. After speaking with us, Kozin was going on to speak on national TV. He has nationwide access through TV appearances.
URI President and Founder Bishop William Swing had offered a question for me to ask Kozin.
"In the USA, ordinary citizens do not worry about a nuclear attack. In Russia, do ordinary citizens worry about a nuclear attack by America? American religions are very quiet about a nuclear threat. Is Russian orthodoxy also quiet on this subject?"
He said he was shocked that ordinary US citizens were not worried about a nuclear attack. He cited a poll in Russia that 52% of Russians were afraid, and 74% believe US will attack Russia with nuclear weapons.
He said that the Russian Orthodox Church is not quiet on nuclear weapons, "The church says that it is prohibited by the Lord because it is suicidal."
He also said that nuclear disaster could very well come about by human error. He cited Chernobyl, Fukushima, and the policy of discharge of nuclear weapons by a single person (not allowed in Russia, but apparently possible in US at this time). It was obvious from his summary that US positions and negotiations dealing with arms reduction continue to feed mistrust and frustration. He wants Russia and the US to move from MAD (Mutually Assured Destruction) to MAS (Mutually Assured Security). He said that Russians would sigh with relief if there was a reduction of threat so that more resources would go to build and better their livelihoods.
Russia teems with people. Its Metro is spotless and impressive. There are lovely parks. Kids are off to school. Life is life. People are doing their best to live it. It feels good here.
---
More about this series: Russia Today - Building Bridges
URI Senior Consultant Sally Mahé shares thoughts from Russia, where she is traveling with the Center for Citizen Initiatives. The trip is called a "Diplomatic Mission to the Russian Federation by American Citizens." Its purpose is to provide an opportunity "to make inquiry and analysis by traveling to Russia to learn additional points of view about US-Russia issues." The task is to begin "personal diplomacy to intervene in war-making efforts that could end all life on the planet."
Along the way, Sally is connecting with URI members and Cooperation Circles (member groups) as she examines the actions of ordinary citizens meeting and building bridges of understanding together. 
See the rest of the Russia Today - Building Bridges series here.