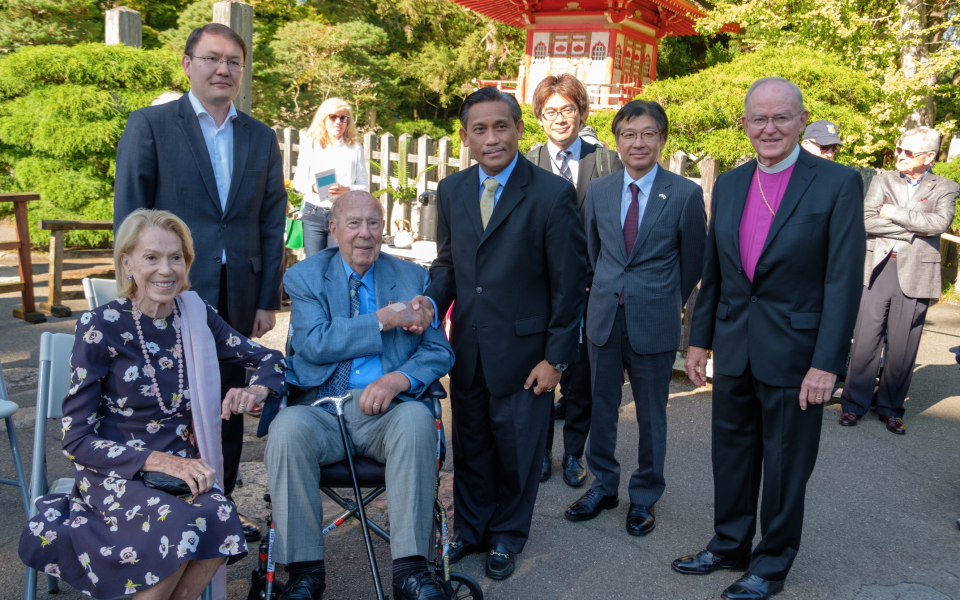 Japanese Tea Garden – Tree Planting – September 20, 2019 – George and Charlotte Shultz
This speech was given by The Rt. Rev. William E. Swing, President and Founding Trustee of URI, and Former Episcopal Bishop of California, at the occasion of the planting of trees at the San Francisco Japanese Tea Garden - saplings from trees that survived the atomic blast in Hiroshima.
---
Welcome everyone!  And thank you for honoring us with your presence: Mayor Breed, Consuls General, Members of Recreation and Park Services, Friends of the Tea Garden, members of the Japanese community and friends of the United Religions Initiative. In addition, we have with us today the last person who was born in this Tea Garden, Tanako Hagiwara, whose family managed this garden from 1895 until 1942.
Today we plant two special Ginko trees in celebration of two special people, Charlotte and George Shultz. For proper background, let me say three things.
First – In 2015, Tomoko Watanabe of Hiroshima, Japan, flew to San Francisco to donate five tiny saplings to the United Religions Initiative (URI) as a symbol of peace between Japan and the United States of America. We have waited four years for them to grow large enough to plant. These are not ordinary trees. On August 6, 1945, when the first atomic bomb was dropped on Hiroshima and the temperature at the center of the fireball was one million degrees . . . . one million degrees, a few trees actually survived. These two trees are saplings of the original Hiroshima surviving trees, and they will stand here as a symbol of abiding peace between our two countries and a symbol of a world free of nuclear weapons. 
Second – On July 18, 1945, the USS Indianapolis sailed out of San Francisco Bay with enough uranium 235 material to make an atomic bomb.  The mechanism to build this bomb was also onboard ship. Within a few weeks, everything was assembled on Tinian Island and the bomb was dropped on Hiroshima. Since that moment, the nuclear threat has escalated world-wide as witnessed in today's modernization and proliferation. One of the two men on the face of the earth today who has done the most to bring down the number of warheads and to call the world to nuclear sanity is George Shultz, whom these trees will always honor.
Third – The secret weapon against starting a war is to bring peace among opposing people and provide hospitality to all folks, far and near. If we welcome friends and enemies alike, then everyone will realize that a bomb is not the answer to our major disagreements. A respect for our common humanity is the only ultimate strategy that works. Before a war and after a war, the real test is hospitality. And in San Francisco, in California, in the United States, no one has shown more genuine human warmth and extraordinary hospitality than Charlotte Schultz, whom these trees will always honor.
So it is fitting that we celebrate this unique and praiseworthy couple, with trees that have withstood this planet's hottest test. The George and Charlotte Shultz Peace Grove of the Japanese Tea Garden will stand tall in San Francisco, in perpetuity.
Cooperation Circles Involved