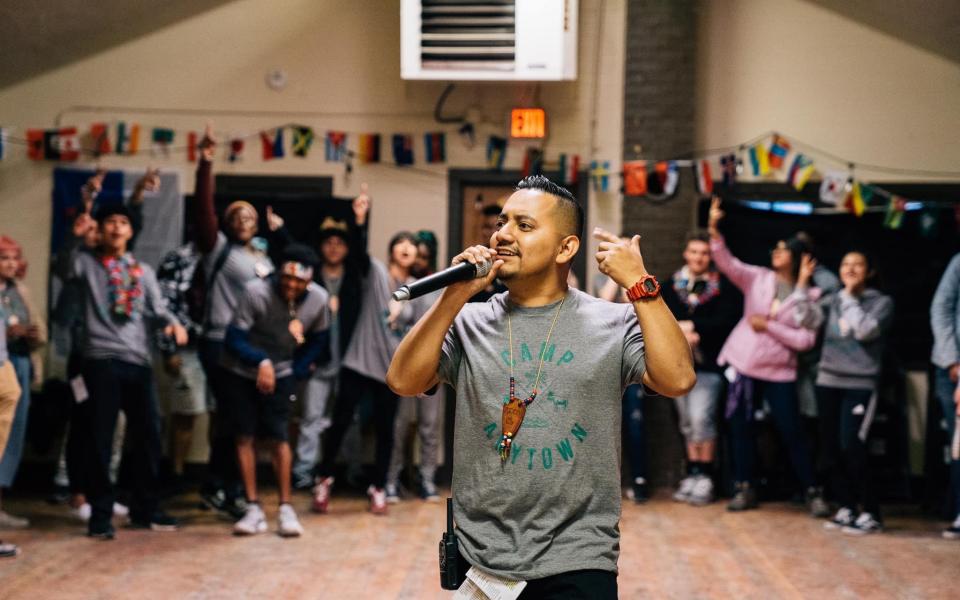 Interview with Rico Ocampo, Director of Camp Anytown (a URI Cooperation Circle in Las Vegas, Nevada, USA), and Sally Mahé, Senior Consultant URI
---
Let's begin by learning more about what you do. Please tell me about Camp Anytown Las Vegas?
Camp Anytown Las Vegas is a hidden gem in the Las Vegas valley. Camp Anytown teaches leadership and diversity awareness to high school youth.  Camp prioritizes recruiting students from the widely diverse population reflected in the Las Vegas area and in the world. At Camp Anytown, everyone is a delegate. All are on an equal level.
High school delegates participate in activities that engage them in issues of social justice, power dynamics, privilege, advocacy, interfaith bridge-building and living the Golden Rule. Anytown seeks to reveal and bridge gaps that cause tension and are at the root of stereotyping.
There are many "firsts" that happen at Camp Anytown. Many students experience for the first time sharing a room with someone very different than themselves. Some people say that the most segregated day in the US is Sunday, because people are divided as they go to so many different places of worship. I believe that the first day of Camp Anytown is the most segregated day! Delegates feel tension and discomfort when they are immersed with a wide diversity of people often for the first time.  They want to stay separated. A recent Camp brought together students from 10 different nationalities and 13 different faith traditions.
While students are very reluctant to room with a person from a background they don't know or have a negative attitude about, at the end of Camp they have changed and recognize that they have been holding onto unfair stereotypes. They share these realizations with their own communities back home.
The purpose of Camp Anytown is to do life with the students and provide the culture and the circumstances to promote positive change. Camp presents delegates with real-life people with whom to learn together in order to create a community based on a culture of acceptance. Letting go of judgments and stereotypes of others allows for personal, internal transformation to happen as well. Students experience themselves in authentic ways where they can say, "This is who I really am."
What brought you to your current position as Director of Camp Anytown?
I attended Camp Anytown when I was 17 years old! I benefitted greatly and it changed me. I held prejudices: whites vs blacks and Hispanics vs others. I had learned to stick to my own. To see the  "other" as "them" and to have nothing to do with them. It was at Camp that I met and hugged a Muslim person for the first time. I was personally transformed to look into people's hearts. I said to myself that one day I will lead this program. I volunteered at Camp Anytown for 10 years and have been the Executive Director for the last 3 years.
Was there a deeper conviction or motivation in you that led to this vision for yourself?
As a young boy I clearly remember a phrase my mom said: "estoy a su servicio." It took me some years before I really understood that phrase and why she said it so often. By the way, I grew up with loving parents but we did not have luxuries. For us, having a simple can of a cold Coca Cola after working hard was a luxury we cherished. One day, a lady who looked homeless passed by our home. My mom noticed her and invited her into our home. My mom directed me to get her a cold Coca Cola from the fridge. Mom also gave her clothes and food. When she left, I was angry at Mom and said, "Why did you do that? You gave her the last soda we had. We won't be able to get more for a few more weeks!" Mom told me that when I say, "estoy a su servicio" it means I am in service to everyone who comes my way. It means to give the best of what we have in our home. That day Mom told me that I would grow up and have a servant's heart and I would impact thousands. Mom gave me this extra push – she helped me see this beautiful gift God had instilled in me. To this day, I have gratitude in my veins for this gift.
I realized that I was not prepared for leadership in the conventional sense. I was not prepared for leadership on a glimmering platform but on the backside of a mountain. I learned to look at disadvantages that I had growing up not as a negative but as a positive for my leadership. I did not look at circumstances to evaluate my value. In my youth, I figured I would grow up and be a construction worker because I thought that was the highest I could go in life. Then I realized that I could dream bigger. I broke a barrier within my own mindset and allowed myself to thrive regardless of my circumstances.
What do you value most about your leadership?   
For me, my biggest accomplishment that I bring to my leadership is that I still hold firmly to remaining humble and a servant to others. This feeling of committed service comes from my faith and my mother and it is as authentic as it can be. I picture it as if I am watering a field of beautiful plants. Like a garden, I must take care of it, nurture it every day. I appreciate what comes to me and the gifts given to me every day. My parents, with their wings cut off, taught me how to fly. I soar with pride and humility – because I'm flying for my parents and my people.
How do you handle hard things, when you feel you go off track?
I call them stinging darts. I had internalized my own "stinging darts" from inside myself as well from outside. I was hurt by comments from others about my race, value, and color of my skin. I had to teach myself that being a brown Latino God-fearing man was nothing to be ashamed of. I heard God leading me and realized that I needed to confront these stinging darts because I had God on my side. I said to myself, "I will speak out even if my voice trembles."
What values of leadership would you like others to know about?
After working with high school delegates over the past 10 years at Camp Anytown, a lot of folks expect me to have all the answers. My work is not to give answers but to disrupt your souls with a whole lot of right questions. I help young people see that there is a link between you and who helped you get to where you are and it's important to honor those who paved the way for you. I come as one but stand as 10,000.
Compassion should be at the core of who we are as human beings.  If your ship is sinking because it's taking in water, you don't jump, you grab buckets with the others because we are are all in this together.
What does the term "life-giving spirit" mean to you?
Vida! Viviendo mi vida!
To me "vida" is much more than a Spanish word.  It is a symbol that says I belong here and I am going to do the best that I can while I am here. I am living my life not just for myself, but for humanity.
Your words are powerful, Rico. Can you tell me more about this special gift with words?
My father sold peanuts to put food on our table when I was growing up. He still sells peanuts today. When I was little he would stand me in front of his peanut cart and tell me to yell, "Peanuts! Come get your peanuts!" I became an orator at a very young age! I still honor the sacred presence of the peanut because it provided a way of life for me. My compassion and inner strength is strongly linked and reinforced by my ancestry and history.
Thank you so much. Rico! May you and all involved with Camp Anytown Las Vegas CC fulfill your aspirations and live in peace.
---
About the "Inner Voice of Leadership" series:
What inspires ordinary people to be bold? What sustains them? I wanted to dive deeper to explore the sources of strength alive within us. "Inner Voice of Leadership" is a series of interviews with URI Cooperation Circle leaders that seeks to uncover and share the personal deep streams of faith, courage and resilience that embolden people in our URI global community.
With gratitude to the Integral Leadership Program 2019, Integral Transformative Practice International (ITPI) that provided me with inspiration and guidance for this project.
With reverence for inner life and its outward expressions in each of our lives,
Sally Mahé,
Senior Consultant, URI
---
Read the full "Inner Voice of Leadership" series.