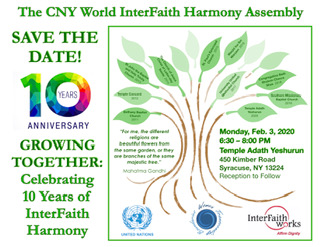 The 10th Annual World InterFaith Harmony Assembly of Central New York will gather for a special event on Monday, Feb. 3, 2020 from 6:30 to 8:00 pm, with a reception to follow. In recognition of our tenth anniversary we have chosen the theme:
"Growing Together: Celebrating Ten Years of InterFaith Harmony"
World Interfaith Harmony Week has been celebrated since 2010, when it was first proposed at the United Nations General Assembly by King Abdullah II of Jordan. Since its founding, faith groups all over the world have gathered during the first week of February to celebrate interfaith harmony with community events, meals, services, and festivities of various kinds. The movement is strengthened by building ties among world religions, educating ourselves about each other, and helping our community appreciate the beauty and diversity of our faith traditions and our diverse cultures. Read about the history,
In 2011 InterFaith Works of Central New York and Women Transcending Boundaries (two URI Cooperation Circles) began sponsoring an annual assembly for Central New York, which for one evening during the first week of February, brings all faiths and spiritual communities under one roof. Since then, a colorful and diverse array of faith groups have gathered to share something distinct from their particular tradition by giving short presentations of poetry, song, stories, cultural dance, etc. Every year, since its founding, our friend, Dr. Joan Hillsman from Bethany Baptist, joins us to lead the three songs she has written just for our Syracuse event.
Each annual event is hosted by a different congregation with as many as 600 in attendance. Past events have been hosted by:
2011: Bethany Baptist Church — Syracuse Eastside

2012: Temple Concord — University Neighborhood

2013: St John the Baptist and Holy Trinity Church — Syracuse Northside

2014: The Church of Jesus Christ of Latter-day Saints — Liverpool

2015: St. Paul's Episcopal Church — Downtown Syracuse

2016: The Mosque of Jesus, Son of Mary — Syracuse Northside

2017: University United Methodist Church — Syracuse University Neighborhood

2018: Congregation Beth Sholom-Chevra Shas — Dewitt

2019: Southern Missionary Baptist Church — Syracuse, Southside
This year's event is hosted by Temple Adath Yeshurun on 450 Kimber Road on Syracuse's Eastside. The event is free and open to the public. The entrance and building are handicap accessible. There is plenty of free parking at the synagogue, including the lot across the street on Kimber Road.
Join us on Feb. 3rd as we celebrate ten years of diversity and harmony. Please let us know if you would like to participant in or host our 11th Annual World Interfaith Harmony Assembly!
Read a Post Standard article about the 2018 event.
---
See more ways the URI community celebrated World Interfaith Harmony Week 2020.