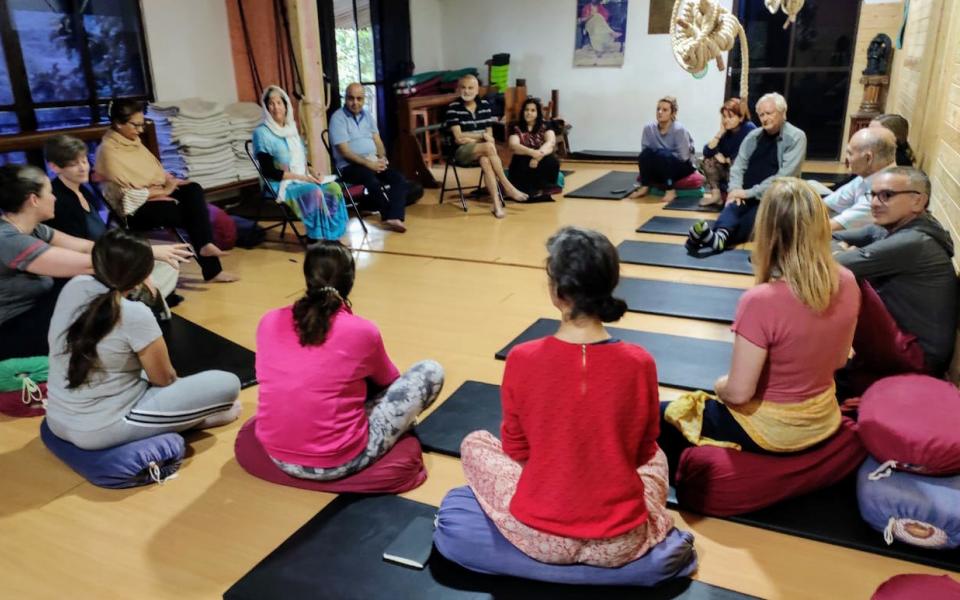 We celebrated World Interfaith Harmony Week (WIHW) at KARE, a beautiful Ayurveda Yoga center at Lake Mulshi, India.
Guests gathered in the Yoga Hall from France, Germany, Chile, India, New Zealand, Poland, Casablanca, Israel, London, and Sudan. Faith expressions included Christian, Hindu, Jewish, and Catholic, as well as spiritual seekers, followers of nature, deep psychology, interfaith and people of no religion. There were 25 people ranging from 2 - 80 years old. 
After an explanation of WIHW and URI, we began with this quote: 
"Like the bee, gathering honey from different flowers, the wise man accepts the essence of different scriptures and sees only the good in all religions." ~ Mahatma Gandhi
We shared prayers, blessings, and songs from our traditions, beginning with Hindu mantras, Buddhist chants, a Maori song to the Earth, Jewish prayers and songs, a Polish Christmas lullaby, and Bob Marley's message of "One Earth...one people...everything's gonna be all right." Many shared inspiring readings and teachings from their individual paths. 
I played an Arabic prayer, which a Muslim friend had recorded and sent to me with her English translation, so that Islam would be included in our gathering. 
We did a guided meditation imagining true interfaith harmony in the world and an end to religious violence. Calm, joy, hope, gratitude, serenity, love, happy, and peace were some of the words people offered in closing our gathering. 
Blessings to everyone for a wonderful World Interfaith Harmony Week. 
Elana Rozenman