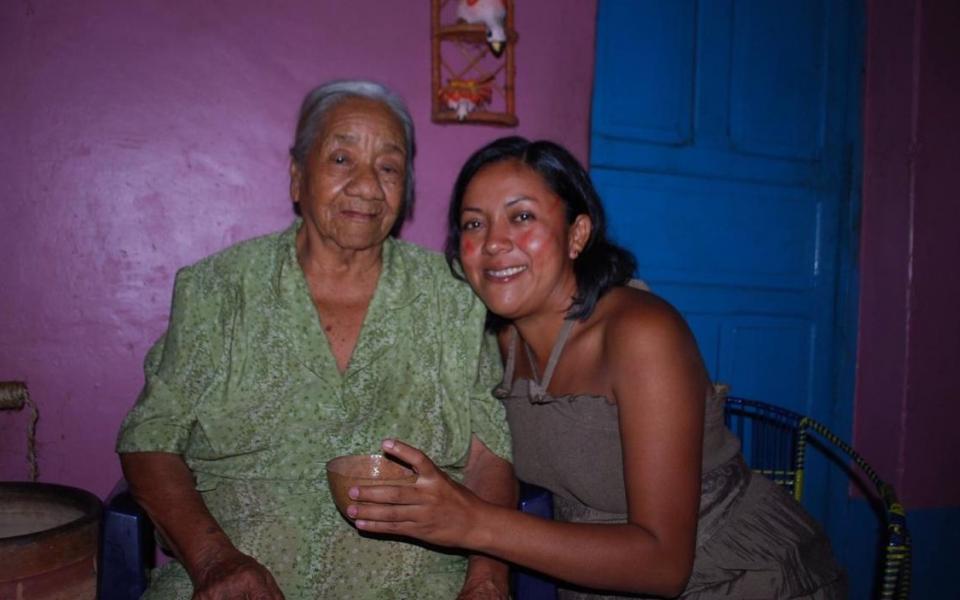 Interview with Yelitza L Gutierrez, leader of Quinaroa (a URI Cooperation Circle in Merida, Venezuela), and Sally Mahé (Senior Consultant, URI) with Enoé Texier (URI Regional Coordinator for Latin America and the Caribbean) translating.
Yelitza, I am so happy that we are able to connect. Thank you for this interview. I also want to thank Enoé Texier, URI Regional Coordinator for Latin America and the Caribbean, for helping us with translation. Enoé has told me about your leadership with Quinaroa Cooperation Circle (CC) and its work to bring forward Indigenous knowledge to serve your community in Trujillo, Venezuela. I am looking forward to this conversation to learn about what in you gives rise to your leadership.
---
Sally: I would love to know more about your story. Was there something memorable in your life experience that makes you who you are today and that might guide others?
Yelitza: The voice and history of my family is very important in my life. I was raised with my grandparents. We had a big family and they provided a good life for the children. My grandparents also wanted to improve the quality of life for our community. Today in my work, I feel like I'm joining them. I feel inspired by them to be a bridge that connects the Indigenous ways with life in our community today. My grandfather taught me that it is essential to make good relationships because everyone is important in the work of the community.
My grandfather died many years ago and my grandmother died just last month. My grandfather understood the healing properties of plants and herbs. Many people visited him every day for healing and spiritual advice. He was respected as the shaman [the Mohan] of the community. He asked me to be his assistant when I was still quite young. He taught me how to read and how to write prescriptions. When he died, my uncle took his place and I became his assistant as well. He said that I was very good with the patients. I would listen to their issues and he would do the ritual. It is a water ritual using water from the lagoon.
My grandmother discouraged me from becoming a shaman like my grandfather. She wanted me to have "a better future." I went to university and received a degree in Biology. But I missed the light of the community. Today, I am a professor of biology at the university and I also serve in my community as a mediator and counselor. We consider our lagoon sacred. I have had to fight the government to keep people from taking land around the lagoon and cutting trees to build houses.
Please tell me more about the work of Quinaroa. What makes you proud?
Our group, Quinaroa, works the land growing herbs and corn (maíz) and we make artisan soaps and health products using Indigenous knowledge and practices. At our meetings, we tell stories about our work and our lives. We share our personalities. Listening to each other is what I like best.
We also create alliances with new people and we come up with new ideas for products and how to sell them. We have expanded our work. We grow like a family grows – more people join us and we also grow on the inside of ourselves.
Is there a story when you felt your leadership in a special way?
I lead workshops about how to make soaps and merchandize products. A young woman who took one of my workshops told me that because she learned how to make soaps and sell them, that her whole life was changed! I felt so touched when she told me that something I did changed her life.
I remember another story that showed me how I am growing. I remember that a student in one of my biology classes at the university didn't study. In my mind he had not learned anything. I wanted to fail him straight away. Another professor advised that I speak with him to try and understand what happened. He ended up passing the course and went on in his life. Later, he told me how much he had learned in my class. I realized that I had forgotten the human part of teaching. I had forgotten to look for and care about the human side of students. Empathy has grown inside me as a teacher.
How would you describe your inner spark of leadership - a life giving spirit within you?
This question makes me cry. I don't see myself as a leader. I feel so much gratitude to everyone outside of myself who sees me and values me. I continue to feel the voice of my grandfather inside of me. I feel like I am an instrument carrying out the spirit and vision of my grandfather and my ancestors.
When things are hard, what do you do to stay on track?
"Tengo fe." I have faith. My faith and my hope help me to overcome problems. My grandparents overcame even more difficult problems. They knew they could do better each day. Sometimes when I feel low, I go visit my younger cousins. They have good energy even in very bad situations. Young people, like my cousins, give me "chispa" (inner spark)! If they want to overcome, then we need to join them! We have seen that when things are bad, when we need hope - in that moment – an answer comes. Maybe we sell something. A blessing comes.
I have learned the importance of having allies. When we have good relationships with more people, it's possible to invent and create new strategies for dealing with problems.
Enoé asks Yelitza, "Do you feel empowered now?"
Life is like steps. As we grow, we keep walking steps. I want to grow inside myself each day. I want to practice loving myself and take what I know to different places. I felt empowered when I went to Chile to share my Indigenous practices with other URI Cooperation Circle members. When I grow and change, I can tell my students, "If I can do it, you can do it!"
I am very grateful for this moment. Thank you for giving me the opportunity to show my roots and to express the importance of my ancestors' knowledge. I was able to reflect on myself as I answered these questions. An important learning for me is to do everything with love and always think of the wellbeing of others.
Thank you, Yelitza, for helping us hear the voice of your grandfather and your ancestors through you. May you, the people of the Quinaroa CC, and all those you serve, fulfill your aspirations and live in peace and love.
---
Read the full "Inner Voice of Leadership" series.