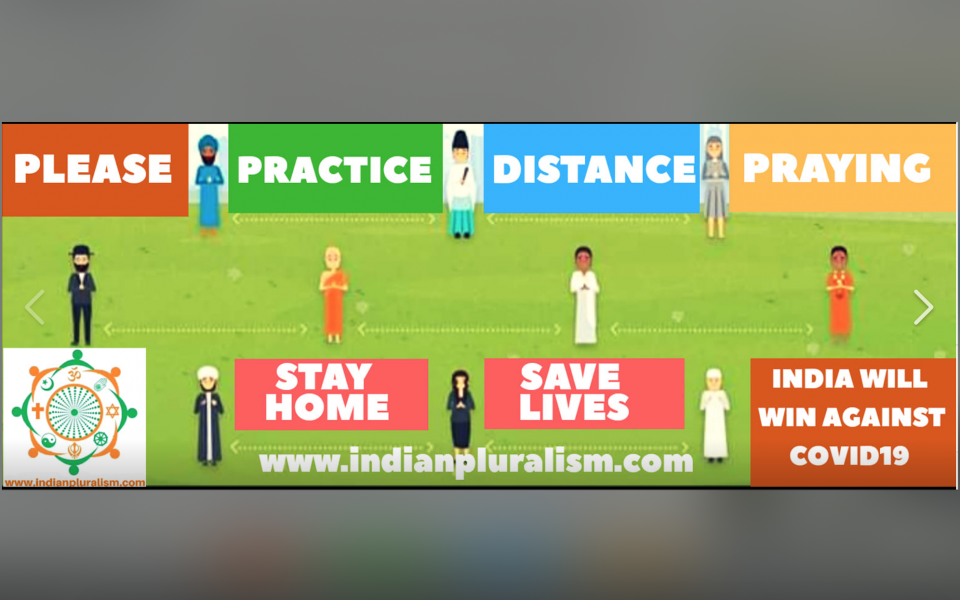 Indian Pluralism Foundation, a URI member group, has submitted this "humble request to every respected, estimable and dignified religious leaders across the World" in a Facebook post:
PROMOTE DISTANCE PRAYING
Dear Friends over the past decades, mankind has made overwhelming progress by leaps and bounds in the fields of Science, Technology and Communication.
We must utilise this development to our advantage to help people around us. If we can encourage our young minds to acquire education by engaging in "Distance Learning" through technological means, why can't we have our respected religious leaders contemplate and support the idea of "Distance Praying" during these testing times, as the COVID-19 pandemic threat has cast a scourge over the congregational prayers in every faith?
We must encourage praying from our homes. We are optimistic that our respected religious leaders will surely support their respective communities and stand with them shoulder to shoulder.
The primary objective and job of a religious cleric is to guide humans towards the right path. We are sure they can guide and offer prayers along with the people through the online apparatus connectivity.
We request every faith leader to organize a dedicated online channel of their respective religious organisation to help reach out to their communities and provide them with support and religious comfort and spiritual solace.
We might be physically apart while offering our sacrosanct prayers, dear friends, but in our hearts we are all together as one. We are all God's creation and children.
Respectful regards,
Owaiz Aslam
Founder
Indian Pluralism Foundation