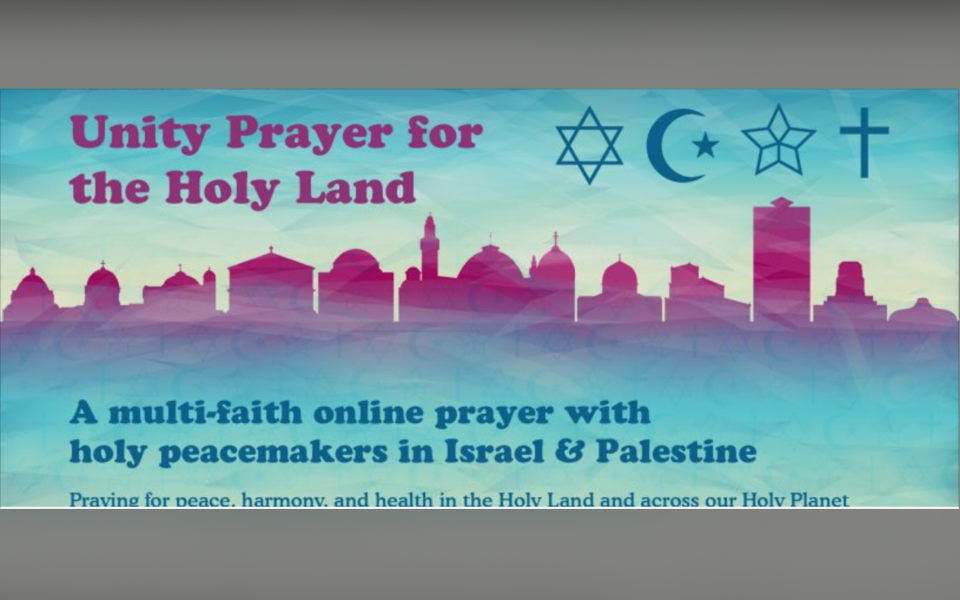 The Abrahamic Reunion, a URI member group, is calling for "A Multi-Faith Online Unity Prayer for the Holy Land and across our Holy Planet."
The Holy Land is no stranger to all manner of suffering. In response to this particularly difficult time, the Abrahamic Reunion will be drawing together—virtually—those women and men who have dedicated their lives to creating peace and understanding in their homeland.
Even when group prayer is virtual, people who pray together have a powerful effect. This is true not only for Israel and Palestine, but throughout the world. Many people think there will never be peace in the Holy Land, just as many believe we will never have peace throughout the world. But communal prayer and meditation, with a focus on the common good, can create the shift in consciousness that we all seek.
For the next two months, beginning on Thursday, April 16th, religious leaders and holy peacemakers in Israel and Palestine will be meeting online via Zoom every other Thursday for 30 minutes of prayer. 
The prayer will be hosted by David Less and Sheikh Ghassan Manasra, with Muslim, Jewish, Christian, and Druze prayers from Sheikh Mowafaq Tarif, Rabbi Leora Ezrachi-Vered, Fr. Firas Diab, and Shaykh Sulaiman Saliman. 
It will take place: Thursday, April 16th, 11am EDT / 3pm GMT / 6pm Holy Land Time

It will also continue for three Wednesdays: April 29th, May 13th, and May 27th
Please join us. The addition of your prayer energy will help build the change we all seek.
Peace, Salaam, Shalom.