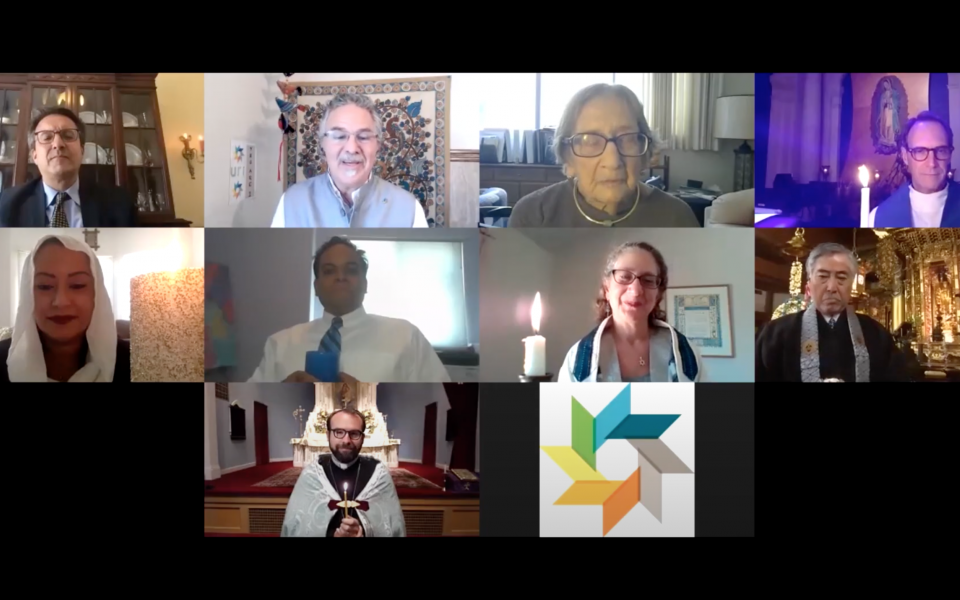 Celebrating the 75th anniversary of the United Nations, interfaith and peacebuilding leaders came together (virtually, due to pandemic restrictions) on Saturday, June 27, 2020 to commemorate the creation and signing of the United Nations Charter in San Francisco.
Scroll down for videos from this event.
"The UN is marking its 75th anniversary at a time of great disruption for the world," writes the UN on its website, "compounded by an unprecedented global health crisis with severe economic and social impacts. Will we emerge stronger and better equipped to work together? Or will distrust and isolation grow further? 2020 must be a year of dialogue, when we come together to discuss our priorities as a human family, and how we can build a better future for all."
The Rev. Victor H. Kazanjian, Jr., URI Executive Director, served as the moderator for the online event, which took place from 11:30 am to 3:00 pm PT on Saturday. A panel of esteemed experts, which included many strong URI voices, discussed "The Role of Faith-based Organizations as Partners with the United Nations."
URI's partnership with the United Nations spans the 20 years since the signing of its own Charter. URI holds the prestigious distinction of being a non-governmental organization (NGO) with consultative status with the United Nations Economic and Social Council, and has long-standing partnerships with several other UN agencies. Read more about URI and the UN.
Panelists for this important discussion included:
Rabbi Serena Eisenberg, Director Northern California American Jewish Committee
H.E. Ambassador Mussie Hailu, URI Director of Global Partnerships, UN Multifaith Advisory Committee
Dr. Azza Karam, Secretary General Religions For Peace, UN Multifaith Advisory Committee
Audrey Kitagawa, Chair of the Council for the Parliament of the World's Religions, UN Multifaith Advisory Committee
Sadhvi Bhagawati Saraswati, Secretary-General, Global Interfaith WASH Alliance (GIWA), President, Divine Shakti Foundation, UN Multifaith Advisory Committee
Monica Willard, URI Representative to the United Nations
See more about the panelists here.