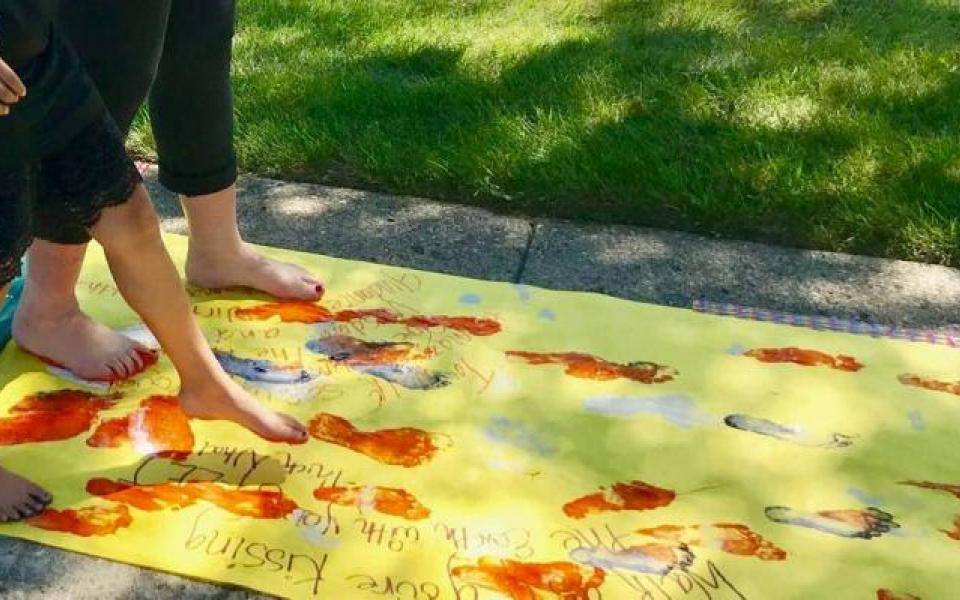 All over the world, people are coming together in large groups to march against systemic racism and inequality. Our children and teens are standing front row and center to the dramatic events unfolding on our city streets. We've reached critical mass in the battle for the future of our world, and peaceful protest is at the heart of creating true change.
How do we help our young people understand their own power in manifesting a world of fairness and equality?
How do we talk to them about what they are seeing and experiencing? Here's how – we can demonstrate how people like Mahatma Gandhi and Rev. Dr. Martin Luther King, Jr. have fought for the fair and just world they wish to live in, and how they pray with their legs, wheelchairs, hearts, and souls.
Footprints for Fairness is a creative activity initiative by Spiritual Playdate designed to foster meaningful conversation within families and communities about why it's important to march and what everyone is marching for. There is intention behind each foot and wheel that hits the pavement -- and this simple Footprints project helps parents, teachers, and youth mentors talk about how acting with non-violent intention can transform the world.
Anyone can participate by creating a unique work of social activism art, by walking in peace and making footprints in paint across a long roll of paper filled with positive affirmations about creating change. Register for Footprints for Fairness to get your free Activity Guide and find out how the photos and videos from your event July 27 - September 15 can be featured in an internationally-released Social Justice video later this year! 
Spiritual Playdate is an inclusive, interfaith web-based program that supports fun, engaging, social, emotional and spiritual learning while building the bridges of acceptance through group "Playdates" at home or in the community. Kids and their parents, teachers, or mentors discover their beliefs through a diverse framework of resources that we provide, which cover a variety of topics including Fair and Unfair, World Religion, The Golden Rule, Forgiveness, Fear and Anxiety, Gratitude, Love, and more. In addition, we offer resources for interfaith and community outreach. Visit our website to start having Playdates with a Purpose.
#FootprintsForFairness #Leadership #Justice #Peace #MLK #Education