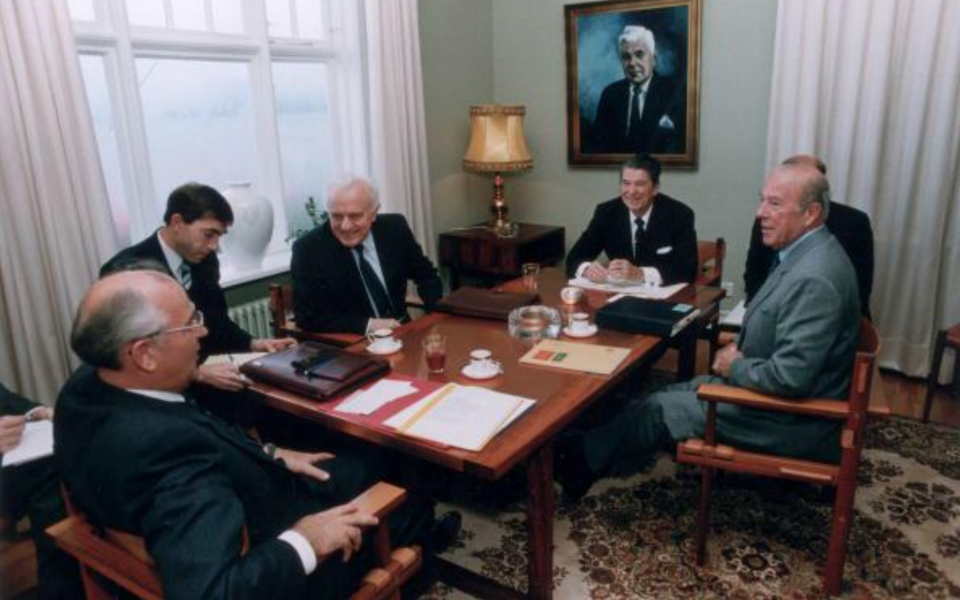 On August 6 and 9, the 75th anniversary of the atomic bombing of the Japanese cities of Hiroshima and Nagasaki will be commemorated by four of the world's leading interfaith/intercultural organizations with a call for the abolition of all nuclear weapons. URI's member group Voices for a World Free of Nuclear Weapons is allowing participants to register for the hour-long online video presentation to hear supporting statements from former Soviet Union President Mikhail Gorbachev, former US Secretary of State George Shultz, and other prominent voices including the mayors of Hiroshima and Nagasaki.
The photo above shows the 1986 Summit in Reykjavik where Soviet Premier Mikhail Gorbachev, Soviet Foreign Minister Eduard Shevardnadze, US President Ronald Reagan, and Secretary of State George Shultz discuss possible nuclear disarmament. (Photo by Ronald Reagan Library/Getty Images.) For their efforts in this meeting, which brought the world tantalizingly close to the total elimination of nuclear weapons, both former President Gorbachev and Secretary Shultz will be honored at the upcoming event, and an award to young people pursuing nuclear disarmament will be established in perpetuity in their names.
Find out more about this free online event, which will be held on August 6 and 9.
Cooperation Circles Involved