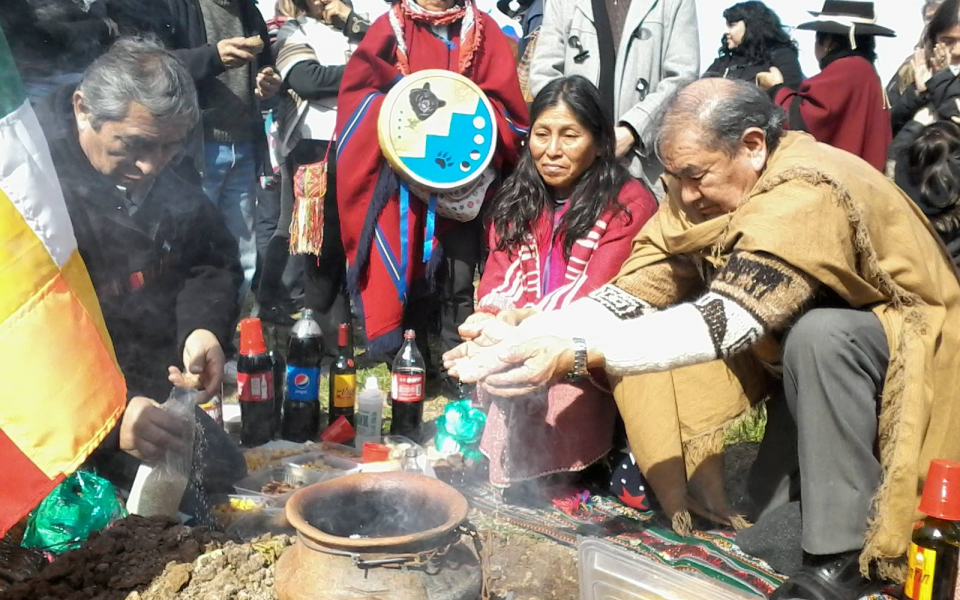 Members of the CC Indigenous Peoples of Argentina performed an honor ritual for the Pachamama. Throughout the month of August in South America, the peoples and nations of the Andes celebrate the awakening of the Pachamama, after its rest during the winter, beginning a new year after the Inti Raymi.
In the celebration of Pachamama, everything that one loves and the best that one has is offered to the Earth. This ceremony is full of thanks to the great provider mother, for all that she gave and for all that was taken from her. It is a new cycle of renewal.
In this act, balance, awareness, love and, above all, reciprocity are put. The festival or celebration of Pacha is also called "Payment to the Earth".
Pachamama; Mother Earth, kusilla kusilla. Our Community, the Kolla people, celebrates Pachamama all August, with an ancestral ceremony, offering cooked food (corn, beans, harvest) drinks (chicha), in abundance. To g   ive to Mother Earth, giving back everything that she offers us in abundance, such as life, air, rivers, the song of birds.
Rosalía tells us "August is a month to ask Mother Earth for permission, because in September we will start planting. August is a long-awaited month for us, because every year it renews our spirits, strengthens the connection with all living beings (humanity, rivers, stones, trees, birds ...) on our planet. Our Community is happy, celebrating our Mother Earth, on this first of August, because in this time of Pandemic, we are more connected with all of you and our Pachamama takes time to decontaminate itself. Let's toast to this beautiful time of Mother Earth. "
This year 2020, due to confinement, the members of the CC Indigenous Peoples of Argentina performed their traditional ritual, each from their home agreeing the same time for the energies to be connected despite the physical distance.
In the photos is Rosalía Gutierrez, the first contact of the CC offering Pachamama in the midst of this global context of a pandemic. Jayaya!
Please scroll the yellow arrows to see the slideshow.