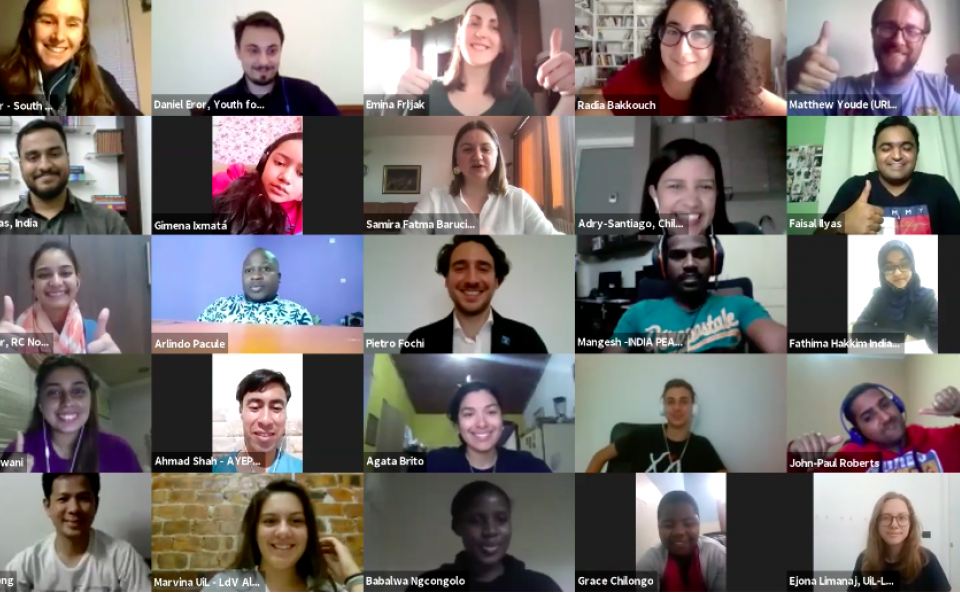 To celebrate International Youth Day, 12th Aug 2020, Youth for Peace CC in Bosnia & Herzegovina, hosted the URI Youth Connection Cafe. These are a regular open meeting place where young people across URI can connect with each other, network, share projects and discuss relevant issues from our different contexts. Each time they are hosted by a different group, on a topic of their choice. 
The topic of this Cafe was "International Youth Day: The Role of Youth in Building and Sustaining Peaceful, Just and Inclusive Societies." Our goal was to emphasise the role of young people in building and sustaining the necessary changes in the world through different lenses and on different levels.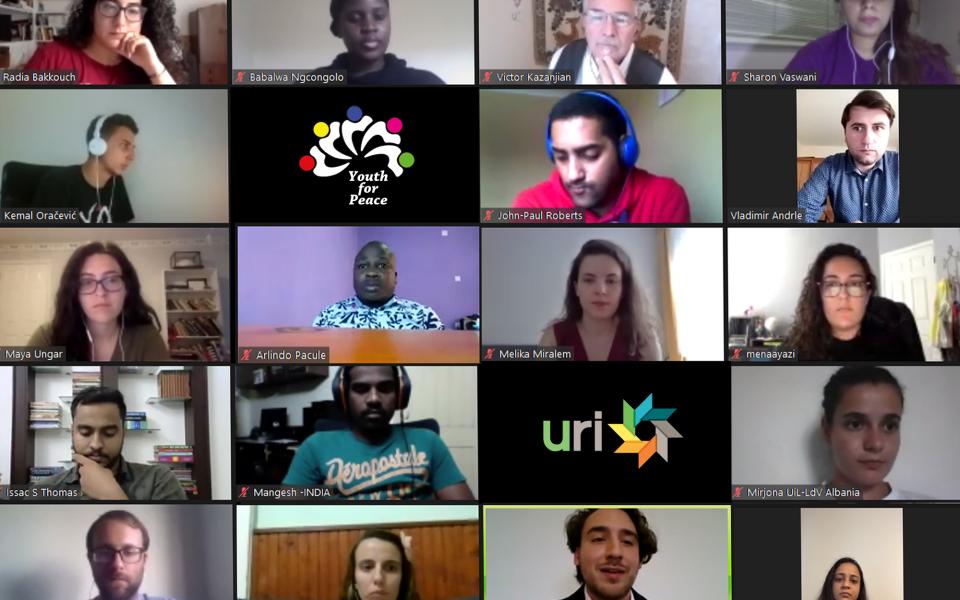 With over 50 young people attending the call, from 22 countries, we were set for an engaging and diverse discussion. Through the plenary session, we introduced our audience to different perspectives on the topic, with sharings from 6 guest speakers. 
Here are some highlights of what each speaker shared: 
Pietro Fochi, official youth delegate of Italy to the United Nations, and co-founder of EDUACTIVE, started off the discussion by speaking about how we need to capitalise the skills we have as young people to connect and make an impact. From a context of making the connection between young people and institutions, Pietro highlighted the importance of embracing causes and issues that do not directly affect ourselves or our own communities.
"As young people we are so versatile, we are so capable of changing perspectives at a fast pace, that we truly need to engage in different issues and matters, and not be afraid of somehow ruining our ideals or professional career paths. In doing so we need to be respectful of the narratives of the activists and people most affected and caring most for that specific cause." (Pietro Fochi, Italy)
Pietro also stressed the importance of getting engaged in institutions. We need to shake our institutions both from the outside and the inside. Finally, Pietro left the group with the joyful provocation, to never grow up! 
Mena Ayazi, Youth, Peace and Security Advisor at Search for Common Ground in the USA, shared about the important role that policy and advocacy play in promoting the Youth, Peace and Security agenda. Speaking from her experience as a member of Afghan diaspora, growing up with the direct and transnational effects of conflict, Mena shared the principles of the Common Ground Approach. This includes the following 5 principles: 
Conflict is inevitable 
Humankind is interdependent
Change is always possible 
When everybody wins, change lasts 
The Common ground matters 
At Search for Common Ground, they focus on working with young people as partners in conflict transformation instead of beneficiaries of international projects. 
"Even though we have such complexities in our differences, we can always discover something that we share. And by doing that we grow our human connection, we build mutual trust and respect, and we trigger collaboration in ways we never thought so before" (Mena Ayaazi, USA)
Babalwa Ngcongolo, who is a Programme Coordinator of GOAL - Cooperation Circle in South Africa, spoke to the history and context of youth activism in South Africa, emphasising the importance of decolonising our education systems. Thinking about young people and our experiences of education, Babalwa shared the following: 
"Education is so much more than learning information. It's about three things. Education needs to help you become more critical, to be a critical thinker. To think about why the world is the way it is and what you can do in order to fix that. It's about being self critical and reflective. Secondly education for me, education needs to be compassionate. It needs to put us in a space where we can connect with people on a level that allows them their dignity and their humanity. And that really is kind to our interconnecteness. And then lastly, education needs to empower you to be able to do things, not only for the world around you, but for yourself, to not only understand your own potential, but also to exceed it. And inspire others along the way." (Babalwa Ngcongolo, South Africa)
Radia Bakkouch, President of Coexister in France, began by sharing about the context of an organisation like Coexister in France. With a history of many interfaith organisations in France, Coexister was created 11 years ago with the unique focus of bringing youth experiences and perspectives into interfaith and interreligious engagements. They also wanted to make sure dialogue was citizen-focused and open to non-religious beliefs as well. As Radia said, 
"We cannot build a peaceful, sustainable and inclusive society, unless everyone is at the table. We cannot choose people. Everyone needs to be at the table, to decide what is our future" (Radia Bakkouch, France)
Referring to the current pandemic, Radia highlighted the importance of intergenerational engagements. "The people who are really going to suffer from the economic crisis that is coming are the youth. There is a big breach on intergenerational dialogue in France. This is a message I want to share with you today. That is, intergenerational talk is really important at the moment, because we don't understand each other."
Vladimir Andrle, former member of Youth for Peace, BiH, shared his experience of being involved in interreligious activism, as an active member of the Jewish community in Sarajevo. He described examples of interreligious activities, such as a Muslim-Jewish twinning event, where a group of young people went to the evening prayer in the main mosque in Sarajevo, and similarly visited the Jewish community to participate in a shabbat service. For Vladimir this showed that, 
"It is very important for people to meet, to speak, to understand the needs of each other. I believe this is the only way to make progress in society." (Vladimir Andrle, BiH)
Vladimir, shared that Jews and other minorities are discriminated against in BiH, by the constitution, as they cannot run or be elected to the house of representatives. This is ruining the fine history of interreligious dialogue in BiH. Vladimir clarified that it is a form of political discrimination, and not necessarily religious discrimination. 
In closing, Vladimir spoke to how important young people are in improving interreligious dialogue: 
"I believe interreligious dialogue is really necessary for every country in the world, no matter how good or how open a country is. I really believe that young people and the organisations such as the ones you are part of, need to find a common ground, and meet with people, to talk and exchange experiences." (Vladimir Andrle, BiH)
Subhi Dhupar, URI Regional Coordinator of North India and Afghanistan, shared her own journey of coming to interfaith peacebuilding work and joining URI, and some of the struggles with ageism, and intergenerational structures. She highlighted the importance of creating an enabling environment for different voices to be heard, and the importance of all stakeholders taking responsibility for the space, and following a clear strategy, particularly when it comes to expectations: 
"What is very important when people come together is expectation mapping. Everyone comes in with some amount of expectations, some amount of baggage and experiences. It's very important to have clarity on the aims that we wish to achieve and the mode we can achieve these. This creates a fertile ground for any kind of negotiations to happen. While it is easier said than done, if there's some kind of compassion and empathy, with the intent and focused strategy, it can and it has, not just develop a mentor and mentee relationship amongst old and young people, but also reverse this." (Subhi Dhupar, India)
Subhi ended by encouraging everyone, that when you see a problem, don't be afraid to face it head on!  
Following the presentations from the speakers, attendees were divided into breakout groups to respond to the question, of "what can I as a young activist do to serve and support peacebuilding work done by my peers?" Responses were captured in the word cloud below.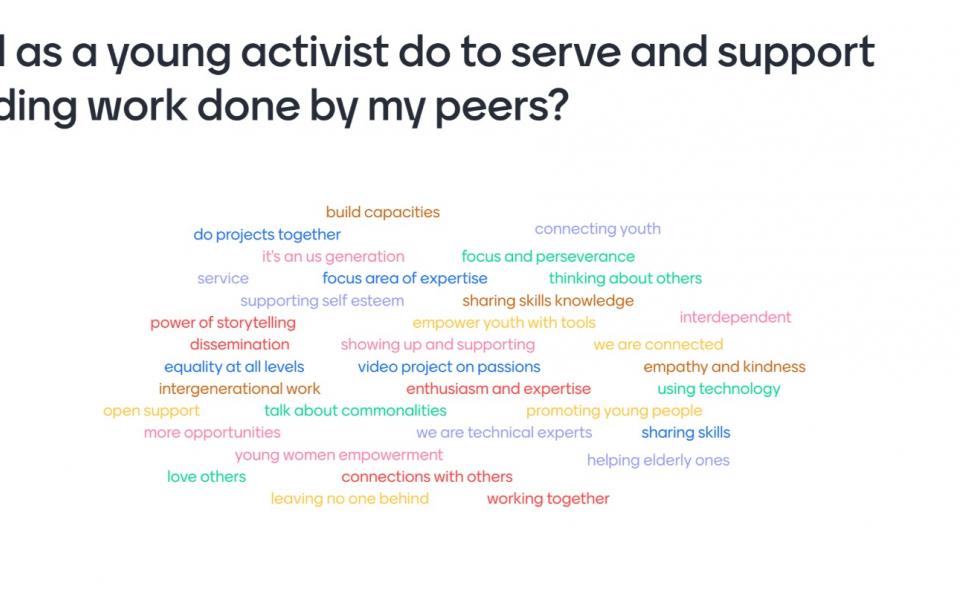 In response to the question, we spoke about how young people have expertise and skills to offer, and are not just token representatives in spaces. The groups also highlighted the importance of empathy, kindness, and compassion in how we work together. There was much excitement about creating further opportunities of support and connection amongst one another, and making sure to leave no-one behind. This was identified as an important principle of our work as peacebuilders, "no one gets left behind!" It is with this spirit that we embraced the celebration of International Youth Day, and our role in building and sustaining peaceful, just and inclusive societies.