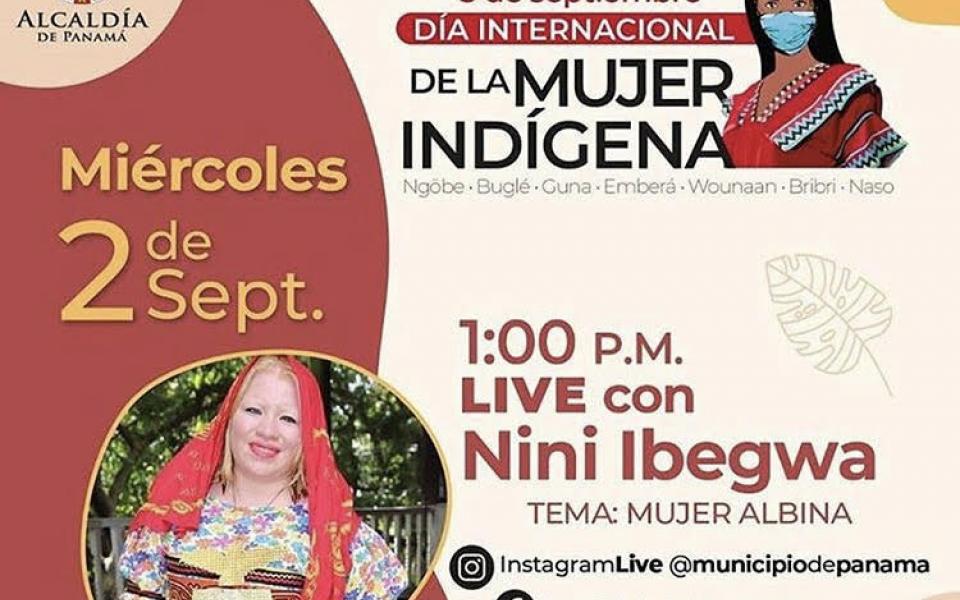 Nileyn González is a 26-year-old girl, a member of CC Mukua, who develops an active work for equal rights for the albino population. She is currently part of the municipal servants and works as an administrative officer in the Directorate of Communication and Public Relations of the Mayor's Office of Panama.
She is the mentor of the platform called "Nini Ibegwa", which has become her banner to fight and defend the rights of all albinos who are in every corner of the Panamanian soil.
Since her childhood, "Nini", as her family and friends affectionately call her, has observed the situations and deficiencies that hundreds of albinos like her face: they do not have the basic medicines to care for their sensitive skin, they do not have access to good glasses to protect their delicate eyesight from the sun, some with truncated opportunities due to discrimination in different settings. This led her to become a fierce activist in favor of the albino community or popularly known as "Children of the moon." She aspires that the Panamanian State, hand in hand with private companies, comply with providing better opportunities and quality of life to those albinos that society has closed its doors at the time.
A year ago, Nini in conjunction with the Society of Albinos of Panama presented a draft law that seeks to declare June 13 as the Day of Awareness of albinos and social, educational and economic measures are adopted in favor of discriminated human beings just for being different. This initiative was approved on January 29, 2020, but has not yet been sanctioned by the President of the Republic, so they cry out to the president to sanction this project 115.
Her concern for all albinos is so great that at the beginning of July 2020 a formal letter was presented to President Laurentino Cortizo requesting the aforementioned sanction to bill 115.
Before being the mentor of her solid plan of action "Nini Ibegwa" and now with it, she brings donations of household goods, clothes, milk, disposable diapers, among other essential items to low-income families who have an albino member; this, thanks to the support of thousands of people who have shown solidarity with the cause.
Nini resides in Veracruz and is very loved by her community, her work environment and is an albino echá pa 'lante, as we say in good Panamanian. She is a young woman who keeps awake to fulfill her dreams and the dreams of other albinos like her who have great goals and can contribute a giant grain of sand to the constant transformation of the country.
On this occasion of the commemoration of the International Day of Indigenous Women, she was invited to an interview where she was making her work and her membership of URI Latin America visible.