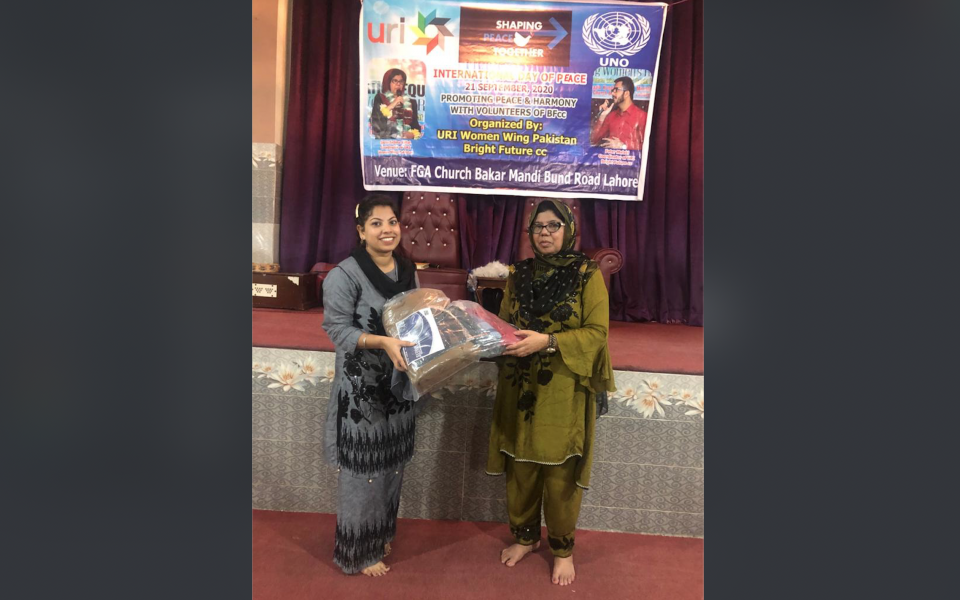 On 17th September, 2020, URI Women Wing Pakistan organized an International Day of Peace celebration with the theme of UNO for this year, "Shaping Peace Together" along with Bright Future CC, WAKE CC and COPE Pakistan CC, at Bakar Mandi, Lahore, Pakistan.
Mr. Peter Malaki, Coordinator of Bright Future CC (Cooperation Circle, or URI member group), was the host. He arranged the entire program with his CC youth volunteers. Sr. Sabina Rifat, Coordinator of  Women Wing URI Pakistan, was the chief guest. Mr. Asher Nazir, Executive Secretary of URI Pakistan, and one parent of each of the volunteers, were guests of honor. Youth volunteers of Bright Future CC warmly welcomed Sr. Sabina Rifat and Mr. Asher Nazir by presenting them with flowers and with the peace song of Mr. Jhon and Ms. Reshfa Gill. Mr. Peter especially thanked Sr. Sabina for her keen interest in youth empowerment. Ms. Jiya Jamshaid offered a prayer of peace in Urdu and Ms. Malaika Yaqoob said a prayer in English. The participants stood with lighted candles with the aim of spreading light in the world. In this program, 58 youth volunteers participated. Martina Philip, Saba Rehmat and Reshfa Gill shared speeches, songs and testimony on Peace in this program.
---
Click the yellow arrows to scroll through the slide show below.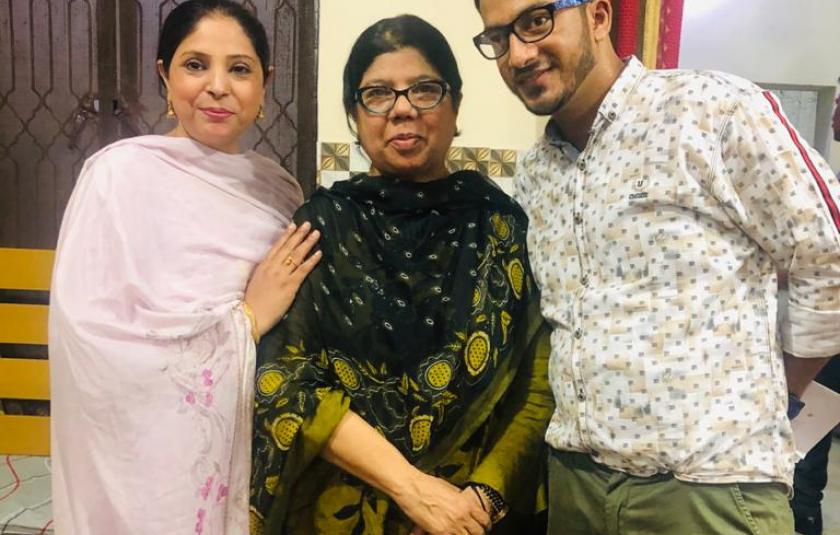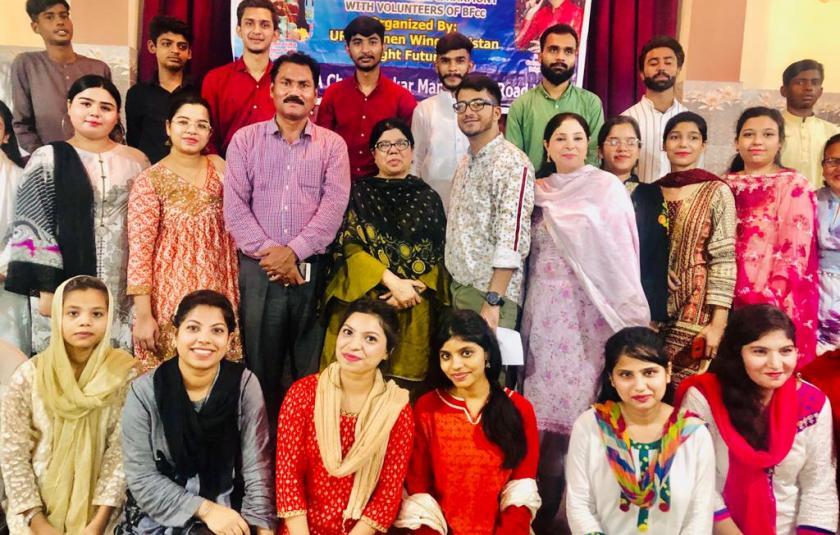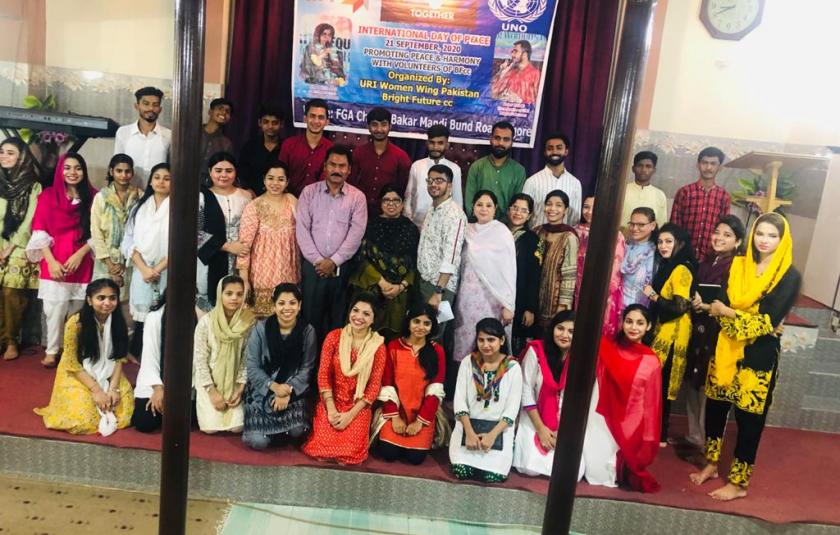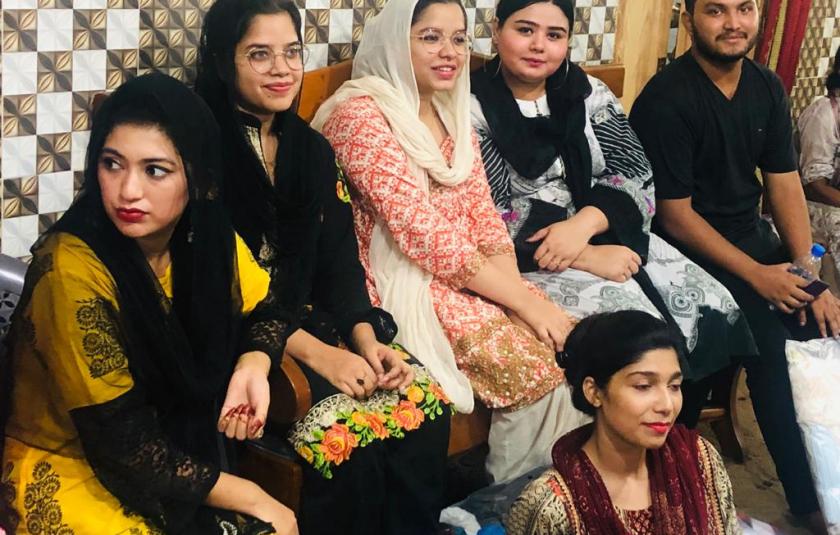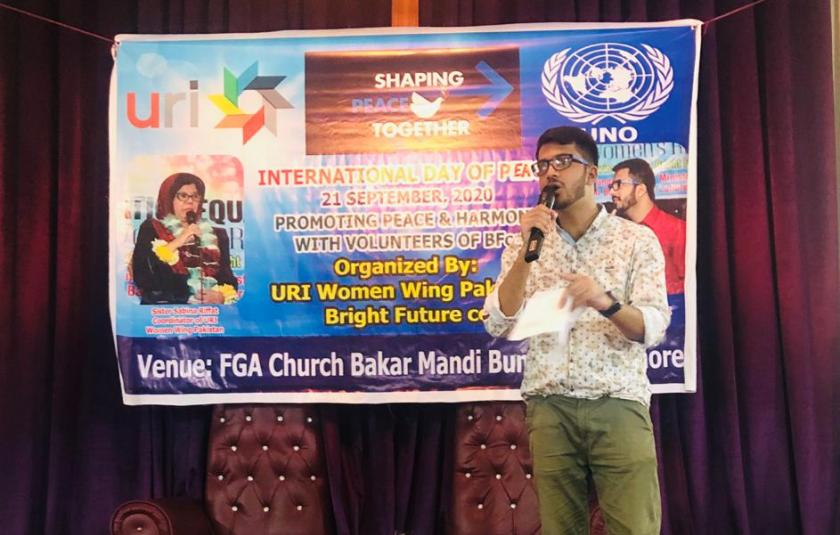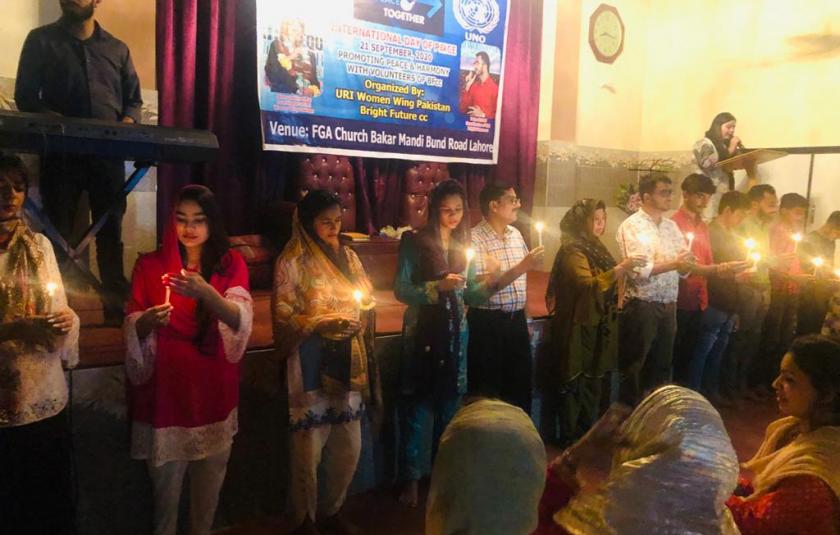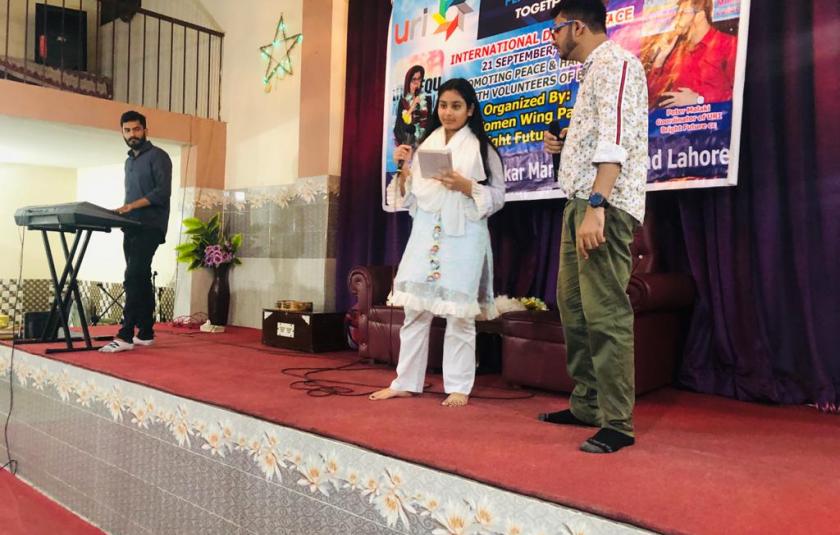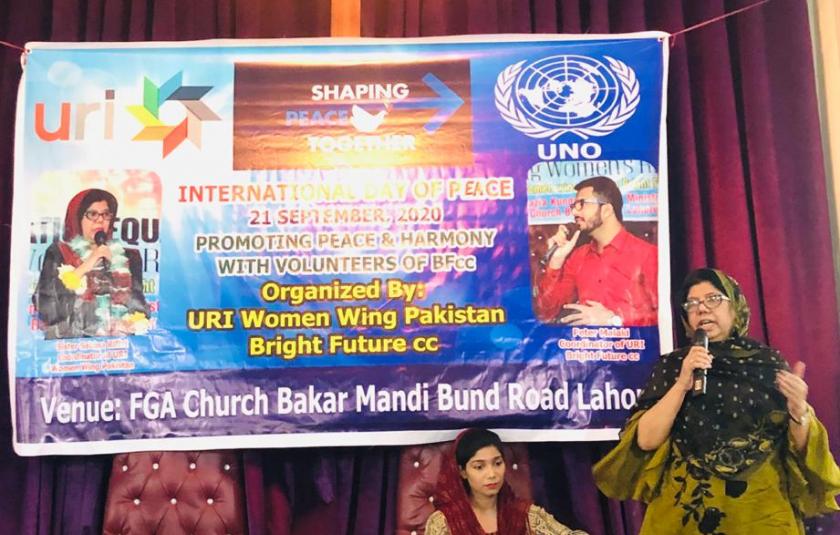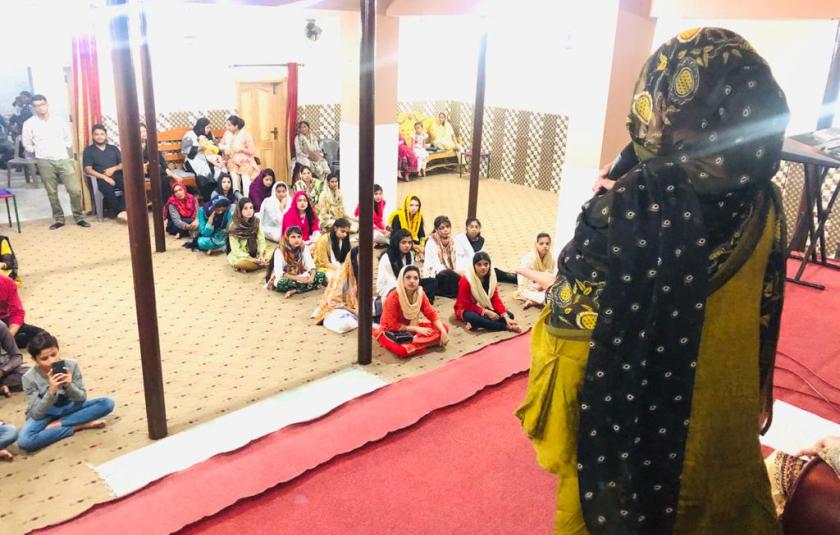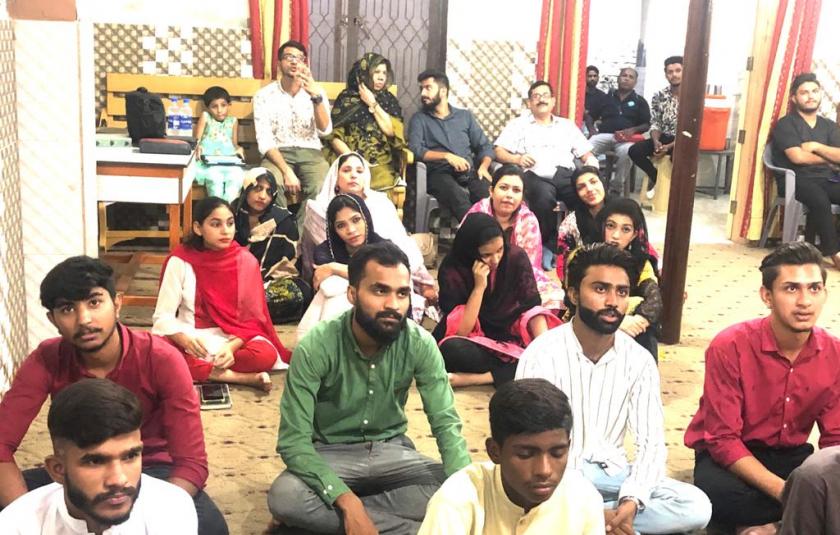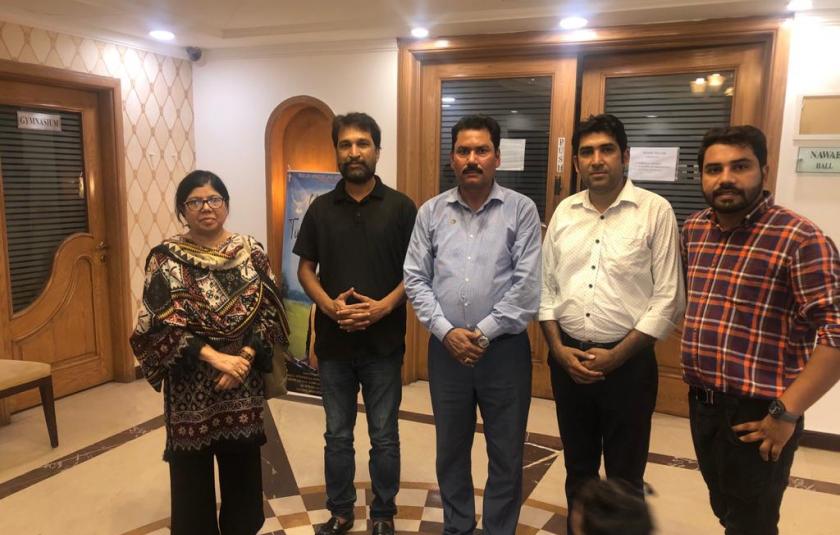 The International Day of Peace is observed around the world each year on 21 September. Established in 1981 by unanimous United Nations resolution, Peace Day provides a globally shared date for all humanity to commit to Peace above all differences and to contribute to building a Culture of Peace. The UN General Assembly has declared this as a day devoted to strengthening the ideals of peace, through observing 24 hours of non-violence and cease-fire. This year, it has been clearer than ever that we are not each other's enemies. Rather, our common enemy is a tireless virus that threatens our health, security and very way of life. COVID-19 has thrown our world into turmoil and forcibly reminded us that what happens in one part of the planet can impact people everywhere. URI around the globe celebrates and work on peace and harmony with its wonderful Preamble.
Mr. Asher Nazir shared his views that youth can play a major role in this society for the promotion of Peace because they are the important part of society and they can promote peace and harmony in their family, school and university through positive action and connecting like-minded people. "You can create a peaceful society." 
"You can play the role of light in darkness and you can do any positive thing any time when you want." - Mr. Asher Nazir
Sr. Sabina Rifat shared the beautiful words of peace with youth from her poetry, saying, "If we sow a green tree in our house, heart and in exploded areas, we can expect the Dove to come." She encouraged the youth for doing the wonderful work for the promotion of peace and interfaith harmony among different religions. She appreciated and congratulated Mr. Peter Malaki, Coordinator of Bright Future CC, and the youth volunteers, for organizing this successful and wonderful program with interfaith youth on International Day of Peace, 2020. She said that time management is very important for youth because our youth mostly use internet and mobile phones. These things are good, but youth should use this technology for positive purposes such as education and character building. "You are the future of our nation. You are a seed of peace. We hope you will be ambassadors of Peace and interfaith harmony."
She conveyed well wishes and love of Fr. James Channan OP (URI Regional Coordinator) and the URI global leadership. She also mentioned and thanked the WIN-URI (Women's Interfaith Network) and their continuous support to make possible this work for women and URI members. She also thanked Mr. Asher for his continual cooperation.
Sr. Sabina Rifat, Mr. Asher Nazir and Pastor Younas Indrias distributed gifts among the URI Youth Volunteers who attended a workshop on time management by Peter Malaki, the very energetic youth leader, and Sr. Sabina Rifat. The volunteers were very happy to receive these gifts. They expressed that they feel honored with URI working for their betterment. Mr. Peter Malaki thanked all participants, guests and URI youth volunteers for their wonderful participation in the program of International Day of Peace, 2020. He also thanked URI Regional staff Sr. Sabina Rifat for her continual support and inspirations and Mr. Asher Nazir for generously giving their time and sharing their views on International Day of Peace with the theme of Shaping Peace Together with youth.
See the video on Facebook.
Report submitted by: Asher Nazir, Executive Secretary, URI Pakistan
---
See more ways the URI global community celebrated the International Day of Peace 2020.