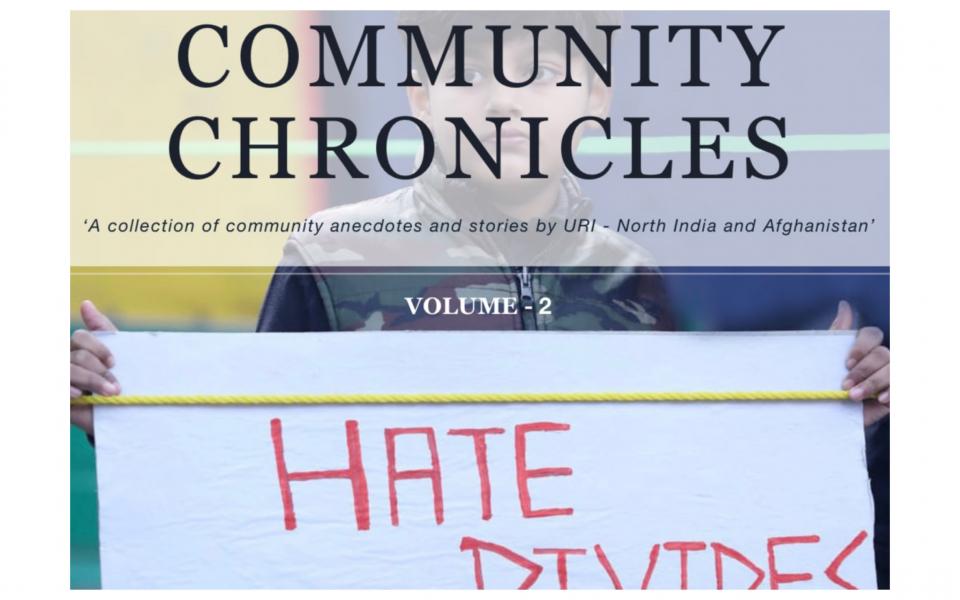 Book Release: For over two decades, United Religions Initiative (URI) has been striving to create cultures of peace by using religion as a tool. This year, in commemoration of URI's 20th anniversary celebration, the North India & Afghanistan Regional Office has been documenting stories of its Cooperation Circles under the 'Community Chronicles' Project. The first volume under this project was released on 15th August 2020. The second volume of the same is being released today to commemorate the culmination of the peace week, which was celebrated from 21st September 2020 (International Day of Peace) to 2nd October 2020 (Mahatma Gandhi Jayanti). 
About the book: Not for profit organisations and civil society institutions have a pivotal role to play in community development and peace building processes. They promote the idea of social inclusion by actively involving marginalised & underrepresented communities living on social fringes - in development & policy-making processes. The 'Community Chronicles' project is an attempt by URI - North India & Afghanistan Zone to document anecdotes & stories of such grassroots organisations in Delhi NCR, parts of North India and Afghanistan to explore & analyse how communities navigate through the ideas of urban poverty, education, women & child empowerment, politics of exclusion & development. These organisations are all Cooperation Circles (CCs) of URI. Creating a strong network of such organisations is paramount to initiate dialogue and policy advocacy; and this is something that URI is actively involved in doing. This project lays the groundwork for research based interventions and grassroots-focused policy advocacy.  
Both books in the series have been written and edited by Atharva Mehendale, Community Project Manager – URI North India and Afghanistan; and designed by Masoom Grover, Designer - URI North India & Afghanistan.
About the Author
Atharva Mehendale works as Community Project Manager with the North India & Afghanistan Zone of United Religions Initiative. He also works as a Teaching and Research Fellow with the O.P. Jindal Global University, Delhi; and holds a Master of Arts (M.A.) in International Affairs from the same university. His research work focuses on international migration & mobility, urbanisation, informal sector studies, and grassroots-led community development, with a particular interest in the intersection of urbanisation, migration & gender. He has previously worked on research & community development projects in New Delhi, Assam & Meghalaya. Read more about Atharva here. Email him at [email protected] to get in touch with him.
About the Designer
Masoom Grover works as the designer for the North India & Afghanistan Zone of United Religions Initiative. She is a Fashion Design student from National Institute of Fashion Technology, Delhi. Apart from being an apparel creator she has a decent knowledge of Adobe applications and therefore, also works as a freelance graphic designer. Her passion for writing made her cross roads with United Religions Initiative.