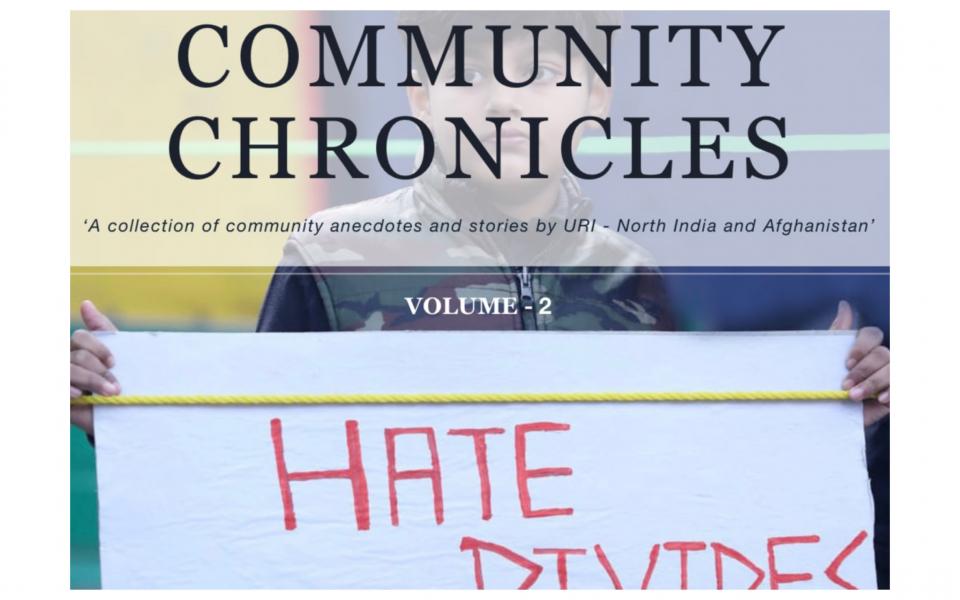 Book Release: United Religions Initiative (URI) is a San Francisco based global grassroots interfaith network that cultivates peace and justice by engaging people to bridge religious and cultural differences and work together for the good of their communities and the world. This year, in commemoration of URI's 20th anniversary celebration, the North India and Afghanistan Regional Office has been documenting stories of its Cooperation Circles under the 'Community Chronicles' Project. The first volume under this project was released on 15th August 2020. The second volume of the same is being released today to commemorate the culmination of the peace week, which was celebrated from 21st September 2020 (International Day of Peace) to 2nd October 2020 (Birth anniversary of Mahatma Gandhi). 
About the book
Not for profit organisations and civil society institutions have a pivotal role to play in community development and peace building processes. The 'Community Chronicles' project is an attempt by URI - North India and Afghanistan Zone to document how grassroots organisations engaged in social action promote the idea of 'inclusion' by actively involving marginalised and underrepresented communities in development and policy-making processes. These organisations are all Cooperation Circles (CCs) of URI - North India and Afghanistan Zone. Creating a strong network of such organisations is paramount to initiate dialogue and policy advocacy; and this is something that URI is actively involved in doing. This project lays groundwork for research based interventions and grassroots-focused policy advocacy.  
Both books in the series have been written and edited by Atharva Mehendale, Community Project Manager – URI North India and Afghanistan; and have been designed by Masoom Grover.
About the author
Atharva Mehendale works as Community Project Manager with the North India and Afghanistan Zone of United Religions Initiative. He also works as a Teaching and Research Fellow with the O.P. Jindal Global University, Delhi NCR. He holds a Master of Arts (M.A.) in International Affairs. His research work focuses on migration and mobility, urban studies, labour, identity, and development. He can be reached at [email protected].
About the designer
Masoom Grover works as a designer for the North India & Afghanistan Zone of United Religions Initiative. She is a Fashion Design student from National Institute of Fashion Technology, Delhi.