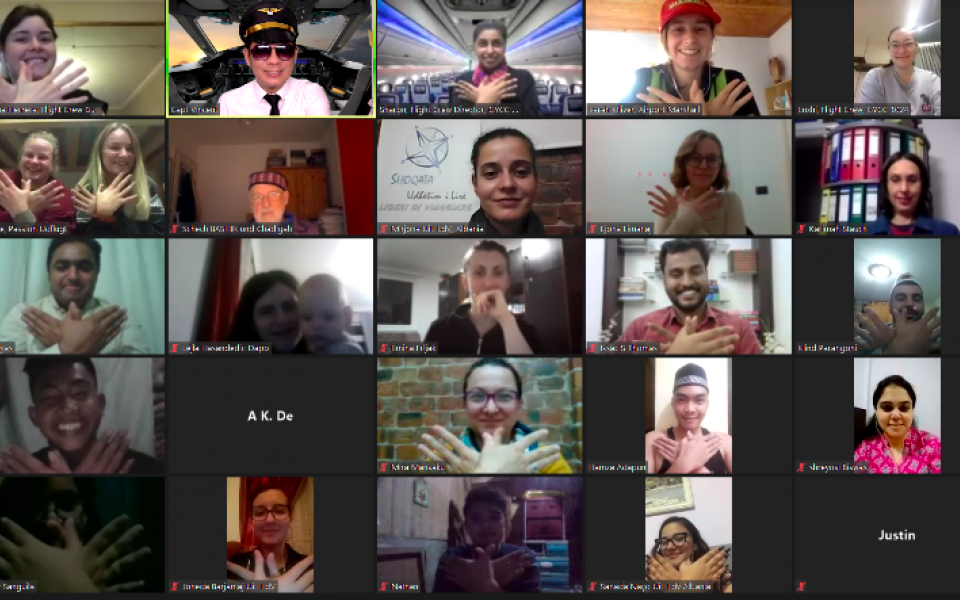 The URI Global Youth CC, marked UN day, by taking a virtual flight aboard GYCC-1024 bound to Albania! Complete with a flight crew of a Spanish speaking translator, the flight accommodated more than 60 passengers from all over the world! The passengers were treated to learnings and sharings brought forward by our very dynamic ground staff crew of Udhetim-i-Lire CC.
They shared information about the cultural heritage of Albania as well as its historical values and religious beliefs. Albania is also known for harmonious living between the communities of different religious beliefs. Majority of population belongs to Muslim community (82 %), while the rest are Christians, Buddhists, Hindus, Jews and other religions. In fact, Albania is the country where Mother Teresa was born.
According to the locals, during 1944 -1991 the Communism period, cult objects were destroyed, imams and priests were convicted, shot and exiled in 1967. Albania was led to dehumanization, loss of values and spiritual, cultural, educational, religious, national, and was declared as the world's first and only "Atheist state". This situation changed in 1991 after the end of Enver Hoxha's regime which then followed by the beginning of the current harmonious practise.
The local crew then treated passengers on board to participate in a local dance called the "Napoleon Dance" which is deeply entrenched in the Albanian cultural heritage throughout the years.
Here is a glimpse of our video of the trip!
We invite you to join us for our next trip scheduled on December 5th, 2020! Watch out for more details on the event. But here's a little hint for where we'll be heading next: We will be sailing to a very festival country, with great cultural diversity and lots of festivities! Hope to see you on the next trip!
Remember, should you wish to have your CC featured in a trip, please do feel free to reach out to Captain Vincent or Crew Director Sharon at +639178138858 or by sending a line to: [email protected]
So come aboard, and travel with us!