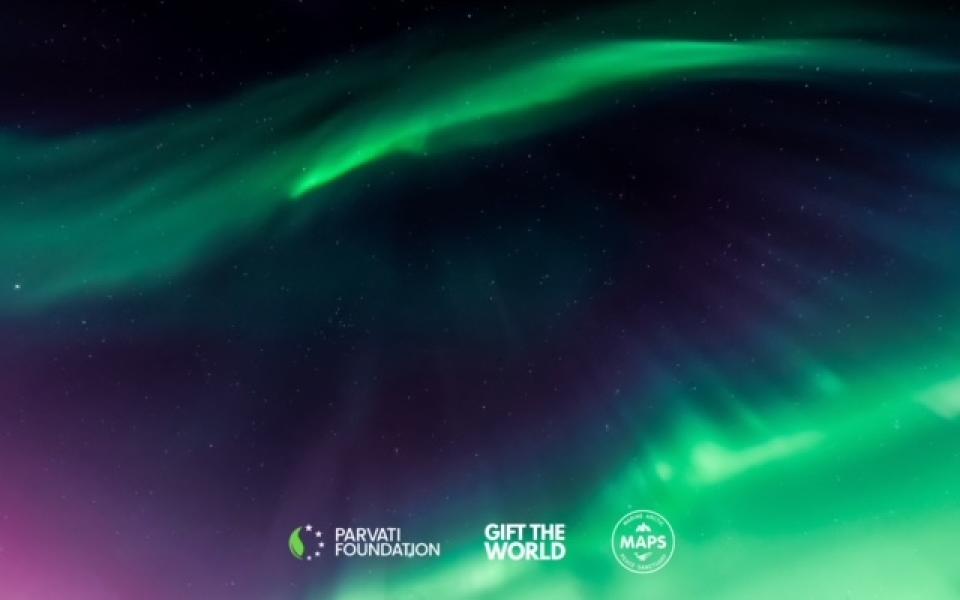 Interview with Father Stephen Adrian Villaester, Anglican priest, community advocate, musician and Communications Director with Pakigdait, Inc. Cooperation Circle (a URI member group in Illigan City, Mindanao, Philippines), and Sally Mahé, Senior Consultant URI.
---
Sally Mahé: Thank you very much, Father Adrian, for giving your time for this Inner Voice of Leadership interview. I'm grateful for the opportunity to go a little deeper to learn from you about leadership and how you are making positive change in your community. Please tell me how your leadership shows up.
Father Stephen Adrian Villaester: I would say that the leadership I have comes from the passion I have to work with my community, especially the youth and people who are vulnerable. We are so diverse here in Mindanao. We live alongside our brothers, the Bangsamoro rebels, who have been involved in an armed struggle for their rights for a long time. Also, recruitment of youths by terrorists groups is rampant here. My leadership comes from loving my work and the community that I'm involved in. My leadership comes from being involved with very different kinds of people, diverse personalities and cultures.
How did your deep care for your community get started?
My father is a pastor in the Anglican Church and I grew up in the ministry. As a kid, I was used to engaging my community through church. I also got involved in music ministry. In high school, I got involved in the underground music scene. My music is punk. It opened me up to people with different lifestyles and different sub-cultures. The music is much more than just the music. We have gigs, but they also are events that support feeding programs for the community.
In 2007-2008, my father and Musa Sanguila, the Director of Pakigdait Inc. (an interfaith peacebuilding organization), invited me to join a masjid - church visitation program. Visiting the masjid was a real eye-opener for me! I really loved this interfaith peacebuilding thing because I experienced religious leaders from different faiths making friends. They each had different beliefs and practices, but one goal - to achieve peace through having dialogue with each other. It was very heartwarming. I became an advocate for interfaith. The underground music scene, with lots of diverse friends and being with people of different faiths, is all very interesting to me.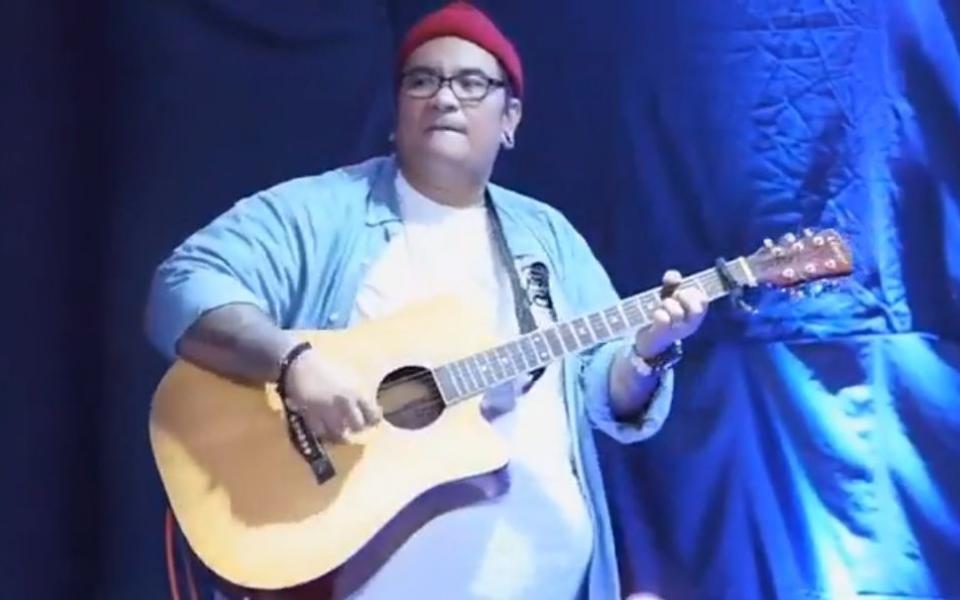 Please tell me more about the underground music scene.
When I was in high school, a friend introduced me to 'extreme sports' through skateboarding. Inspired by this same spirit, my friend also invited me to form a band around the idea of 'extreme music.' Most people don't like it. It's punk, ska, hard core, heavy metal. We call the people who come together for this music, "Defiance Network." It refers to people defying traditional things. I was a pioneering member of the Defiance Network in high school. I led it through college and am still with it. We are composed of five bands each with different life-styles and cultures. We're still going, but taking a little break because of Covid. Tomorrow, we will use the canned goods we received from a gig and host a feeding program in Illigan City. So, we serve as a bridge, connecting people who love our music with helping others in need.
What leadership qualities do you value?
First thing: know what you are advocating for. Good leaders need to be advocates and good organizers. Currently, I am working as Communications Director with Pakigdait, Inc. I put into practice Pakigdait's core values: involve diverse religions leaders; engage women, youth, and government; and, whatever we do, we see to it that we build good relationships.
Are there other ways your leadership is showing up?
Since I am the son of a pastor (who is now a bishop), I organize a group called "Pastor's Kids." Many kids of pastors have struggles; some think they cannot make a mistake. What called me to bring them together is that some pastor's kids have considered suicide. We get together, listen to each other's struggles, and we capture feelings and concerns and offer an outlet. I can feel the pressures they have.
What inspires you? What gives you the inner conviction to give your life to this kind of service? How would you put this 'inner spark' into words?
The inner spark, the fire that keeps me going for this kind of advocacy, is that I care for the future of the children. If there is no help, the conflicts will be recycled. I don't do the work for myself but to make a better future. My spark comes from wanting to see the community happy. As a priest, I want to see my church members happy. In interfaith work, I am sparked when I see leaders from different faiths being happy together. I want to see pastor's kids happy too. I'm not bragging, but I get happy when I see these groups happy!
You have had many significant experiences. Is there an especially memorable one?
I really appreciate diversity, but a most meaningful experience was when we entered the camps of the former rebels, the Bangsamoro Liberation front. Before, we could not enter the camps because they were considered combatants. Now, due to many interventions by Pakigdait and other groups, we treat each other as family. The youth used to bring a gun with them. Now they bring chalk because they want to participate in the learning activities we offer. I had a "listening session" with them and asked them, "How do you visualize a peaceful community?" Some made drawings on the chalkboard and we talked about their ideas for peace.
They used to bring a gun but not anymore.
The amazing thing is that they call me "father," because I am a priest. Coming from a Muslim community, this really means a lot to me. It means they respect me. I think my story inspires them to have this interfaith spirit. They open their minds and hearts to interfaith out of respect. I respect them. I feel them. I feel their needs. The first thing is to engage them with respect. They have been in the mountains with guns for most of their lives and in school for just two years.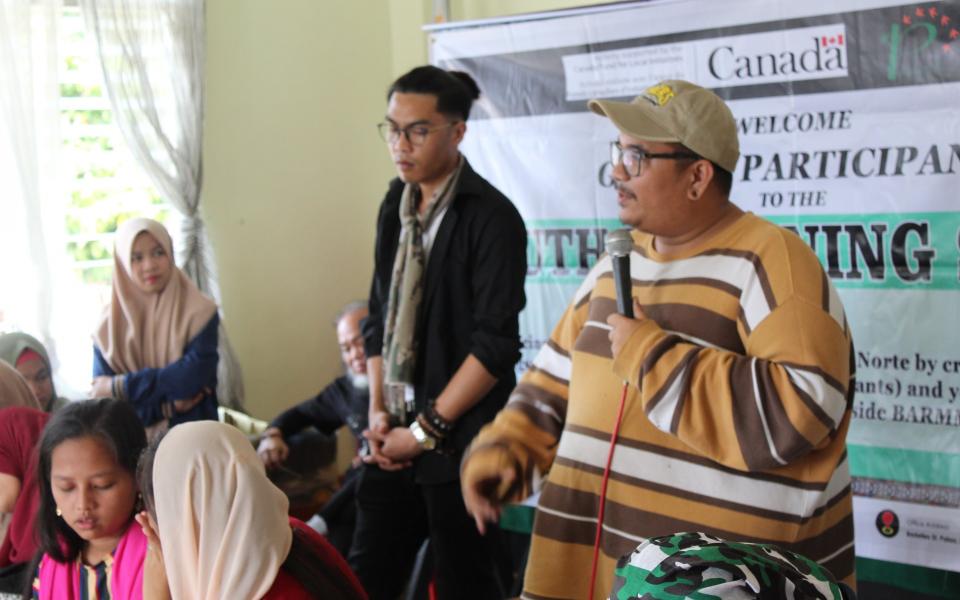 Is there a way you get back on track when things are difficult?
True, there is no perfect way in this world. I get tired and face challenges and get stressed. To stay on track for me is to ask myself why I am doing what I'm doing. Is it for me or for the future? To sustain my energy, I go back to the core values of interfaith and peacebuilding. I remember my vows, why I am here.
To refresh, I hang out with my best buddy. I like talking with people. I play drums. I'm a drummer.
What gives you the deepest joy and satisfaction?
For me, it is to see people happy around me. To know they are happy for me too.
To know that what I am doing is because I am a servant of God
To build and rebuild relationships
To recognize that my efforts as a human being are helping
After a long day, the joy is to have a cup of coffee and realize the good that you are involved in.
Is there any advice you would like to give to people in your community?
Just explore in a good way. Don't let things you read on Facebook pressure you. Just be yourself. Don't hurt others. Love them. Accept them. Be the voice in your society. Speak it out in your own way. Love yourself. Be yourself. Love what you do.
Is there anything you would like to add?
I want to thank Mathew Youde for recommending me for this interview. Personally, I want to thank URI for giving me the opportunity to meet global interfaith leaders and the encouragement to strive hard for interfaith. I hope to meet you again, Sally.
Thank you so much, Father Adrian. What a delight it is to speak with you! I think this interview will be very useful to others.
---
Read the full "Inner Voice of Leadership" series.