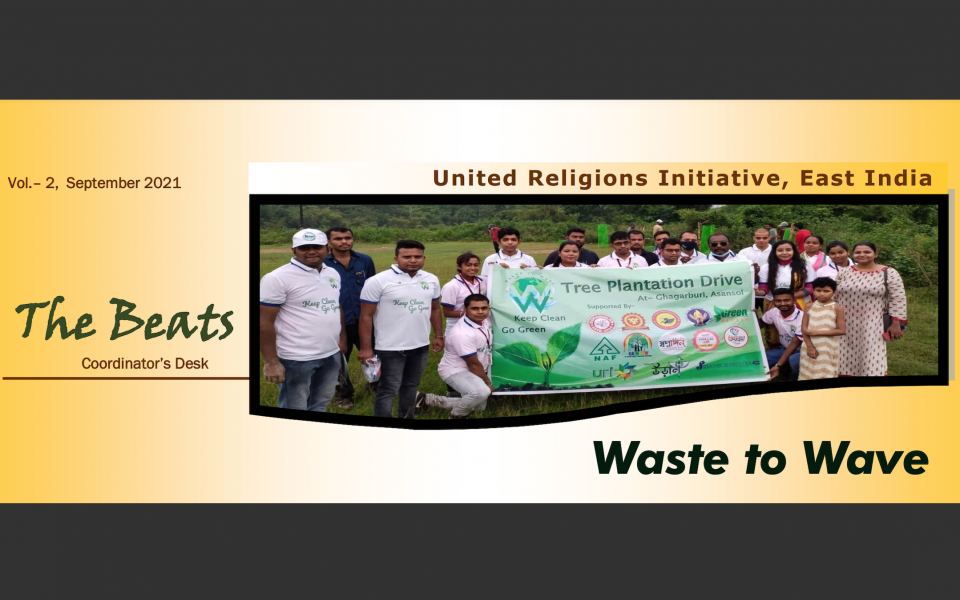 URI East India has launched the "Waste to Wave" movement, bringing together 14 URI Cooperation Circles, or member groups, to address impacts on vulnerable communities from environmental degradation. 
Participants address problems such as inadequate water supply, unhygienic accumulation of waste, and lack of green space. URI East India plays an important role as the catalyst force to unite local organizations towards addressing the problems.
Projects so far have included planting trees and distributing food to homeless people. One URI Cooperation Circle, Sarwa Dharm Vichar Manch, led a mass campaign to stop river pollution. 
Read more below and see a PDF of the full report.
---
Dear Friends,
Greetings of Peace. I am happy to share our monthly bulletin "The Beats"  featuring one regional story along with a story from one URI Cooperation Circle, based on common issues.
Recently, URI East India started a major campaign/movement called "Waste to Wave," uniting almost all regional Cooperation Circles (member groups) and other like-minded organizations to work together on addressing environmental issues. 
I seek your blessings. Thanks and Namaste,
Biswadeb Chakraborty
URI National India Team Coordinator and Regional Coordinator for URI-Asia: East India