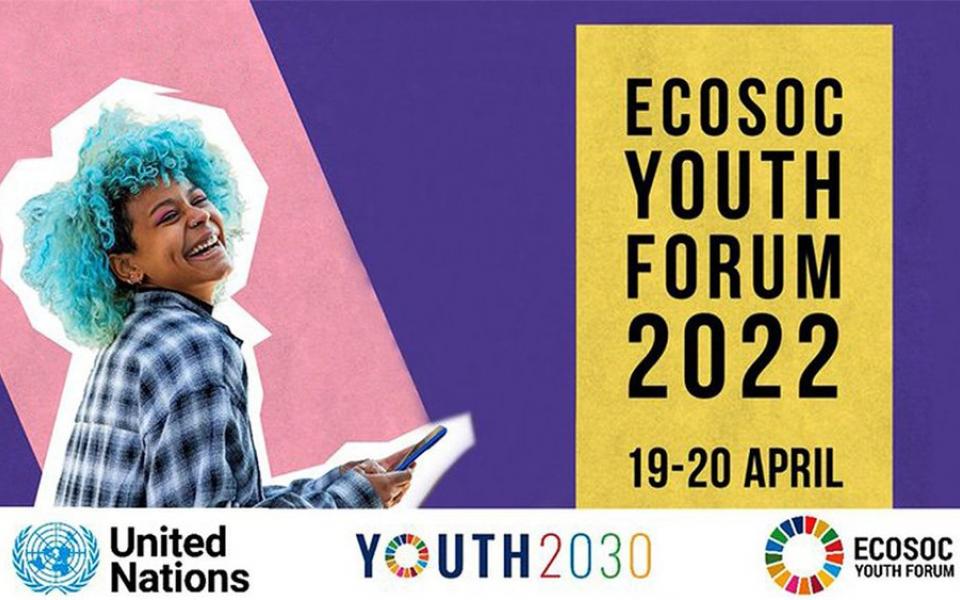 Reflections written by Vincent Leong and Sharon Vaswani, URI Global Youth CC:
The Economic and Social Council (ECOSOC) Youth Forum was held on 19th to 20th April 2022 with the theme "Building back better from COVID-19 while advancing the full implementation of the 2030 Agenda". This Forum provided a platform for dialogue and knowledge exchange amongst youths of different parts of the globe. Through the forum, like-minded youths gathered and shared various interesting ideas on how we can work together.
One of the common questions asked by youth around the globe is how youth can be included in decision making? Amina J. Mohammed, Deputy Secretary-General of the United Nations gave an interesting perspective that if we make young people Presidents or Prime Ministers overnight then we don't do justice to them. "You've got to travel that path, you've got to experience the responsibilities and the policy making and its implementation till you get to the point where you should have younger leaders." Reflecting back at some of the governmental initiatives, various platforms have been created to teach and to show young leaders how policies and decisions are made. This to me, is an important element which we should not rush hastily into.
The inclusion of young people is a must as we are definitely the future, however if we lack the right knowledge and understanding of the processes and operations of the spaces we are being included in, this might push us back – instead of allowing us to work effectively in these spaces. 
Another rather interesting perspective, was when the panelists were asked about how we can create jobs for millions of unemployed individuals, given the devastating impact of Covid-19 on the job market. Fresh graduates are increasing over the years and there seems to be a very competitive landscape for them to secure a job competing with those who have been in their field for a long time. The panelists highlighted the importance of providing new solutions to old problems. Unemployment has always been a topic of discussion. However, providing more jobs may not be able to solve the overall concern as there are many factors to consider.
One idea proposed was to teach individuals about how they can sustain themselves through entrepreneurship. Though this is something which has been commonly preached by young people around the world, we need to also know that not everyone in this world is brave enough, or has the resources to start a venture of their own. Entrepreneurship could be taught by various organizations to empower those who wish to make an impact in their life. It may not necessarily be the fancy multimillionaire entrepreneur, but it could be one, who is happy and enjoys the things that they are doing with the ability to meet above basic needs.
Throughout the ECOSOC Youth Forum, we were fortunate to be given spaces for exchange amongst the participants. Though not all stayed till the very end,  we were able to connect with some of the passionate youths attending and make new connections.
One such connection has led to our upcoming event - Travel Diaries (28th May, 12pm GMT) - where we will be exploring the beauty of China through an interaction with another passionate youth from the ECOSOC Youth Forum, Yi Ting who lives in China. 
2030 UN SDG has always been a common topic for progress monitoring amongst the stakeholders and activists. Although COVID-19 has brought a short set back to some of the initiatives, it does not stop our resiliency and commitment in bouncing back to continue creating a bridge to a better future.
The gathering of thousands of youth virtually has given us a different shed of light that we – are still working together no matter where we are.
Once again, thank you URI for the opportunity given to us to participate in the forum.