URI remembers Sister Chandru Desai, Director of the San Francisco Brahma Kumaris Meditation Center and one of the founding members of United Religions Initiative, the San Francisco Interfaith Council, and the Interfaith Center at the Presidio.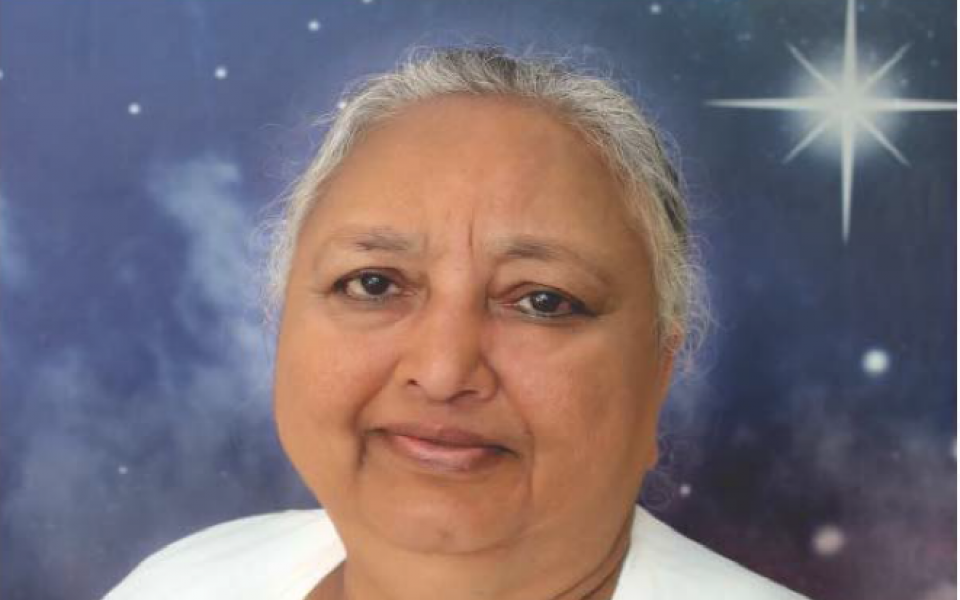 Dear URI community,
With deep sadness, the URI community and the world lost an interfaith activist and world server for peace  Sister Chandru Desai, Brahma Kumaris sister, a member of the founding Global Council of URI, and supporter of interfaith work for over 30 years, passed away in San Francisco on May 31 after a severe stroke. Sister Chandru served as Vice President of the Brahma Kumaris World Spiritual Organization and was responsible for administering numerous Brahma Kumaris centers in the western region of the United States. In the Bay Area, she has been the Director of the San Francisco Brahma Kumaris Meditation Center since 1979 and the Director of the Anubhuti Retreat Center in Novato, California since 2007. 
Obituary
Sr. Chandru and BK sisters and brothers regularly offered loving hospitality at the BK Meditation Center in San Francisco welcoming a multitude of interfaith gatherings. Sr. Chandru actively participated in the founding of URI and served as a member of URI's first Global Council. Through the years her spiritual encouragement with URI staff was humble and steadfast  She offered a particular gift, "traffic control"  (meditative musical interlude) that encouraged URI staff to interrupt their busy workday with a few minutes of silence. 
Every Voice
Reverend Heng Sure, a founding Global Council member, remembers a poignant moment, during URI events when it was time for everybody to dance or exchange hugs, being a celibate monk I would step back. I would look aroud the circle and there would be Sr. Chandru, as the other vowed celibate in the group, standing with palms together sharing a "Buddhist hug" and a twinkle with me. 
Upon hearing the news of Sr. Chandru's passing, Bishop William Swing, wrote, "Her death causes the heart to pause in reverent thanksgiving. We were so blessed to have known her and worked with her. And she brought such spiritual depth to URI's founding. 
Indeed, with deep thanksgiving and reverence we join with the Brahma Kumaris world spiritual community and all whose lives were touched and strengthened by Sr. Chandru's life and devotion.
With love and heartfelt appreciation URI welcomes Sr. Chandru Desai to the realm of the Celestial CCs!
Sally