We are happy about the solidarity action of URI Germany CC and DMLBonn CC member MALiKA BATRA HANSZMANN at her school during Ramadan.
After solidarity actions in Advent with Christmas parcels for Romania, a collection drive for Ukraine in March brought the pupils of different ages together in solidarity.
Now they helped others during Ramadan as well - together, no matter who is religious or atheist.
Congratulations to the students, teachers and parents of the Gymnasium am Mosbacher Berg in Wiesbaden for the great campaign!"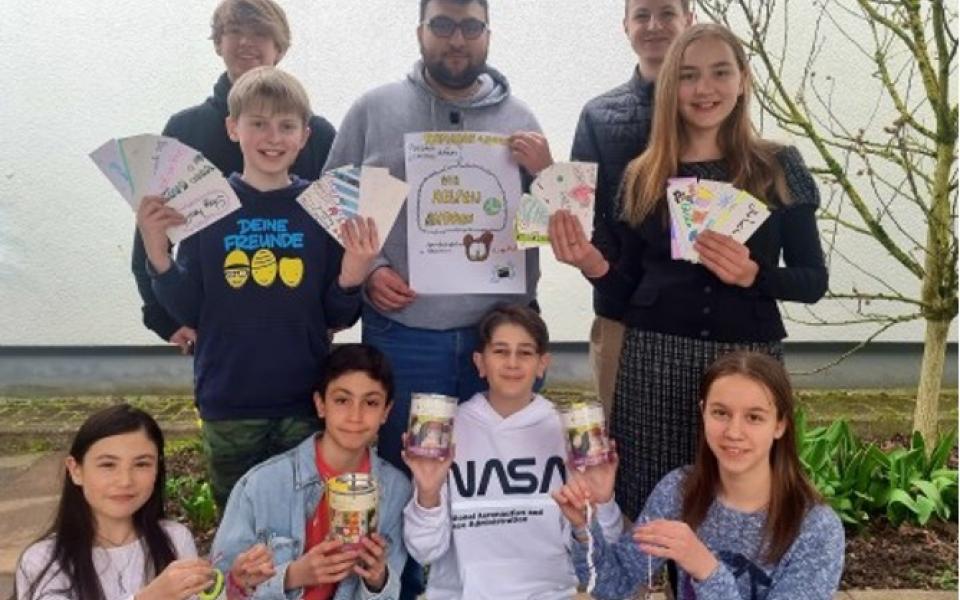 "Zedaka, Caritas, Zakat - We help others!"
This is the motto of the fundraising campaign for Bärenherz from 2.4.22 to 2.5.22. Bärenherz is a clinic in Wiesbaden for children who are very seriously ill. It is mainly financed by donations. If you would like to know more, have a look at the brochures distributed by the student council in the classes.

We not only help together as a school community during Advent with Christmas parcels for Romania and with current collection campaigns for Ukraine on 11 March. We also help others during Ramadan, and we do so together just as we usually do, regardless of who is religious or atheist.

This project is brand new and we are happy about the many volunteers who have been preparing or donating money for weeks.

Since January, the 6th graders have been painting and making friendship bracelets and lots of cards: All cardboard that was upcycled from the test packs. Let us surprise you with what is waiting for you. You can buy them for 20 cents during breaks and lunchtime, or perhaps during an SV lesson. The 9th classes will start a sponsored run after the Easter
holidays. Unfortunately, the benefit concert has been cancelled. But new year ... new chances 2023.
There will be donation boxes. You can also donate digitally: see the link below. Every help, every gesture counts. If you have any ideas, please contact the SV.
Kind regards

The school spokesperson Eray, the student council and Mrs. Hanßmann as
the supervising teacher.
Gratias - Schokran- Thank you- Toddah- Bärenherz Campaign 2022
Bärenherz Campaign 2022: THANK YOU to the participants of our school community of the collection campaign for Bärenherz in Ramadan.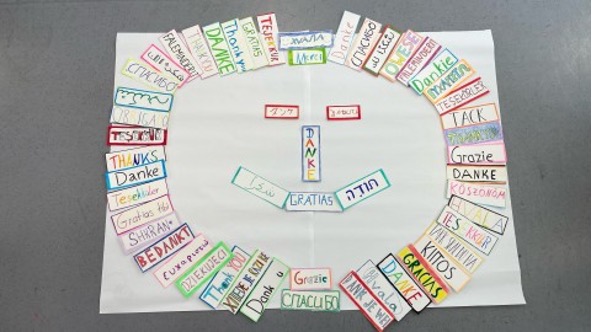 We "made more of a difference together" and can look back on a campaign full of anecdotes, wit and creativity. Not only were there over two hundred volunteers, especially from the Student Council and Years 5,6 and 9; but more willing hearts and hands than tasks. Some classes was put off until next year and their ideas are already piling up. Be surprised.

There was no "you have to", but the "chance to do something for others." A cent was worth as much as a banknote. Giving was done without showing and without watching. The highest form of giving. The proceeds are now with Bärenherz and will help seriously ill children.

But also we have become richer with all the "good deeds in being for the other". In the parlance of a fifth-grader, "That -- is really good --" Because many will remember fondly, experienced fellowship, had a lot of fun, were active no matter which religion, atheist, or nationality. Many can be proud of themselves and their achievements.
Over one thousand two hundred motif cards (cut from test packs), countless friendship bracelets and cute crocheted cuddly mice found new owners. Willingness to donate? After ten days, the donation cans, which were independently guarded and managed by the year groups, had to be exchanged for a round of new cans. Seventy students participated in the
sponsored run.


Gratias, Schokran, thank you and Toddah

Mrs. Hanßmann as initiator and supervising teacher