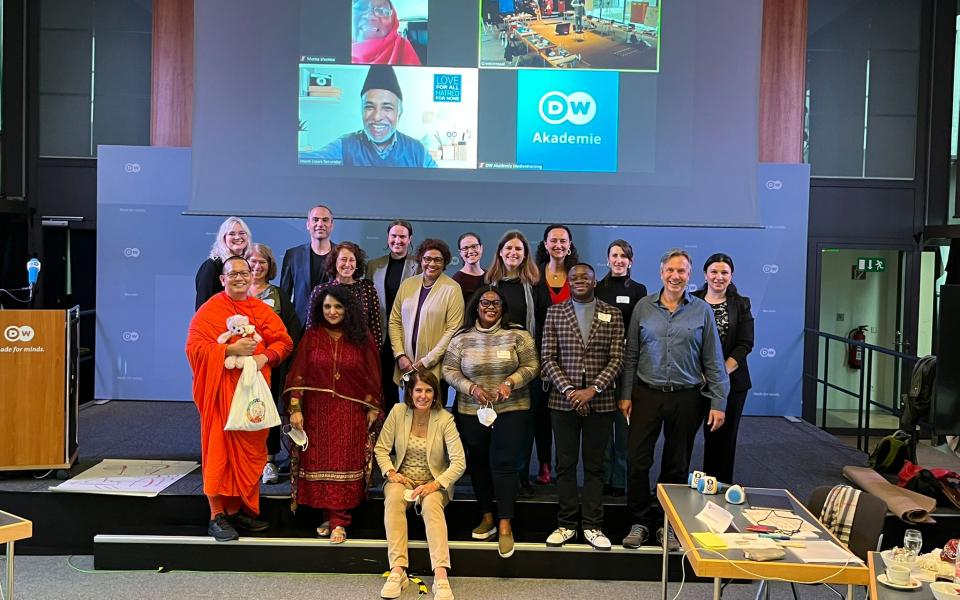 Lejla Hasandedic-Dapo, URI Europe CC Liaison Officer and URI Individual Membership Coordinator was invited together with 13 other participants from all over the World to participate at the Deutsche Welle (DW) Academy Train-the-Trainer – Workshop and Individual Coaching for Interfaith & Religious Leaders.
Ttrain-the-trainer course (TTT) will enable participants to train other religiously active people on how to interact with the media, promote their work and peace-building potential of religion by passing acquired knowledge. The whole training program divides itself into four parts. First is a two-day online session on the 13-14th of October, 2022, to learn about the conception of a training cycle: from analysing needs, formulating learning objectives development, the designing and planning of a training session, and final executions and evaluation. The online sessions were followed by a three-day face-to-face training at Deutsche Welle Akademie in Bonn with DW Akademie's experts from 24th-26th of October, 2022. The aim of the face-to-face workshop is to extend and to deepen what has been already learned in the previous online sessions. In the third part, from 27th-28th of October, 2022, individual media training sessions in Bonn were offered to selected participants. Lastly, in a fourth part on 1 st, 3rd and 4th of November, 2022 the individual coaching with further online trainings will be continued.
DW Akademie, based in Bonn and Berlin, is the center for international media development at Deutsche Welle. As a strategic partner of the Federal Ministry for Economic Cooperation and Development (BMZ), DW Akademie carries out media development projects that strengthen the human right to freedom of opinion and promote free access to information. DW Akademie also works on projects funded by the German Federal Foreign Office and the European Union in approximately 50 developing and emerging countries. Since 2004, DW Akademie's training department has offered tailored media training for executives and experts of international organizations and institutions. DW Akademie's experts have also been conducting workshops on digital communication since 2007. Since 2018, DW Akademie's Communication Consultancy and Training department has been implementing the "Religion and Media" projects, funded by the Federal Foreign Office.
To learn more about DW Akademie please visit: https://www.dw.com/en/dw-akademie/s-8120
During her stay in Bonn Lejla had chance to meet URI Europe Coordinator Karimah Stauch and Former URI Global Council Trustee Marianne Horling, as well as other URI members living in Bonn..
Marianne kindly invited URI members to dinner that she hosted at her place. They had very nice dinner and conversations about future URI projects.
This once again showed a beauty of URI connections and hospitality of our community members.
Lejla is looking forward to use and share her knowledge from the training and she is very thankful for hospitality of URI members in Bonn.