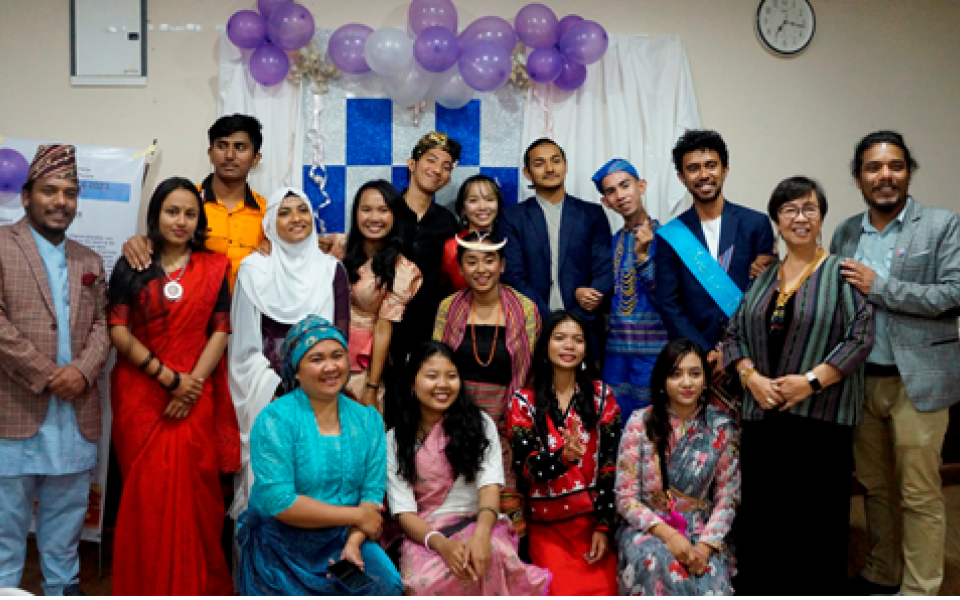 To counter violence and injustice and teach dialogue skills, Nepal Unites CC teaches peacebuilding skills and offers on-site experience with various faith traditions in Nepal.
Nepal Unites, a URI CC, recently hosted an in-person School of Peace Workshop in Bhaktapur, Nepal in partnership with the Interfaith Cooperation Forum based in Hong Kong. Fourteen young adults from different faiths and backgrounds, came from Bangladesh, Cambodia, Indonesia, Pakistan, Philippines, Nepal, Sri Lanka, Timor Leste, and Vietnam to take part in a 50-day learning program.
Summary of the Program:
The participants began their time together by making agreements about what was important for them to create a safe, shared space, and how they wanted to enjoy their time together.
Learning focused on: analysis of country conflict and personal conflict and sharing personal conflicts in small groups. Other sessions included: values clarification, why values play a role in building peace and peacebuilding frameworks and strategic peacebuilding tools. They were asked to explain a "theory of change" for their own country, community or organization. Participants also spoke about what religion means to them.
In depth, field trips included:  Koteshwar Hindu Ashram, the International Society for Krishna Consciousness (ISKCON); the  Tergar Buddhist Monastery and the White Monastery,  housing 450 monks and 100 lamas, is home to one of the biggest libraries in Asia; the Jain temple in Kamal Pokhari, Kathmandu; the National Spiritual Assembly of the Bahai Faith, and, Islamic Sangh Nepal, Balkhu, Kathmandu.
The group spent 5 days in the Amaltari Madhyavarti  Community Homestay in the Bagh Khor village, Nawalpuri District where they participated in the LESS PRINCIPLE.
L- Live, listen, and learn from the people
E- Eat what ordinary people have for regular meals (no special menu)
S - Share the life stories; the participants can also share their stories with their host families
S - Simple life, sleeping with the people, in the sense that, the participants experience sleeping without (if ever) mattresses or the amenities of their homes and hotels.
 Rose HayaHay  - One Participant Tells Her Story
Rose HayaHay, an active member of the peasant organization,Hugpongsa Mag-uumasaMabini, in the Philippines speaks of the attacks by the state on the Indigenous  Lumad communities and her intention to use her experience as a participant at the School of Peace to increase her capacity to make a positive difference for her community.
I am here (SCHOOL of PEACE] with you today as a grassroots organizer and advocate, it is important to maximize spaces for us to share our stories while at the same time learning new things that we can apply and use in the context of our work.  We believe that this space, the "SCHOOL OF PEACE", will help us and the communities we serve to learn more by exchanging our experiences. It will give us more confidence as human rights workers and educators. It will also give us an opportunity to raise awareness of the international audience about the situation of indigenous people's situation in the Philippines. It is necessary, more than ever, for us advocates, to echo the calls of the communities we work with on the ground as they experience firsthand the attacks and violence by the state. We must take action! We are hopeful that the school of peace will be space for us to do this because as what Lumad students and elders always say: "There can be no peace without justice."
Rose Hayahay, Philippines
Information about all of the remarkable resource persons and participants can be found at:  https://nepalunites.org/school-of-peace-in-nepal-final-sop-news-round-up/
https://nepalunites.org/school-of-peace-in-nepal-final-sop-news-round-up/