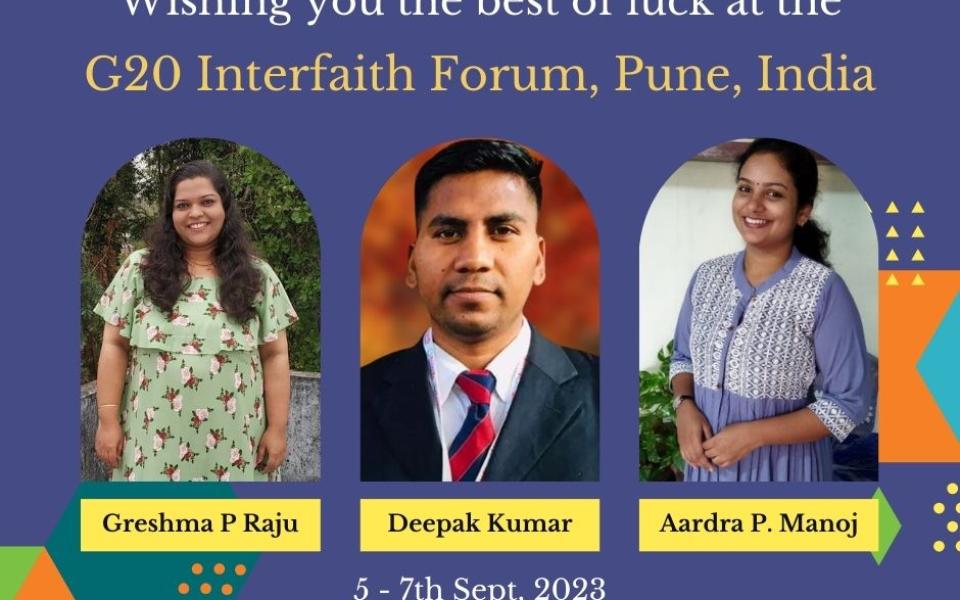 Three young leaders; Greshma Raju, Aardra Manoj, and Deepak Kumar represented URI at the just concluded G20 interfaith summit in India coordinated by ACWAY.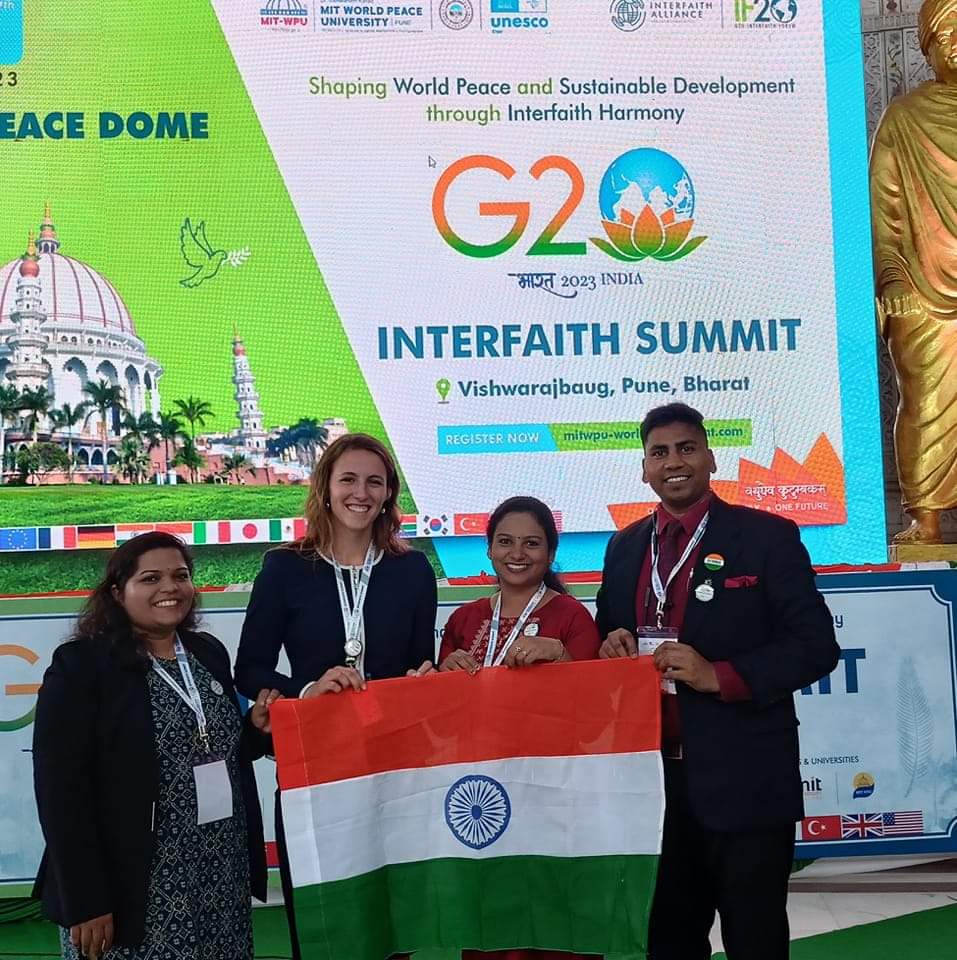 The G20 interfaith forum was launched in 2014 with the purpose of contributing to and helping to shape global agendas through practical and ethical experience and wisdom of the world's diverse religious communities, which are often absent from global forums.
"The G20 Interfaith Forum organizes its work through a series of Working Groups that focus on areas of recurring relevance to G20 policy priorities.  In particular, these standing Working Groups organize research, analysis, and Forum activities that relate to the United Nations Sustainable Development Goals and other matters of recurring concern." G20 Interfaith Forum
This year, the summit was held under the theme: Shaping World Peace and Sustainable Development through Interfaith Harmony. The summit brought together thousands of participants who focused on the urgent calls to action from the world's most vulnerable communities, with a particular emphasis on the challenges faced by children, who have endured losses and are experiencing emerging obstacles due to the global COVID-19 pandemic. In addition, as well as those confronted by inequalities and disruptions caused by climate change.
Deepak Kumar, the Founder and Chairperson of Smiles4millions Trust cooperation circle shared the plight of children living in slum communities. He also shared the impactful work that Smiles4millions CC is doing to support children in slum communities to have access to education.
He shared his dreams and aspirations,
"Now we are applying for the first-world interfaith slum university where all children can have a quality education."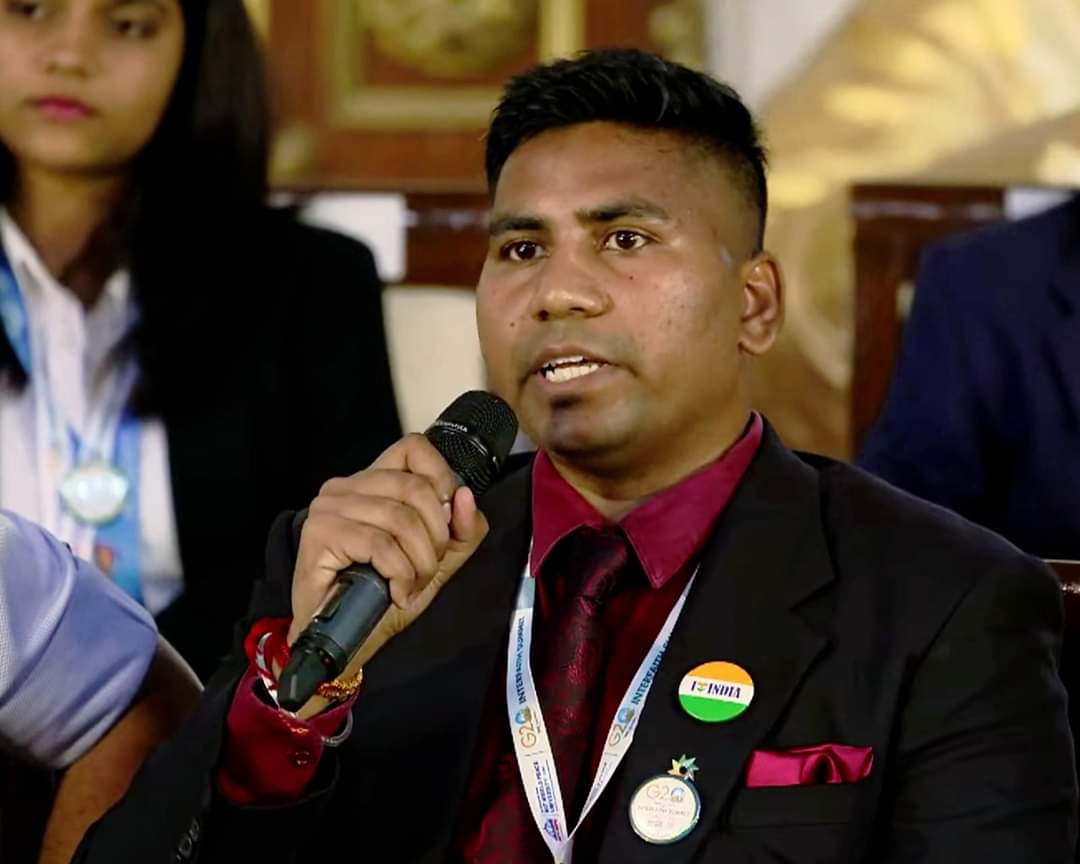 The G20 Interfaith Forum engages participants globally and across various sectors to ensure comprehensive engagement in response to the rising and interconnected global crises like climate crisis, conflicts, and inequality among others.
"Dialogues help us to connect more and build trust among all communities." Greshma P. Raju from Ecopeace Teen Café Cooperation Circle.
For over 20 years, URI has supported and promoted youth engagement, youth leadership, and intergenerational dialogue across all aspects of the organization. Together with youth-focused Cooperation Circles and the URI network, URI is impacting youth engagement through supporting, training, and offering young platforms for personal and community growth and development.
"After working in collaboration with URI and many other groups for many years, we became aware of the need to foster and integrate youngsters into peacebuilding. Following this realization came the formation of the One Billion Youth for Peace campaign. It aims to reach out to one billion youth for peace by fostering empathy, understanding, and advancing common action among people of diverse faiths through shared efforts."  Aardra P. Manoj youth ambassador for the United Religions Initiative in South India during the G20 Interfaith summit.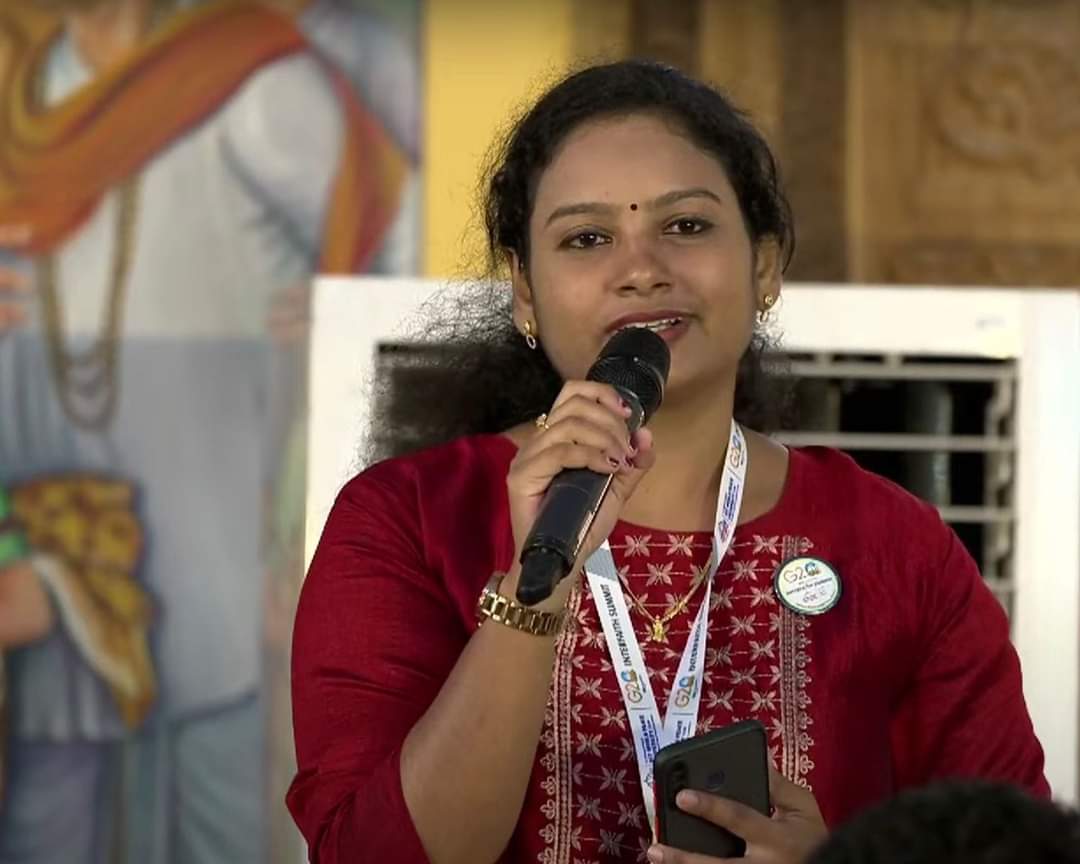 Through URI's youth desk, young people connect globally, share ideas and skills through the youth connection cafes, and benefit from the resources developed to support meaningful youth engagement.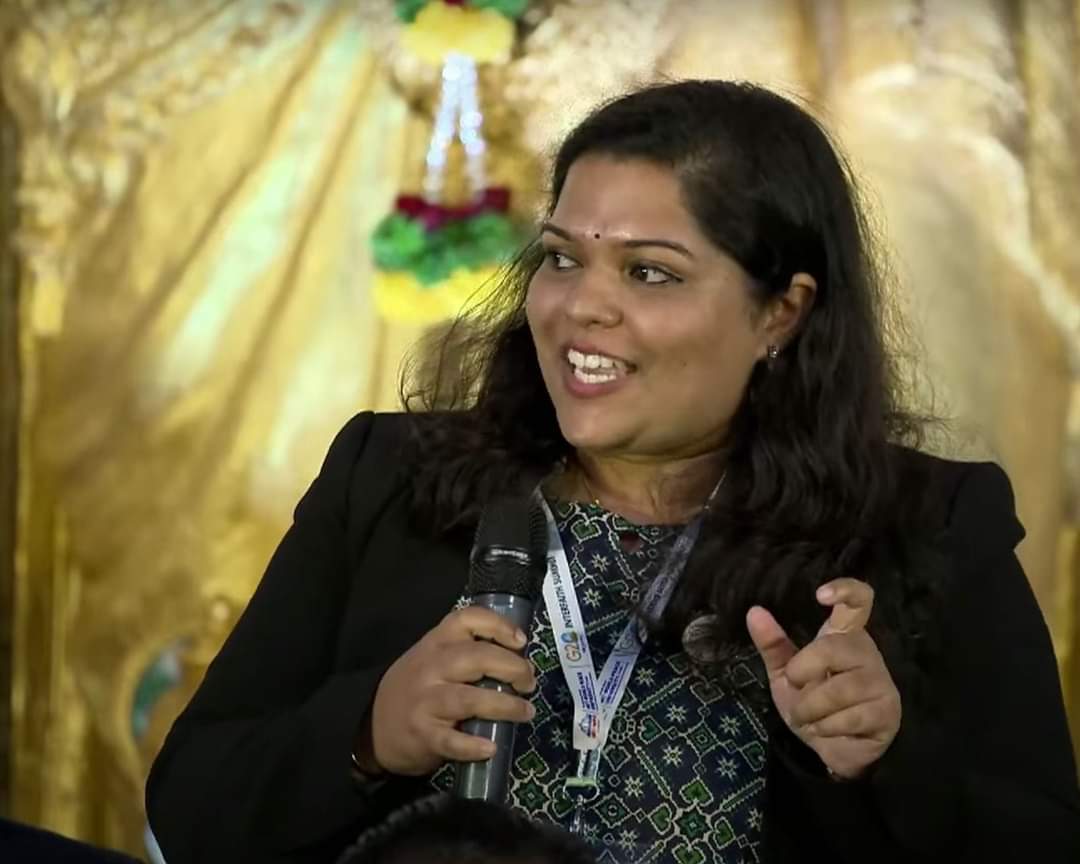 "URI is an organization that shaped my character, giving me lifelong friendship and brotherhood." Greshma P. Raju, a peace builder from Ecopeace Teen Café Cooperation Circle.
"No task is more important than contributing to the establishment of firm and enduring peace for all mankind." Aardra P. Manoj
Learn more about URI youth representatives at the G20 Interfaith Forum organized in Pune, India.

Aardra P Manoj (One Billion Youth for Peace CC):

Aardra P. Manoj is a Youth Ambassador for the United Religions Initiative (URI) in South India. She serves as the Secretary General of 'One Billion Youth for Peace', which is a global campaign to reach one billion youth for peacebuilding by fostering empathy, understanding, and advancing common action among people of diverse faiths through shared efforts. Aardra currently works at the faculty of English at Fatima Mata National College, Kollam, Kerala after qualifying for the National Eligibility test and PG in English literature.
Deepak Kumar (Smiles4Millions CC):
Mr. Deepak Kumar is the Founder and Chairperson of Smiles4millions Trust, India. Working as Slums Child Education Interfaith Activist. He is from Purnea, Bihar. Mr. Deepak works with the global Interfaith organization United Religions Initiative - East India with a network of 1050+ organizations in 115+ Countries for Peace, Justice, and healing. For the last 10 years, he has been working on SDG-4 Quality Education for Underprivileged, Slums Children Education. He developed the 3 Es Model: Education, Environment & Empowerment. *Education for slum children as fee he is asking to plant a sapling to every student to inculcate the message of the Environment is important for us now and in the future, Empowering their mothers through Sewing Machines training and others*. His Initiative of Open Sky Schooling gave 1000s of Children new directions in different parts of East & North India & Nepal.

Through URI he is connecting the Grassroot level Self Help Groups, Middle level organizations, and local Interfaith based organizations on the SDG-17 mission. So all hands together can contribute towards a better tomorrow. He is giving digital training to them to connect the globe. Now Deepak is contributing to Neighboring Country Nepal: 1200 Children are taking the benefits of this Initiative through the United Religions Initiative. He also served as Peace Ambassador of India for the United Peacekeepers Federal Council. He is currently the Head of Global Affairs & Partnership for The Institution of Green Engineers, Chennai, India Deepak's vision is "Working on the World's first SLUMS University" after the SLUMS School.
Greshma Raju (Ecopeace Teen Cafe CC):
Greshma P. Raju is a young peacebuilder having thirteen years of experience
in interfaith dialogues and environmental peacebuilding. She earned a
Bachelor's degree in English Language and Literature from the University of
Kerala in India, and a Master of Arts in English from Indira Gandhi National
Open University in India. In 2019, she earned her Master's degree in
International Peace Studies from the United Nations University for Peace,
Costa Rica. For the past two years, she has been working on her own project called
Ecopeace Teen Cafe is an online transformative education program for
teenagers, where she focuses on caring for the community, environmental
protection, social justice, and nonviolent communication.
Click here to learn more about URI Youth engagement: https://www.uri.org/youth-engagement