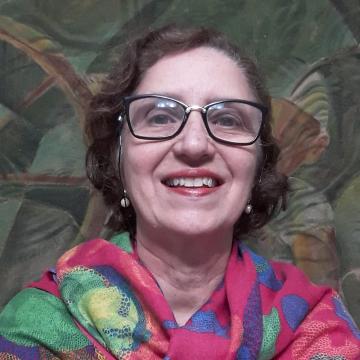 Global Council Trustee for Latin America and the Caribbean
Maria Salette Mayer de Aquino is from Brasília, Brazil. She was the bilingual secretary by Siemens from 1975 to 1985. With a Masters in Applied Linguistics, she worked as a professor at UNICAMP - State University of Campinas from 1988 to 2012, in the areas of German Language and Community Work (university extension), Collaborator in the Discipline of Art, Science and Society for a Culture of Peace, as well as Director of CEL - Language Teaching Center of UNICAMP from 2009 to 2011.
Salette has been a member of the United Religions Initiative (URI) since 2000 and is the co-founder of the URI Cooperation Circle in Campinas. She has served as a member of the URI Global Council since July 2016, and is now re-elected for 2020-2024. She is also a member of four URI Cooperation Circles in the Latin America region, including CC Brasília, Wisdom CC, WIN-CC and the CC of Latin American Musicians. Salette's areas of interest are interfaith cooperation, cultures of peace, disarmament, environment, Indigenous peoples, and the anti-racism struggle.