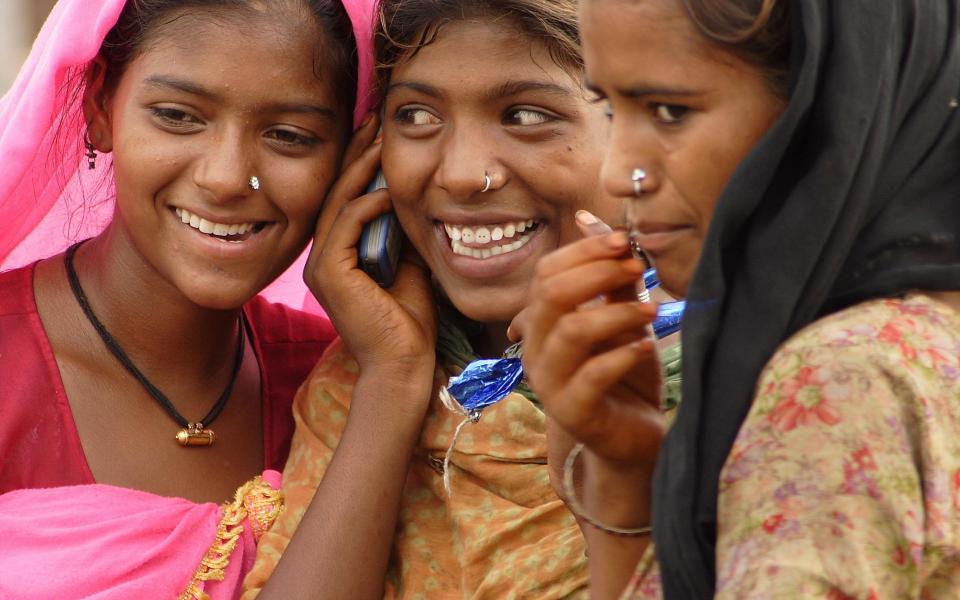 These three Cooperation Circles are working to improve the lives of women in India. Through empowering women economically and socially, the CCs' work also supports the cohesion of communities as a whole, since all members are given the opportunity to contribute equally. From giving disadvantaged young girls access to education, to empowering women to resist gender-based exploitation, the CCs are improving the lives of women who are working to improve the world.
---
Roshini CC, Bapunagar, Ahmedabad, India
Roshini strives for women's empowerment and fostering peace between women of diverse faiths. We only work among women. "It is relatively easy to approach Hindu women on the issue of gender discrimination, something that is prevalent in all religious communities." While it was initially difficult to bring Hindu and Muslim women together, the Cooperation Circle has found increasing success. "In Muslim areas, males generally prevented their women from going outside. But we persisted, and continued to work with them and gave courses on stitching and beautician training to generate more opportunities. In the beginning, nobody was coming, but gradually when they saw the benefits, Muslim women started participating in our programs." Women from both religious communities started to discover that they shared the common ground of resisting gender exploitation.  
"Women suffered the most in the Gujarat riots of 2002. This motivated me to work for peace among women. We want to educate women in Ahmedabad that no matter what religion they belong to, the biggest victims are ultimately women and children. Many Hindu fundamentalist organizations have a women's wing, where women participate in riots and use weapons too. Many women supported Hindu mobs during the riots. We hope that through our peace activities and interfaith dialogues we can disassociate Hindu women from communal organizations and include them in our URI movement for peace.
"There is one story which is very close to my heart and I think it can inspire others CCs who are working for peace around the world. There was a woman in Ahmedabad who was a member and a leader of a Hindu fundamentalist women's organization, Durga Vahini. She used to distribute Trishuls (Hindu religious symbol of a trident) to women for use whenever there was a riot between Hindu and Muslims. I would talk to her regularly, and inquire why she was doing that since in communal riots it is the women and children in the community who suffer the most. She would tell me that she was doing this to save Hindu women and children. She had so much hatred for Muslims and other minorities in India that it was nearly impossible to convince her that the path she chose for herself was against humanity. I never gave up even though she persisted with her communal approach. I was in constant communication with her. I visited her house for two weeks, sat there with other CC members, and community women. Slowly and gradually our approach paid off. After days of being in contact with us, she became convinced that whatever she was doing was against humanity. She not only left the Hindu fundamentalist organization, but is now a CC member working for peace, and also convincing others from the Hindu community that they should leave the communal approach of Hindu fundamentalist organizations."
CLICK HERE TO READ THEIR FULL CC PROFILE
---
Ekta Sangathan CC, Ahmedabad, India
Ekta (meaning unity in Gujarati) CC fosters awareness and understanding of interfaith work by engaging young Muslim and Hindu girls in education and capacity-building programs. "Through economic empowerment of Muslim women, and interfaith dialogues between Hindus and Muslims, we will achieve the objective of URI.
It has historically been difficult to bring Muslims and Hindus together in Juhapura, since the area still bears tragic memories for Muslims who were victims of the 2002 Gujarat riot. The distrust between the two communities runs deep. "However, slowly and gradually, our women's empowerment program and sensitization of different issues have increased the cooperation between Hindus and Muslims.
"I can share the story of my transformation from a housewife to a social worker. I am a victim of the Gujarat riot of 2002; my home was burnt down by a Hindu fundamentalist mob. After this incident I realized that I must do something to prevent religiously inspired violence. Since 2003, I have been working for URI's mission and objectives." 
CLICK HERE TO READ THEIR FULL CC PROFILE
---
Kasturba Balika Vidyalaya, New Delhi, India
Kasturba Balika Vidyalaya (Kasturba Girls' School) is located in Okhala, Delhi, India. The CC primarily works with Harijan girls, a lower caste in India. The school offers a variety of programs and classes in Humanities and Science taught by staff from different faith backgrounds which include: Hindu, Muslim, Sikh, and Jain faith traditions. This educational setting places an importance on interfaith prayers, and collective dining, which encourages the girls to be equal and responsible to each other and to humanity at large.
"Education is the major force that brings social change." Life opportunities for the Harijan section of society has been hisorically difficult because the traditional brahmanical social structure disallowed education and other social privileges. Therefore, the Harijan caste has been pressed into menial jobs. Kasturba Balika Vidyalaya attempts to uplift its students' social condition and bring them into mainstream social development by creating a "harmonious social co-existence."
Warden Ms. Rekha tells her story: "It is a usual practice for the girls to go to a nearby interfaith temple (this temple displays images of all religious masters) before going for any examinations. Only after having a red mark (tilak) on their forehead do they feel assured now they are ready. For them it is kind of a festive occasion. Once, a girl due to high fever could not join her friends for the temple visit. She was upset. Those girls who went to temple collectively prayed for her and also brought "Prasad", the blessed sweet from the temple, to her. She was glad but not so happy. Next morning when she was leaving for exam the warden saw her in tears. On asking she said that she will definitely flunk as she was unable to secure blessings. She was reminded that all her friends prayed for her better performance and advised to do well. She wrote well and passed with good marks, then reported to the warden she not only secured good marks but also secured many new friends."