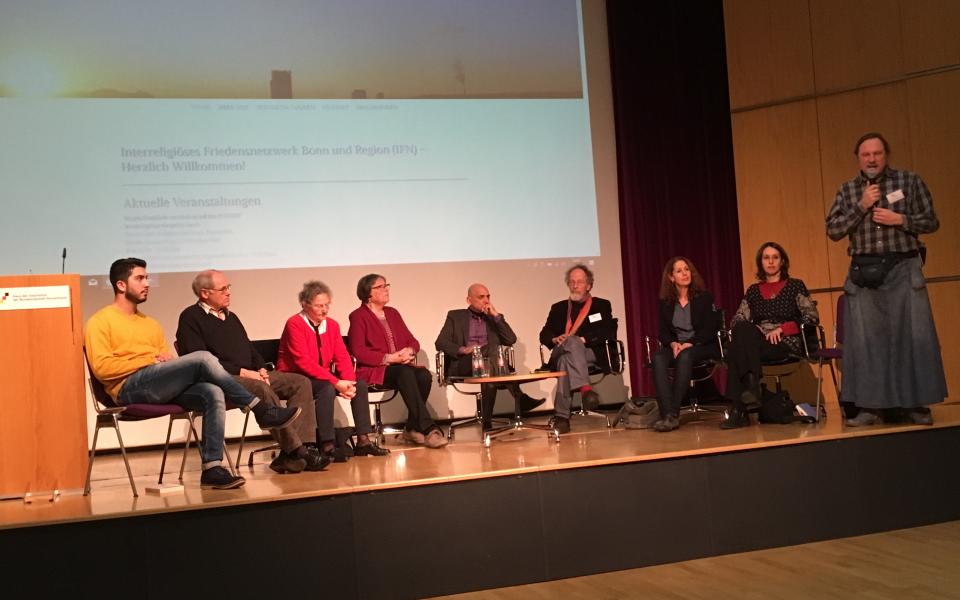 URI Germany and DMLB CC were represented last week on a panel conversation on "How to Dialogue with Xenophobes". This event was part of the supporting programme of the Book Fair Migration in the "House of History" (History Museum) in Bonn. The event was organised by the IFN (Interreligious Peace Network) in which different interfaith actors in Bonn work together.
On the panel was German activist Ali Can, who has founded a telephone hotline for concerned citizens for people who see issues around refugees, asylum seekers, the "political establishment" etc. and talked about it. In the German Federal elections of September 2017, the right-wing populist party AfD had fared as the third strongest party with 12.6% of the votes and thus entered the German Bundestag for the very first time, which came as a shock to many. The AfD had widely used anti-Islam statements in its electoral campaign.
After Ali Can–who himself had come to Germany at age two as a child of asylum-seekers–had explained about his experiences of getting into conversation with people who sympathize with the AfD, panel members of the Protestant, Catholic, Muslim, Baha'i, Buddhist faiths and the Unification church had a conversation with the audience about the same topic.
It became clear that–even in polarized and heated constellations–a focus on commonalities, respect and empathy can create meaningful dialogue and connection, sometimes in unexpected ways. "Realising such improbable connections was really uplifting hope," one participant expressed after the event.
Cooperation Circles Involved