In celebration of UN World Environment Day on June 5th 2018, the Interfaith Youth Partnership collaborated with youth-led Kwagalana Development Group to host an engaging educational event that emphasized the need to stop plastic pollution, this year's World Environment Day campaign.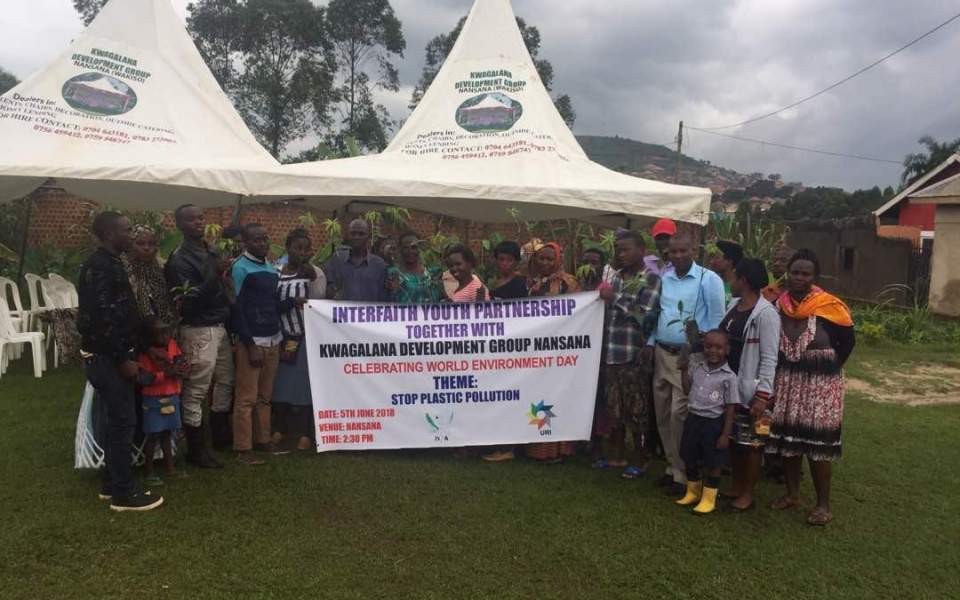 In celebration of Wold Environment Day, the Interfaith Youth Partnership (IYPA) hosted an event with Kwagalana Development Group to spread information about the impacts of plastic pollutions and lead the community in a fruit tree planting ceremony. This is their story: 
The facilitator of the meeting, Mr. Kiggundu Vicent, spoke on the theme of #StopPlastic Pollution. He began by highlighting the importance of an environment without pollution, informing the community about how the environment is abused in many different ways, and how it impacts the water, air and land. Many of our every-day activities and lifestyles pose a great danger to sustainability of humanity, and put us at greater risk of crises like disease outbreak.
Community ambassadors are encouraged to step up in their communities to stop plastic pollutions and the dumping of waste and plastics on roads, in trenches, which in most cases end up in lakes, rivers and in the drinking wells. Mr. Kiggundu Vicent cited examples of recycling systems in Germany and Canada to empower the community with information about the proper use of resources and the environment. With a greater respect for the environment and all it's creatures, we will be a strong example for the younger generation on how to live in a well organized environment.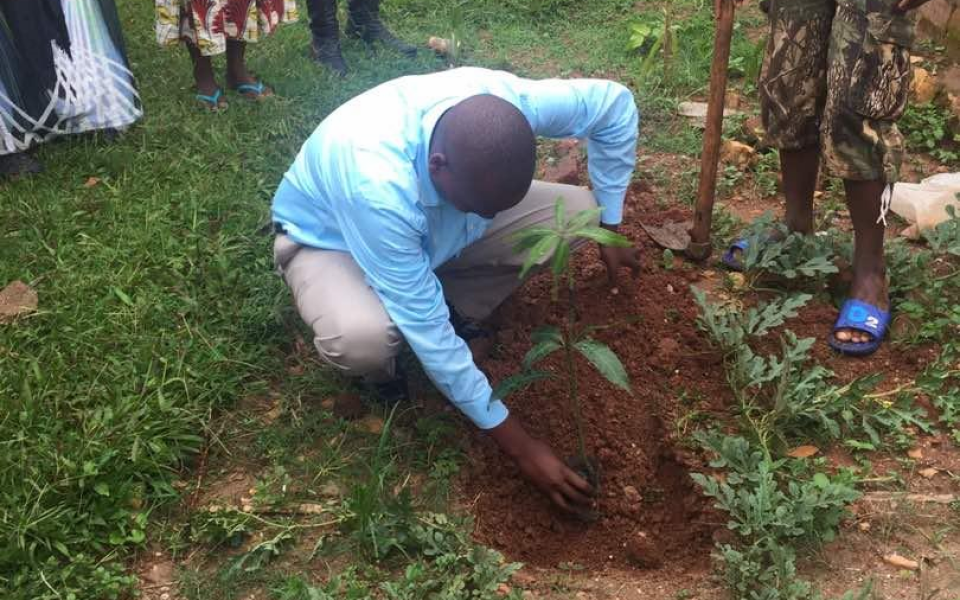 Transitioning into the practice, Mr. Kiggundu Vicent asked thirty members of the community to consistently monitor the growth of trees around them, and to take special care of the fruit trees provided by the Interfaith Youth Partnership (IYPA) for the World Environment Day celebration. A well looked-after tree will provide fruits to the community, and will allow children to happily bring fruits into their homes. 
At the close of his demonstration, IYPA distributed fruit seedlings including mangoes, avocados and jack fruit, all fruit trees that mitigate the impacts of severe weather in the area.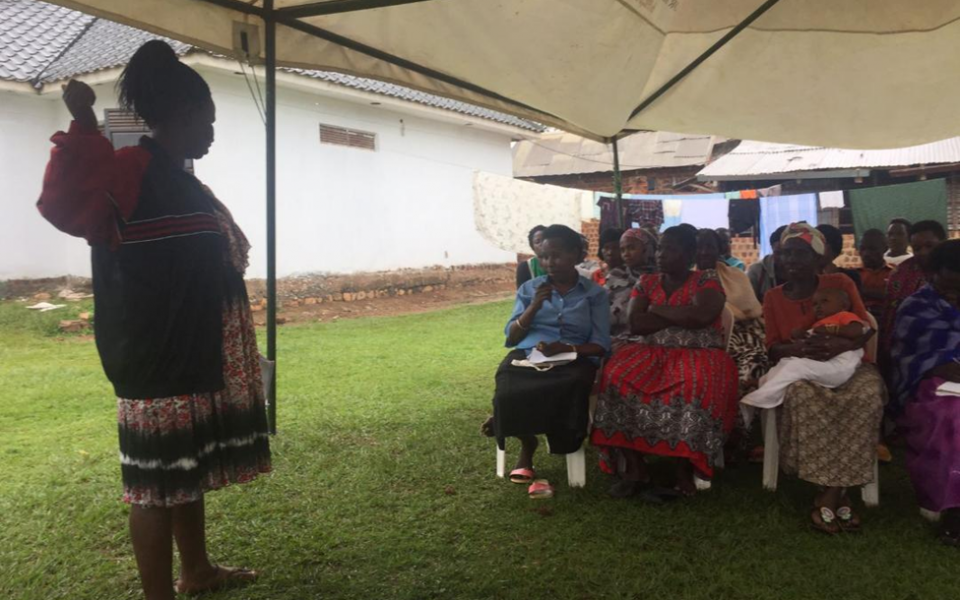 To bring the teachings of pollution reduction to a household level, Molly Basimaki, followed with a presentation on the importance of sanitation. During a rainy season, like this one, it is especially important to take care of sanitation and hygiene in the community in order to reduce the dangers of contamination, disease and poor hygiene. 
With many thanks, Interfaith Youth Partnership brought a close to the day, sharing a promise to continue working together to improve the community environment. IYPA extended this thanks and commitment to their community by distributing fruit trees saplings. 
---
In a follow-up conversation with Interfaith Youth Partnership, Paul shared with me a few lessons he learned from the event:
How was the event received by the community? 
"World Environment Day (WED) went on very well, the community members were very happy and excited to hear about WED. Some of the young people who attended had never heard any information related to the environment. In fact the presentation on the theme provided the knowledge that they didn't have and thanked the efforts of IYPA. The community members requested for more efforts or awareness campaigns so that they can continue learning and gaining knowledge on these pertinent issues of the environment and sanitation."
What were your main observations? 
"Majority of the community members were ignorant about environment issues. In fact, there is need for the government, NGOs, CBOs and other stake holders to sensitize the masses on environment and sanitation issues or concerns. One community member stated "we have been missing very vital information where have you been? Why haven't you been addressing this program before?"
"On issues of environment and sanitation, Non-Government Organizations, Community Based Organizations, Government and other Stake Holders should carry out continuous awareness campaigns to enable the public acquire such knowledge on conserving the environment.
"This is important in that if a person or community misses any awareness campaign at a time, they can be able to gain the knowledge another time if the sensitization was to be continuous. Organizing trainings on environment or other community concerns should be done always than waiting for one day Training event or awareness."
What are a few things you learned? 
"We learnt more about the environment through research on environmental issues in our locality and globally.
"Community need. We learnt that there is a community need and argue to have such awareness campaigns on a continuous basis through community sensitization, radio programs and development of materials.
"Partnerships: it was important to organize events through partnership since partnership enables sharing of knowledge and responsibilities of preparing the training.
"Community role to play: we learnt that the members of the community should have a role to play in their own environment.  This can be done through proper use of the environment, proper garbage disposal and observing good sanitation.
"Costly: we realized that preparing for such awareness training or campaign is costly since it involves a lot of logistics that must be in place for an event to be done or organized.
"History made. IYPA and Kwagalana Development group made history in addressing a very pertinent environment issues of plastic pollution, global warming, air pollution and sanitation concerns. Distribution of trees, in this case if the trees are well looked after the community will always remember our efforts in addressing environmental concerns."
What were some of the things IYPA and Kwagalana Development Group enjoyed most about the event? 
"Friendships: the members of IYPA and Kwagalana Develoment Group became enjoyed and even some became friends.
"Partnerships: IYPA members and Kwagalana will continue working together in addressing some community challenges.
"Refreshments: all members were served with refreshments and snacks that made to be lively during the awareness campaign.
"Excited: all members were excited to attend the awareness campaign which as a result gained a lot of information as observed by questions raised.
"Lively: members were lively and happy throughout the awareness campaign and congratulated IYPA and the presenters for their eloquent presentation of information in relation to the theme and Sanitation. Thus, enjoyment of the awareness training."
Thank you very much Paul, Interfaith Youth Partnership and Kwagalana Development Group!!