URI is a bridge-building organization brimming with stories about the bridges of peace that people all over the world are building. Lejla Hasandedic-Dapo, who grew up in Mostar, Bosnia during the Balkan wars, tells her story of how she helped classmates build a person-to-person bridge to overcome centuries-old ethnic barriers. Today, Lejla is a professor of psychology in Turkey and Cooperation Circle Liaison Officer for URI Europe.
---
Story of Impact – Bridge Building in Mostar, Bosnia
I was growing up during the war in Bosnia and Herzegovina (1992-1995), living in the divided city of Mostar in different dark shelters, hiding from shelling and gunfire, constantly worrying about whether relatives and loved ones were still alive. Living in constant fear, I developed a lot of stereotypes and prejudices. I hated people from other national and religious backgrounds.
The school system in Bosnia and Herzegovina was completely segregated along ethnic lines. But I went to an experimental secondary school where Bosniak and Croat children studied under the same roof. We followed separate curricula and had different teachers, but we were in the same building. The two ethnic groups, Croat and Bosniak children, remained separated most of the time because school authorities were concerned about potential conflict. This started changing when students from both ethnic groups set up a student council that I was a part of.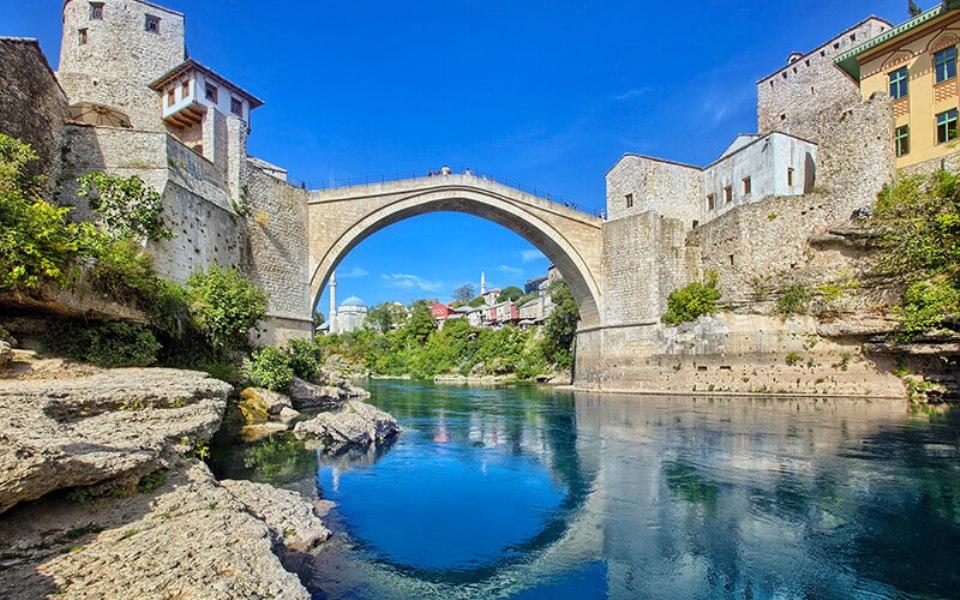 One of the most important and symbolic activities of the student council was crossing the Old Bridge of Mostar. The Old Bridge was built in the 16th century and is one of the most famous places in Bosnia. It was destroyed during the war but rebuilt following it. The bridge is in the Bosniak section of the city and therefore, many Mostar residents of other ethnic backgrounds had never set foot on the bridge.
It took us almost a year to convince our peers that it would really be safe to cross the bridge together. It was a very important day for us. Although to the tourists we probably just looked like a bunch of young people crossing the bridge, for us it was a life-changing experience because all of us came together and crossed the bridge together. It was not just crossing the iconic stone monument, but for us it was crossing the deep chasms between us. It was crossing the bridge between the borders in our heads! For us, crossing the bridge together was a start in building a new and better future for all of us.
On that day I met a boy whose father was a solider. I learned that he was responsible for the death of my grandmother during the war. That was heartbreaking for me. I was overwhelmed by negative emotions and hatred. We talked a long time and after our conversation, I decided to forgive him and his family. On that day, we both agreed to continue building a better community for future generations.
From that day forward, all of the young people from varied ethnic backgrounds who cross the Mostar Bridge in solidarity become bridge builders who are making a difference. Every time they cross the bridge together, they become the bridge. They are being the change that they want to see in the world.
---
Read more posts in the Every Voice series, which presents thought-provoking quotes showing how people all over the world give voice to URI.