URI Europe sends a report of a successful and inspiring virtual gathering in celebration of URI's 20th anniversary.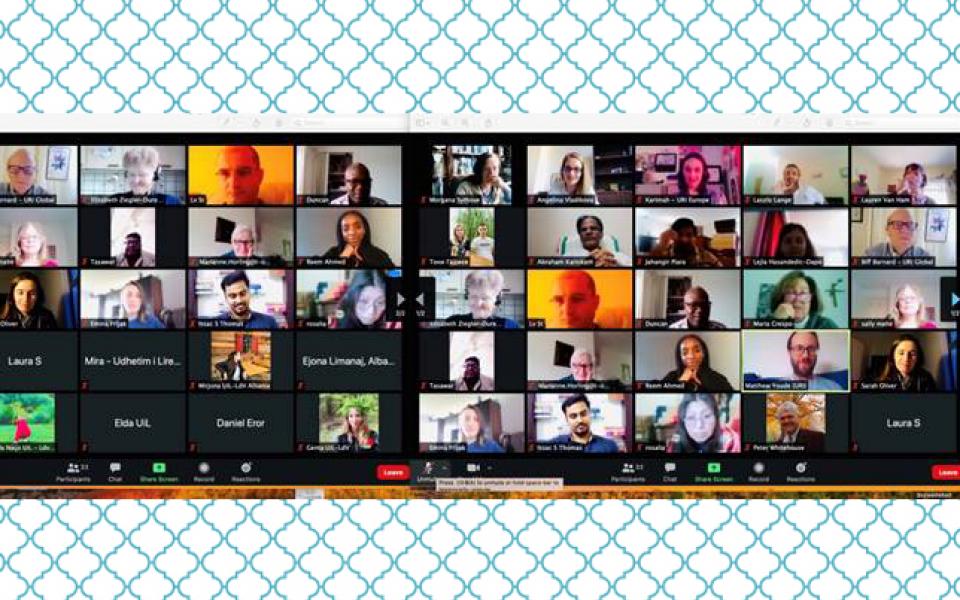 URI Europe sends a report of a successful and inspiring virtual gathering in celebration of URI's 20th anniversary.
---
We had a wonderful time of celebration and creation together in our URIE Zoom call last Thursday, celebrating URI's 20th anniversary, "A New Phase for a New Decade – Getting Together as a Community."
It was great to celebrate this anniversary and anticipate the next two decades of URI blooming, flourishing, and continuing to thrive. It was so special being with URI family members from around the world – Europe, Asia, North America, Latin America, Africa – sharing anniversary gifts and making plans for activities during this celebratory year.  
What a joy it was that our beloved URI's visionary founder, dear Bishop Bill Swing, came in and shared his gift with us. It was wonderful having URI global leaders with us, like Sally, Maria, Matthew, Kiran, Biff, Sarah, Lauren, and Abraham ji. We were inspired by the amazing young people, e.g. from Bulgaria, Albania, and Bosnia & Herzegovina, who shared their commitment and ideas. Finally, a big thanks to all our friends who serve with commitment on the URI Europe regional support team – board, trustees and staff – Duncan, Jaume, Vjeko, Daniel, Marianne, Deepak, Sheikh BASHIR, Father Petar, Karimah, Lejla, and Angelina – led with wisdom, skill and care by Duncan. Also, we send our gratitude to Patrick, who is one of the founding fathers of URI in Europe.
Much gratitude and appreciation go to all our Cooperation Circles' (CCs, or URI member groups) leaders and members. You are the heart of URI, and bring continued inspiration, idealism and hard work to our community and the world. It is a privilege and joy to serve you and work together.
Below you can find some of the outcomes from the call, including 20th anniversary wishes, resources, plans and ideas. Enjoy!
Many warm greetings from the URI Europe team.
---
Among the 20th anniversary "gifts" shared by participants were these:
Respect for difference.
Tenacity.
The interfaith coloring book for children, which we (Four CCs with URI Europe and Baraza) are working on together. It will be in Albanian, Macedonian, Bosnian, and English languages.
A poster from the first URI Global Council meeting in South Korea – the history and values of URI.
A bunch of flowers because we all bring our unique fragrance and beauty to this community.
A bamboo straw, because we ask please do not use plastic. Use bio-degradable materials wherever possible.
A quote: "Be a lotus. Be in the water and do not let the water touch you." (Osho)
A heart representing love.
Friendship and our love and communication: Communication brings friendship; friendship brings love.
Rosalia offered us flute music, which she played.
A pen – please write our history in cooperation and community.
A globe, a world map, as we will all grow more into this organization.
Sweets and flowers to brighten up our day – you need to be sweet to enjoy your day.
The tree of life to strengthen the bond between all of us.
 Have a look at these useful RESOURCES:
Videos to spark your ideas and inspire you to make your video:
Projects, plans and activities to celebrate the 20th URI Anniversary:
Make a video with 20 images with messages of 20 young people - the name of the project is "All Flowers Are the Same" - to make a connection with the nature and with the beauty and uniqueness of every single person.
Offer an online workshop about the UN Sustainable Development Goals (SDGs) and human-centered design.
Share 20 photos of URI Europe members (preferably those who founded URI Europe or those who contribute a lot) accompanied with short messages about why they are part of the URI family, or sharing a motivational quotation.
Make a cookbook named Food for Healing. Food is connecting people in different countries and especially in the current time of COVID-19. So it would be good to choose 20 young people that will find 20 elderly members, from their URI CC, family members, neighbors, and so on. The elderly person will cook some traditional food from their country and/or religious background, characterized for some religious holiday (like baklava for Eid and so on). The young person will film or take photos, collect and write down process of preparing it. In this way, they will make connections with older people, fighting loneliness and protecting this traditional food recipe for future generations, promoting their traditional and religious food.
We talked about the power of video messages. Video messages in different languages are a beautiful way of celebrating the diversity of regions. It is also good to share video stories of what people have been doing at this time in their homes, as a way of sharing messages of hope and inspiration. 
We shared ideas about connected sacred sites across the world: Through Peace Poles, or sacred stones, doing something to honour the sacred sites and virtually 'visit' them would be nice.
Using the image of a world map, and mapping all the different religions and places where people are working to create peace.
Lilongwe CC in Malawi is currently doing a 20th Celebration Women's Football match this coming Sunday, and has given all the players names of URI members around the world. It's a great example of connecting local to global!
The URI Preamble, Purpose, and Principles (PPPs), and the images of these on Facebook, should be translated into more languages and shared on more webpages.
Ideas for best URI stories to be shared:
Interfaith and intercultural camps for youth in Bulgaria, the Netherlands, and Germany (especially focused on youth in rural areas) – bringing people together into informal dialogue – transnational cooperation.
Cooperation Circles around the world finding ways to connect when normally they would not (something miraculous happens when people come together) – despite the leaders that are trying to set us apart.
Restoring Earth (also according to URI principles) – youth group that engages to bring stories of how to preserve planet for future generations.
URI in the COVID-19 pandemic – connecting continents in the pandemic and giving hope to people / connecting people who are sharing similar challenges and thanks to URI they are able to meet, to talk and find support there.
Share our videos and photos from activities, and what was done in our CCs, to make a collage or some kind of CC-day-in-a-week and share CC stories/photos/videos or CC activities (determine one day in a week for presenting CCs).
Workshops
Climate Action Learning Exchange – exchange between CCs – knowledge and skills sharing (collecting stories and then teaching and sharing among themselves)  - URI Learning Exchange about Climate (Lauren)
Workshop about Interfaith Dialogue or Dialogue in general (Emina)
Workshop about SDGs and designing a "new normal" world after the pandemic (human-centered design) (Laura could give information and resources)
Thoughts and ideas shared on visibility, skill building and joint learning:
Let us be mindful of what we in URI have learned from what all the people have done. There is incredible experience in URI. Listen and try to integrate and expand on it. Intergenerational is important.
We discussed how we can support people to cope with Covid-19, it is very important right now.
Storytelling is important, we must learn it.
URI must be visible on the various websites of members and affiliates. Use and promote the URI logo on your CC websites.
It is good to be in connection with young people.
Good practices are very important.
We need to produce a pandemic of positive things. Show that we do matter.
Sally's ideas shared in closing remarks:
Affirm people for what they do. Express appreciation. Appreciate each other.
Organize creative conversations.
Appreciation and creativity are keys.
 From the Zoom chat:
'We are working together via the URI Environmental Network CC. See our Facebook group. Use bamboo instead of plastic. I am helping Josh & Fili to set up a way of trading. natural soap, batik work, and of course the products made of bamboo. This is the way they fund their work. We are working with a couple of grassroots projects in West Bengal too :-)."
"Happy birthday URI-family. Be a lotus. Be in the water and do not let the water touch you – Osho."
"We are so grateful that we were able to be part of this wonderful meeting! It was new and amazing experience for us! You are all so lovely!"
"Unity in Community!"