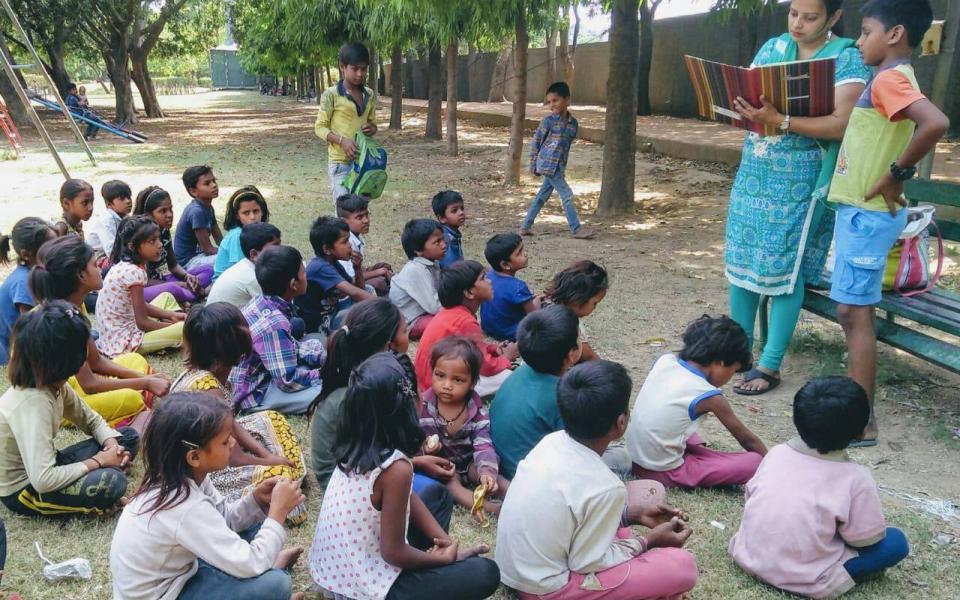 Written by Atharva Mehendale, Community Project Manager, URI - North India and Afghanistan
The world today is living in what is often described as the "urban century" – most of the world's economy and more than half its population is now in urban areas. Although urbanisation generally contributes to economic development and hence to urban capacities, growing towns and cities in low-income countries often face severe urban housing, infrastructure and service deficiencies as well as forms of urban congestion (Tacoli, McGranahan, & Satterthwaite, 2015). This pressure on resources brings out social hierarchies in the distribution of wealth.
The scale and depth of urban poverty is underestimated by most governments and international agencies, and this helps underpin ineffective policies. This is made worse by the lack of voice for low-income urban dwellers and their lack of influence within governments and aid agencies. 
The working group on Urban Poverty appointed by the National Commission on Urbanisation observed that –
"The most demanding of the urban challenges is the challenge posed by urban poverty; the challenge of reducing exploitation, relieving misery and creating more humane conditions for working, living and growth for the disadvantaged people. The task of adequately feeding, educating, housing and employing a large and rapidly growing number of such city dwellers – who are migrants and daily wage laborers; and live in poorly services chawls, slums, illegal squatters and other forms of inadequate settlements is the essence of urban development planning."
Choti si Khushi (CSK), a not-for-profit organisation working in Delhi NCR has been striving to make primary education attainable for children of migrant workers and daily wage laborers in the city. What pushed the organisation to work in this sphere was the under-representation of the urban informal sector in the country's planning circles and the deep-rooted stigma and bias of the urban middle-class against those living on the city's social fringes.
CSK approached construction sites around Dwarka in Delhi and engaged with daily wage laborers to get their children to come and learn while they continued to work. Lack of trust and uncertainty about civil society organizations and NGOs working in this space made it difficult for the laborers to trust CSK at first. In order to build trust, the organization tried to push parents to get their kids enrolled in the local government-run school in the area. This ensured that the kids got the midday meal every day. CSK also helped parents with the admission process. This, and explaining the importance and significance of primary education gradually helped build the required trust and a sense of certainty. Kids started turning up for extra classes in the evening.
The endeavor started with a mere 5 kids in 2013 and classes were run in an open space near the construction site. With 3 centers and more than 250+ enrolled students, the organization has come a long way.
Ms. Namitha Choudhary, co-founder of Choti Si Khushi, recognizes the importance of primary education in the social and economic upliftment of the urban poor. To promote a sense of willingness to learn amongst kids, CSK lays emphasis on overall development of the child. In addition to academics, arts & crafts, stitching, dance, and music classes allow the kids to explore and boost their hobbies & interests – thereby promoting overall personality development.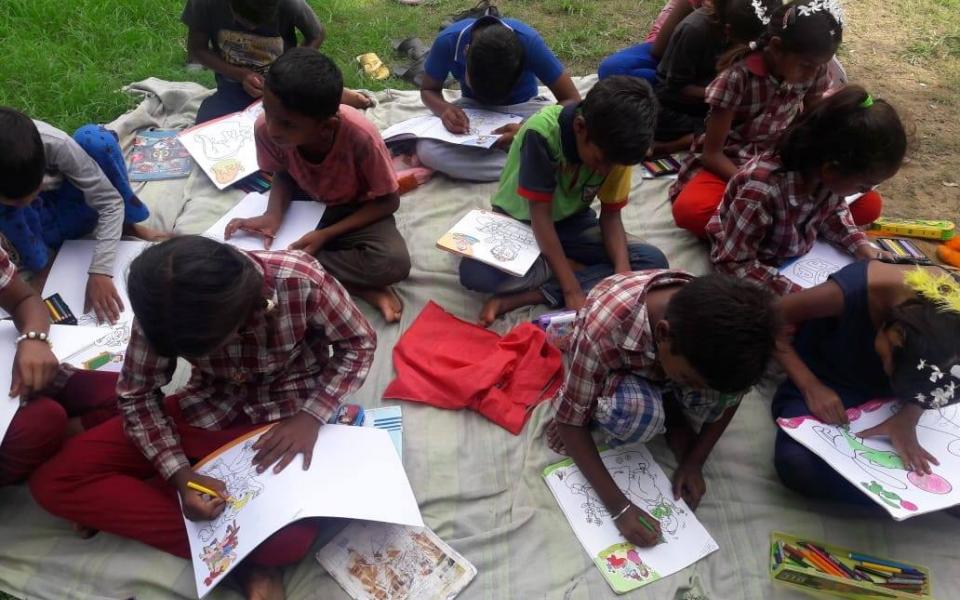 Over the years, Choti si Khushi has moved beyond education to include a number of other social causes under its umbrella. 'Little Lamps', 'Prayas', 'Udaan', and 'Jagriti' are few of its many result-driven projects that promote education, adult literacy, women empowerment, community awareness, and tackle child drug addiction. Drug addiction among children is a growing problem – especially in urban slums - due to lack of education and other opportunities. Project Udaan identifies such kids and strives to provide them with the necessary vocational training. Project Prayas is tailor-made according to the skill sets of each woman and is aimed at making women from these communities independent and self-reliant.
CSK joined the URI network as a Cooperation Circle in 2018. URI has proven to be an effective platform for CSK to connect and share ideas with other organizations and individuals working in the social space. URI, in association with CSK and Music Basti, organized a 4-month long program that used music as a tool to promote community development, teambuilding and leadership.
Additionally, URI, in association with CSK, has worked on a number of peacebuilding and team development initiatives over the years. During the COVID-19 pandemic and the resultant lockdown in India, the URI network was able to make available for CSK dry ration for 50 individuals for a month.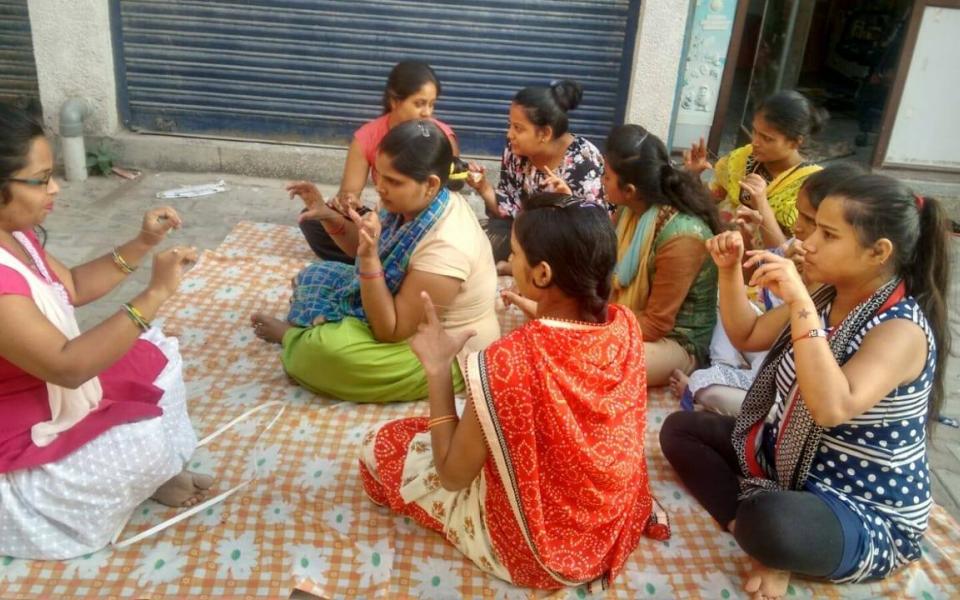 The organization has been striving to use community development as a tool to fight urban poverty. In doing so, it has had to fight several social biases and the stigma about children from slums studying in community areas and public spaces.
Ms. Namitha and her colleagues often find themselves questioning and addressing the stark difference in the attitude that the urban rich / middle class has about their domestic help/maids as against the attitude towards their children studying in public spaces around them. More often than not, those living in slums are considered to be anti-social elements; and this contributes to the furtherance of social marginalization. In spite of these issues, CSK has been striving to bring about a transformational change in the way in which the urban poor are viewed on the landscape of the city.
About the author: Atharva works as Community Project Manager with the North India and Afghanistan Zone of United Religions Initiative. He also works as a Teaching and Research Fellow with the O.P. Jindal Global University, Delhi NCR. He holds a Master of Arts (M.A.) in International Affairs. His research work focuses on migration and mobility, urban studies, labour, identity, and development. He can be reached at [email protected].