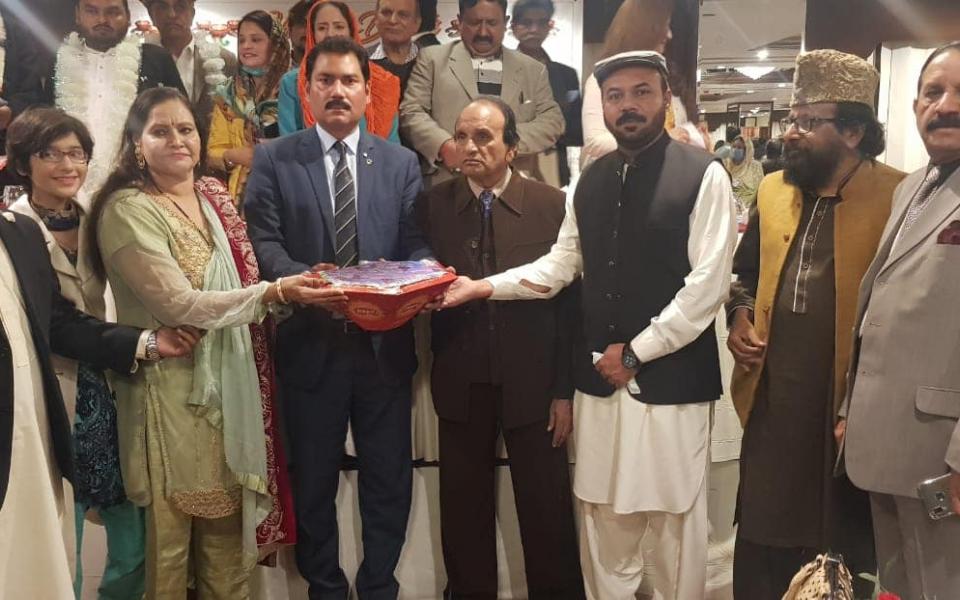 On 18th November, 2020 Dr. Maunawar Chand, URI Cooperation Circle Coordinator of Anglo Asian Friendship Society, organized a Diwali Milan Party with the support of Human Right Ministry Punjab at Avari Hotel in Lahore.
Maulana Abdul Khabir Azad, Grand Imam of Badshahi Mosque; Sardar Bishan Singh, Sikh religious leader; Bishop Irfan Jameel, Church of Pakistan; Provincial Minister for Human Rights and Minority Affairs Ejaz Alam Augustine, Secretary Punjab Property; Sr. Sabina Rafat, Coordinator URI Women Wing Pakistan; Om Prakash, Secretary Hindu Welfare Council Pakistan; Ms. Shabnam Nagi, Advocate High Court; Rao Abid Ali Wajid, President of Feeling Welfare Foundation; Asgar Rehmat, social worker; Victor Khan, President Glow Foundation; Mr. Faisal Ilyas, Executive Secretary of Peace Center; Pastor Waheed Mukhtar, Cooperation Circle Coordinator for Helping Hands, and Asher Nazir, Executive Secretary of URI Pakistan participated in this religious festival of Diwali as honorable guests.
As host of the Diwali celebration program, Dr. Maunawar Chand welcomed all guests and he shared that Diwali is an important religious festival in the Hindu calendar, as it marks the day of Lord Rama's return home after a 14-year exile.
Multiple URI member groups, or Cooperation Circles (CCs) were involved. Members from COPE Pakistan CC, Wake CC, and Helping Hands CC participated in Diwali celebrations from Okara and Lahore. Many people were present from different religions and they participated in this program and they shared gifts and sweets with the Hindu community on Diwali.
They shared that, for the stability of Pakistan, we should promote the culture of love, tolerance, peace, interfaith harmony and brotherhood to make Pakistan strong, because Pakistani minorities can play a positive and important role for a strong Pakistan.
See more details and photos in the PDF report below. 
In peace,
Asher Nazir
Executive Secretary
URI Pakistan