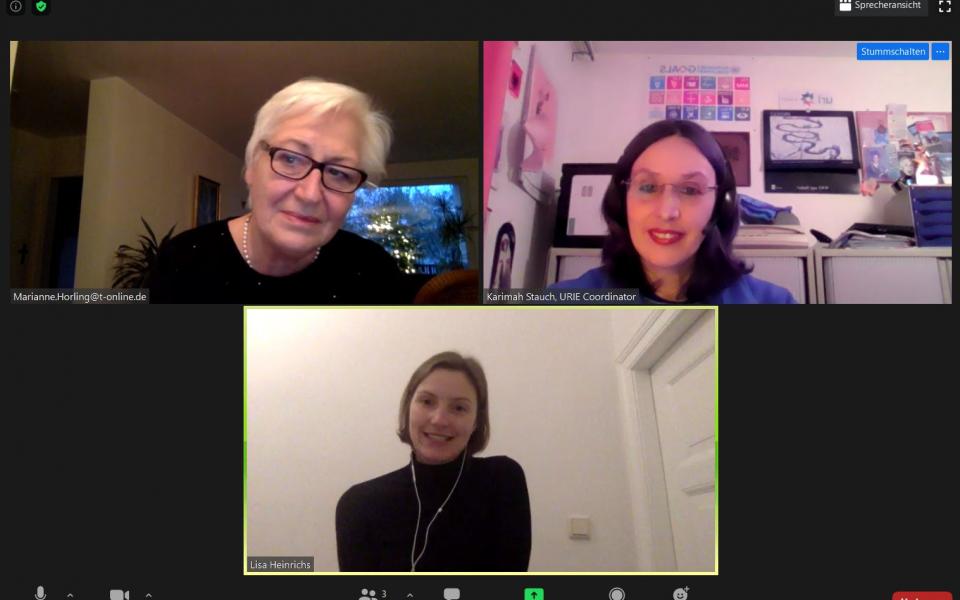 Let's #turnitaround – let's realize the Sustainable Development Goals (SDGs)!
URI Europe meets the UN SDG Action Campaign
In December, URI Europe hosted a very successful webinar on "What are the SDGs and how to use them in our work," which was led by amazing youth leaders from BRIDGES URI Cooperation Circle (member group) in Sofia, Bulgaria.
Now URI Europe took it a step further by meeting up with Lisa Heinrichs of the UN SDG Action Campaign office in Bonn, Germany. It was a wonderful, lively conversation in which all of us were bubbling with ideas and enthusiasm.
The UN SDG Action Campaign - sdgactioncampaign.org - is one of the linkage points between the UN and the various non-UN actors who support the SDGs, e.g. the private sector, NGOs, faith-based organizations and government bodies.
There is a big opportunity for synergies between the URI network and the UN SDG Action Campaign, as the URI Charter is in line with the SDGs. And, like URI, the UN SDG Action Campaign seeks to "Inspire, Connect and Mobilize".
One of its annual flagship events is the SDG Global Festival of Action – www.globalfestivalofaction.org – in which many different SDG actors come together to network and to get inspired. This year it will be fully online, due to the Corona pandemic, and will take place 25-26 March 2021. Registrations are already open on the Festival's website.
Another major initiative is the Global Week to Act4SDGs, which happens every year around the SDG Action Day on 25 September. All are invited to contribute an action during that week, big or small, to support the SDGs. Activities are mapped and compiled into a report. More information can be found on www.act4sdg.org. As many URI Cooperation Circles do an activity for UN Peace Day (21 September), this is a great chance to also dedicate it to the Global Week to Act4SDGs.
Last, but not least, there is the SDG Action Zone. This is a booster event happening parallel to the UN General Assembly, usually in September. The purpose here is to rally and demonstrate citizen's power and action for the SDG, while the UN General Assembly is in session.
On URI Europe's side, Karimah Stauch (URIE Coordinator) and Marianne Horling (URI Global Council Trustee & UR Europe board member) participated in the conversation.
In the spirit of SDG 17 "Partnership for the Goals" we are very enthusiastic about this new partnership and look forward to further building and nourishing it.
Report: Karimah Stauch, URI Europe Coordinator