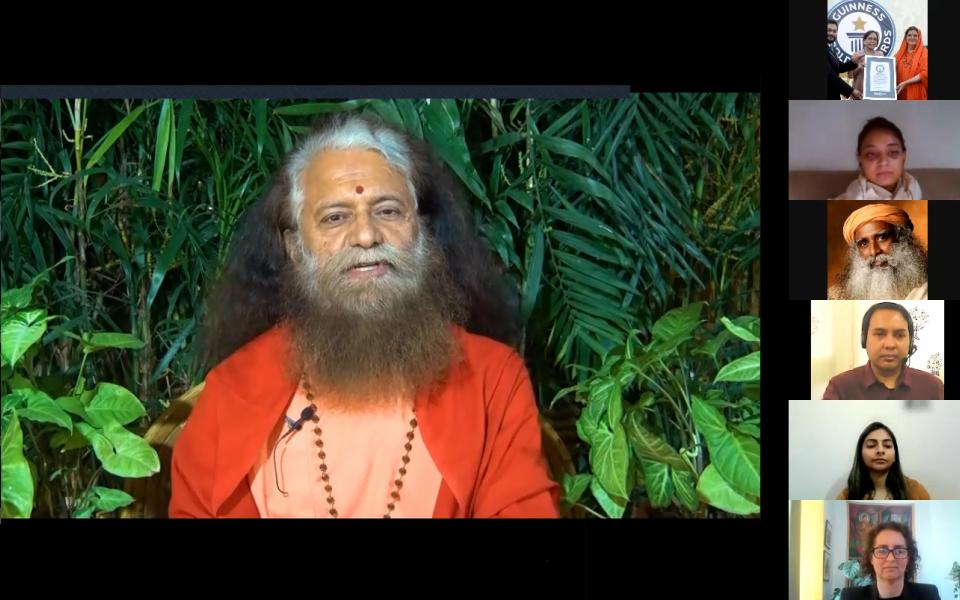 New Delhi - With the world's climate at a tipping point, URI and the United Nations Environmental Program joined hands in April to train faith leaders and followers to become environmental heroes.
Some 85% of the world's population belongs to a faith, and it's to faith leaders that many turn in times of joy, crisis and indecision. Understanding their abilities to engender trust and inspire action, URI and UNEP provided two days of in-depth training to help faith leaders and followers become guiding lights for a clean, green planet.
The training included steps towards encouraging community action, toolkits, and video resources (see the bottom of this post for samples). The event also featured words of inspiration from many of India's foremost faith leaders, including H.H Pujya Sadhguru Jaggi Vasudevji, Isha Foundation Founder, H.H Pujya Radhanath Swami ji, Spiritual Teacher of Isckon-Eco Village, and H.H Pujya Swami Chidananad Saraswatiji, President of Parmarth Niketan and Chair of the Global Interfaith Wash Alliance. Also joining were Chantal Elkin, Head of the Beliefs & Values Programme at the World Wildlife Foundation, and other esteemed panelists.
Religion World and Shristi, which is also a URI Cooperation Circle, co-sponsored the event.
H.H Pujya Sadhguru Jaggi Vasudevji spoke on the intersections of climate scientists and faith leaders: "Whether it is science or spiritual process, fundamentally, these two disciplines of life are a consequence of the human longing to know."
"The Earth is our mother. We are her children. What happens to her happens to us. Neither religion nor science can exist outside of the context of our environment," affirmed H.H Pujya Swami Chidananad Saraswatiji.
H.H Pujya Radhanath Swami ji added, "At this particular time, there's a great need for modern and traditional sciences to embrace universal spiritual principles so that together, we can learn how to live in harmony with nature, how to live in harmony with each other through appreciation, respect, compassion, and ultimately, love."
"The environmental movement is waking up to the power and the value of these partnerships," said Chantal Elkin. "Our scientific approaches to environmental conservation have been incredibly valuable, but insufficient…. The environmental crisis is also a crisis of morality and spirituality."
"Today, our world is also a religious world," said Swamini Adityananda Saraswati, URI Interim Executive Director. "The messages that need to go out to save our planet, to give our children the destiny they deserve, rest in [faith communities'] hands…. Faith itself is a guiding light that can provide that hope, that inspiration, that we all need."
Click here for a full list of panelists.
Wish to become an environmental hero yourself? Join the movement! Email us at [email protected]
---
Resources:
Explore below to find some materials available from the training.