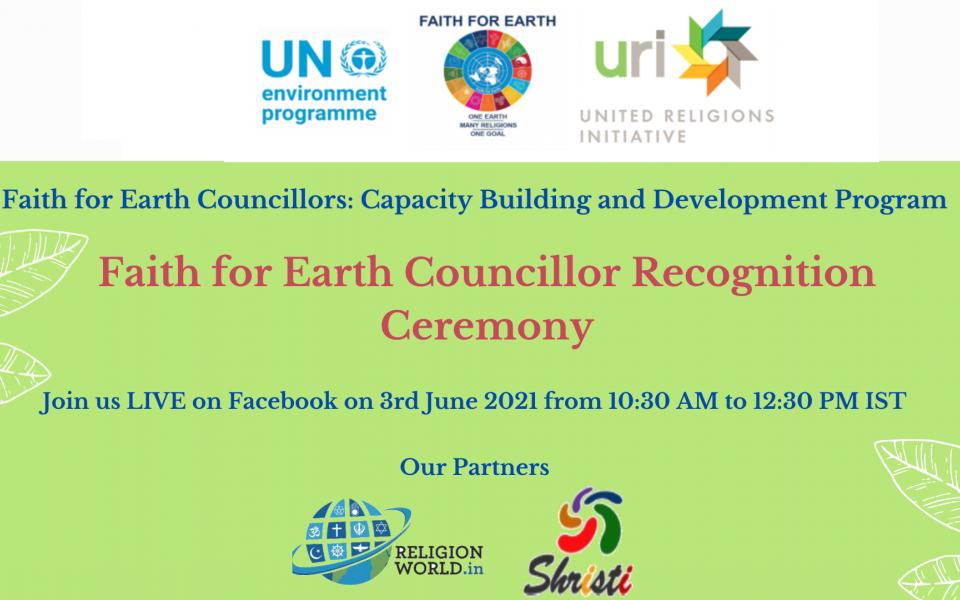 URI and the United Nations Environmental Program have joined hands to train faith leaders and their community members to become environmental heroes.
New in 2021, the Faith for Earth initiative is recognizing Faith for Earth Councilors. To become a Faith for Earth Councilor, participants must participate in a local training, draft an action plan, and implement the plan in the selected area (park, house of worship, neighborhood, city, town) with volunteers from their faith group/spiritual community.
Faith for Earth Councilor programs are planned for 3 countries in 2021 and began in January with the India project. Faith leaders, representing many religious traditions, Indigenous expressions and spiritual practices, sent representatives to a 2-day training that included environmental teachings from scriptures and sacred texts, tips for interfaith cooperation in grassroots organizing, and support for developing a successful action plan to address one of 3 pre-selected UN Sustainable Development Goals (SDGs).
In India, Faith for Earth Councilors are focusing on Water (SDG 6), Climate Action (SDG 13) and Responsible Production and Consumption (SDG 12). More than 20 plans have been created and plans are underway.
These efforts will be recognized on World Environment Day during an online ceremony where the Faith for Earth Councilors will take a pledge and be recognized for their local leadership and commitment to care for Mother Earth.

---
Read about the June 3 ceremony agenda, a report on the Faith for Earth Councilors Programme, and a list of participating Faith Based Organisations below.
Short video clips for sharing
Below are four 1-minute video clips perfect for sharing on social media if you'd like to spread the word about this effort.