We are happy to invite you to the workshop that will be held on 25th June from 14:00 CEST on ZOOM on the occasion of World Unity Week.
Connecting to the Global Agenda: Taking the Next Step towards the SDGs
Facilitators: Laura Sani & Silvia Trifonova, youth from BRIDGES CC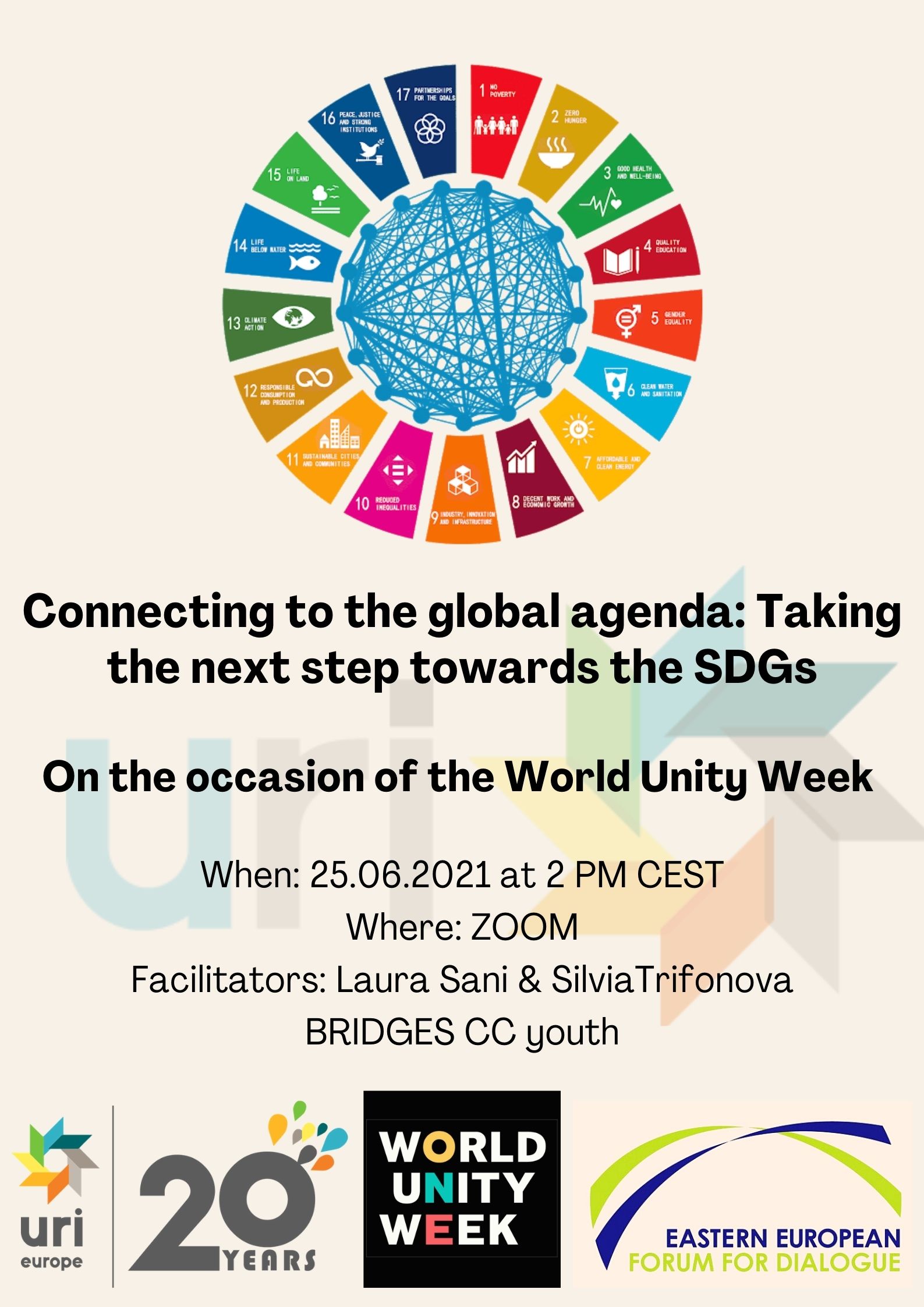 The participants have the chance to make a pledge towards incorporating one of four SDGs (poverty, education, water and peace) in their interfaith work through the selection of one respective target they deem most urgent. They will be placed in smaller facilitated groups to engage with one another and explore the endless possibilities of achieving the chosen target. 
Time: 14:00 – 15:00 CEST (Find your time zone.)
You can register for the event on the link: uri.org/unity2021. Upon registering for the event, you will receive an email with the Zoom link. 
Meet the Facilitators
Laura Sani
"Coming from diverse cultural and religious backgrounds, I consider myself a Muslim, born in Bulgaria. The university education, I acquired, is connected with Islamic theology, but that does not depict the full spectrum of my interests. I am fond of topics related to discrimination, religious dialogue, psychology and social inclusion. I believe that we should act as the change we would like to see in others and in our surrounding."
Laura is currently majoring in Global Affairs (MA). She is a youth leader for BRIDGES CC.
Silvia Trifonova 
"My name is Silvia Trifonova. I am 19 years old and my hometown is Stara Zagora – the city of poets, lindens and straight streets.
Right now I'm studying Public Relations in Sofia's university. I have been involved very passionately in environmental activities over the last few years and since 2018 I am the president of the Youth Parliament for Water in Bulgaria. It's an organization whose mission is to inform and show young people the importance of water and its management and also to motivate them to participate in ecological actions. I am very proud of this position and at the same time I am fully aware of the great responsibility I carry. These days the problems with our planet has become topical and that's why we - the young generation - must help solve them and prevent them from appearing in the future."
---
See more URI events for World UNITY Week 2021.