Join the URI community for livestreamed events all week!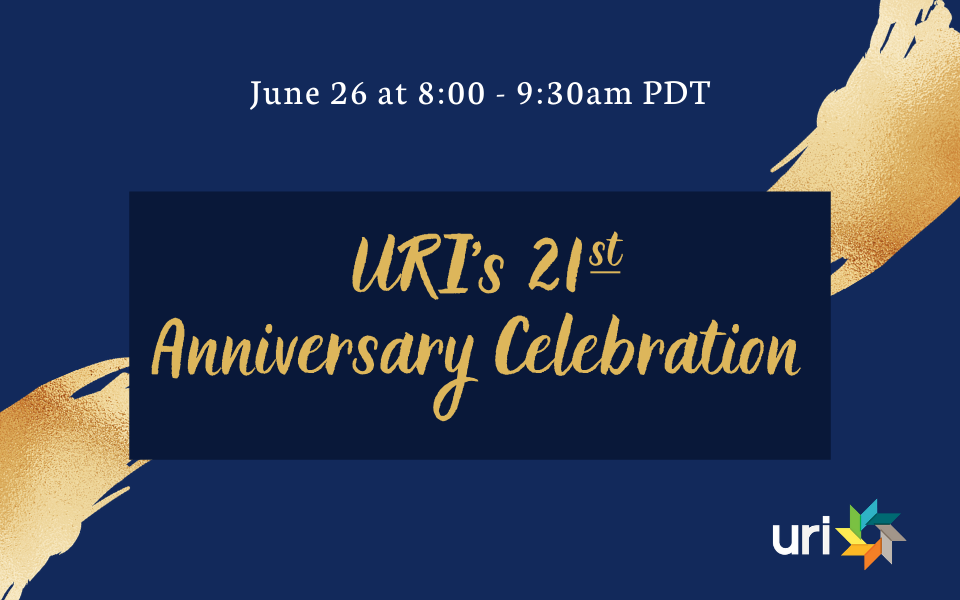 Unite with URI for World UNITY Week, June 19-26, 2021.
Be the first to learn about URI events happening during the week, such as URI's 21st Anniversary Celebration. Register for online events to get up-to-date viewing information.
---
Celebrate World UNITY Week with URI
World UNITY Week is June 19-26, 2021. The URI community will be livestreaming events all week! Join a diverse group of expert panelists and peacebuilding leaders from across the URI network for inspiring events including the ones listed below. Click here to register for all events.
Let's Talk! What Does Meaningful Youth Participation Look Like?
Date: Wednesday June 23rd
Time: 7:30am PDT / 10:30am ETD / 2.30pm GMT
Five URI youth organizers from different parts of the world, who are working to enhance youth engagement in their contexts, discuss strategies and mechanisms for meaningful youth participation. They will be in dialogue with Youth Policy expert Noella Richard from the UNDP.
---
Young People Working for Human Rights in South Africa
Date: Thursday, June 24
Time: 8:00am EDT / 5:00am PDT / 12:00pm GMT / 2:00pm CET
Presented by URI Coordinator Nyasha Mukaratirwa with members of Justice Desk (a URI member group). The Justice Desk will specifically speak on the work of Youth Ambassadors Project, where children are standing up for the rights of children.
---
URI Europe Presents "Connecting to the Global Agenda: Taking the Next Step Towards the SDGs"
Date: Friday, June 25
Time: 5:00am PDT / 8:00am EDT / 12:00pm GMT
Presented by members of Bridges CC (a URI member group). The participants will have the chance to make a pledge towards incorporating one of four SDGs (poverty, education, water, and peace) in their interfaith work through the selection of one respective target they deem most urgent. They would be placed in smaller facilitated groups to engage with one another and explore the endless possibilities of achieving the chosen target.
---
Shared Land, Shared Responsibility: Taking Care of our Mother Earth
Date: Friday, June 25
Time: 7:30am PDT / 10:30am ETD / 2:30pm GMT
A joint program of three URI regions - presented by North America, Latin America & the Caribbean, and the Middle East & North Africa. Grassroots communities are central to the work of environmental stewardship. URI staff (Enoé Texier, Mamoun Ahmad, & Tahil Tahil Sharma) & Cooperation Circle (URI member group) members will share about the diversity of land, cultures, and faiths in their regions. Hear from folks from various regions of the URI network and how they work for a sustainable world, including Cooperation Circle members sharing the purpose and impact of their work on the ground.
---
URI's Birthday Celebration - 21 Years of Peacebuilding
Date: Saturday June 26th
Time: 8:00am PDT / 11:00am EDT / 3:00pm GMT
Join URI members and leadership from around the world as we celebrate 21 years of peacebuilding. With panel discussions, videos, music, and more, we will enjoy a look back over the last two decades and look eagerly ahead to the next.