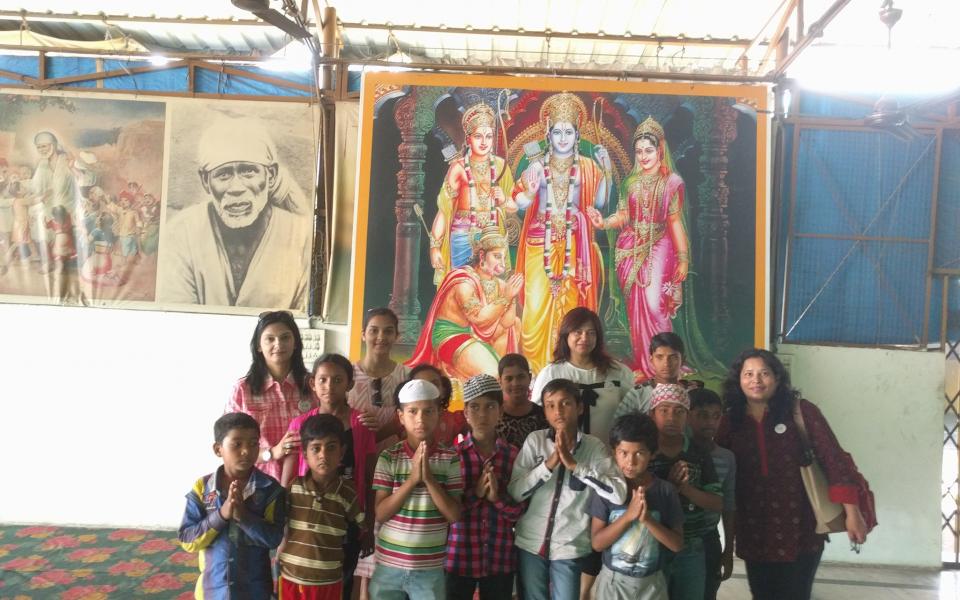 We here in the North India region choose to celebrate most festivals (Hanuman Jayanti, Mahavir Jayanti, Baisakhi, Easter, Bengali New Year, Jumma Mubaraq) as a string with pearls of joy, happiness, learning, knowledge and love. 
Our Cooperation Circle members took the initiative of conducting various, theme-based activities interweaving interfaith in everyday aspect of life to meaningfully impact and touch the lives of many. The idea behind each event was to root celebrations and the joy of festivals in important causes like education, women's empowerment, tolerance, multi-faith awareness, the environment, etc. 
Abhigyane Foundation, with several underprivileged children, organised an interfaith tour to a temple, mosque, gurudwara and church. At each place the children met and learnt from the respective priests about commonalities amongst faith and how each faith emphasised peace, equality and harmony. It was a memorable learning experience for not just the Cooperation Circle members, but also kids who have often borne the brunt of discrimination and difference on the basis of their backgrounds.
Dwarka Peace Society held discussions on dharma and the idea of peace, centred around Buddhist teachings, with several people in and around their community.
G3S Foundation CC celebrated the completion of its first informal summer school, run completely by college students without any external help or support, trying to make education as a basic right accessible to all. They did this by not only planting medicinal trees, but also acknowledging the commitment of deprived and underprivileged women who motivate their children to study. The beauty of the celebration was that the whole program had performances and ideas of interfaith unity and the right to education beyond discrimination.  
Kasturba CC organised a hawan and special prayers for the well-being and happiness of all in the school that works for the education of girls from special backgrounds.
A cluster meeting in Punjab, along with Biswadeb Chakraborty, our National Coordinator and members from Society for Welfare of Handicapped, Maitray CC, Jammu CC, Sangrur CC, Sri Garib Das CC and many more was also held few weeks ago to experience interfaith cooperation at some of the very famous places of worship that do not have any other sacred linkages in other parts of India. Such was the Namdhari sect shrine and mosque. The cluster meeting also included a visit to India to see a widely-known home for special kids and an old age home where our Cooperation Circle members devote their time selflessly. 
For more details and pictures related to the above, please have a look at the following links of our Facebook page and group United Religions Initiative North India and Afghanistan:
We hope you enjoy the interfaith experiences through these pictures.
Regards,
Subhi Dhupar
Regional Coordinator, North zone, India
and supervising Afghanistan
Cooperation Circles Involved